Just a couple of ingredients make an easy, healthy meal in your slow cooker! All you need is some chicken, veggies, and rice, combined with this delicious homemade teriyaki sauce for an amazing meal.  Just  turn  on  your  slow  cooker  and  come  back  to  this mouth-watering  chicken  and  vegetable  bowl!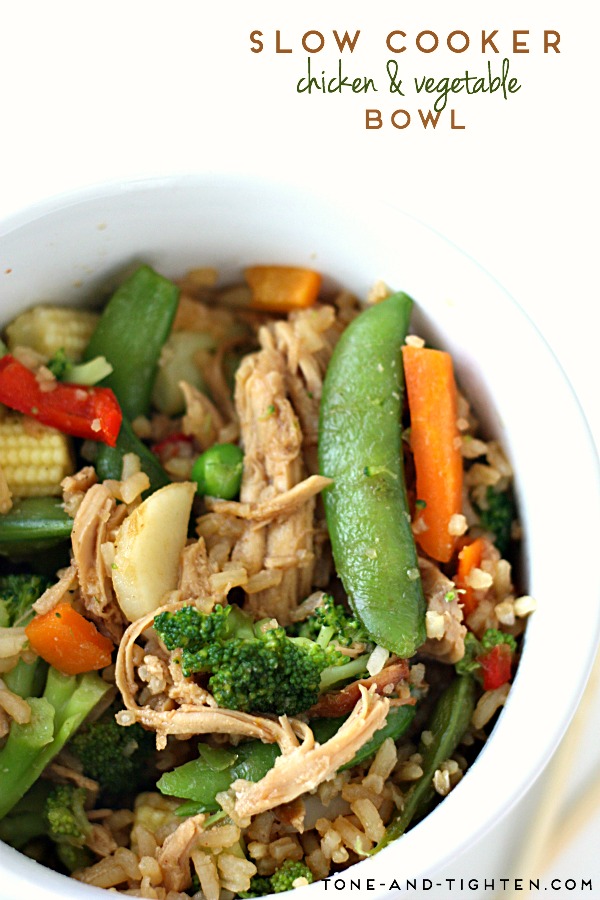 Slow Cooker Teriyaki Chicken and Vegetable Bowl
Get the recipe below.
===========================
Eliminate guesswork and confusion and start seeing results.
Subscribe to Tone-and-Tighten.com and get our FREE "7-Day Workout and Healthy Menu Plan" delivered daily right to your inbox. CLICK HERE to get it.
===========================
Eating healthy doesn't have to be hard . . . in fact, it doesn't get any easier than this recipe!
Just dump it in your crock pot and let it do the cooking for you. This recipe is the perfect mix of mouth-watering teriyaki flavor with a healthy mix of vegetables, chicken, and rice.
It's a great post-workout meal, busy weeknight dinner, or even meal prep for tasty leftovers. 
I love slow cooker meals because with a little bit of prep-work ahead of time, you'll have an amazing dinner ready for you when you get home after a busy day on the go. 
…