Now you can have your cake and eat it too! All these skinny desserts have less than 200 calories per serving! You can stick to your diet and still enjoy an appropriate treat with these yummy and skinny options.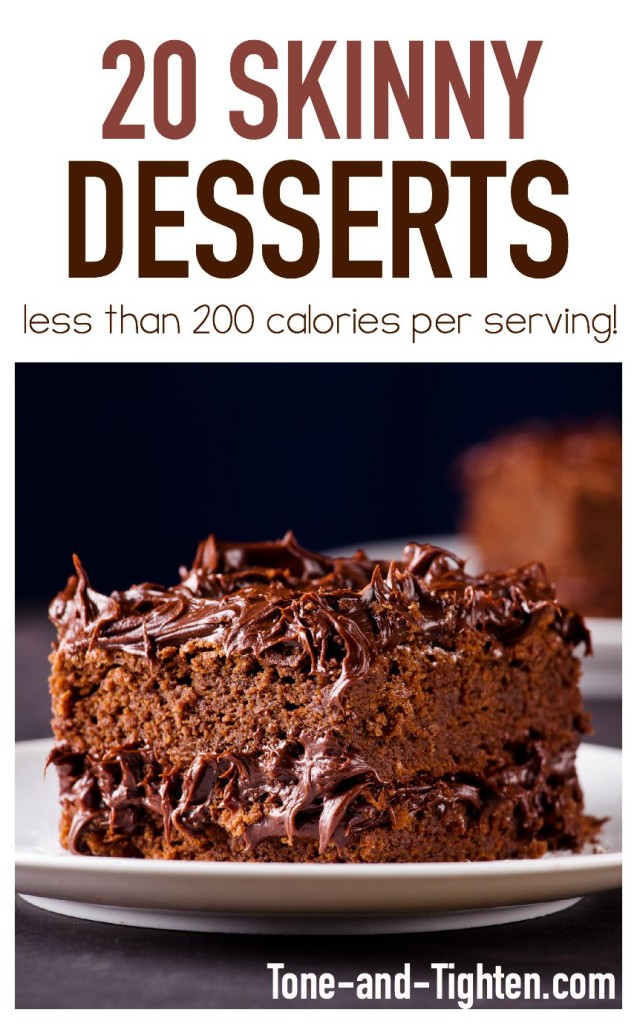 20 Skinny Desserts (under 200 calories each!)
Banana Oatmeal Chocolate Cookies

3-2-1 Cake

Strawberry Cool Whip Cookies

To Die For Coconut Cookies

Skinny Chocolate Cheesecake Mousse

Strawberry Swirl Cheesecake

Lemon Cheesecake Yogurt Cups

Pumpkin Swirl Cheesecake Cupcakes

Skinny Pina Colada Ice Pops

Berry Cobbler

Chocolate Zucchini Cupcakes

Weight Watchers Brownie Bites

Skinny Funfetti Cake Batter Dip

Healthy Oreos

Weight Watchers Chocolate Crunch Bars

Skinny Peanut Butter Granola Bites

Creamy Lemon Pie

Skinny BTS Cake

Skinny Chocolate Muffin

Post-Workout Banana Bites
Keep reading for the recipes below.
===========================
Eliminate guesswork and confusion and start seeing results.
Subscribe to Tone-and-Tighten.com and get our FREE "7-Day Workout and Healthy Menu Plan" delivered daily right to your inbox. CLICK HERE to get it.
===========================
Craving something sweet?
Just because you are watching what you eat doesn't mean that you have to cut desserts out of your life completely . . . I am a firm believer in moderation and a proper-sized desserts every once in a while is just fine!
Click on the pictures below to get the recipe for each of these delicious desserts that have less than 200 calories per serving.
Keep it to one serving and you can help curb that sugar craving and still stay in control of your diet! Scroll down for the recipes.
Also, the picture in the top image is a fancy version of this Chocolate Pumpkin Mug Cake . . . you can add frosting like the picture if you desire, but it will take it over 200 calories per serving. 🙂
…