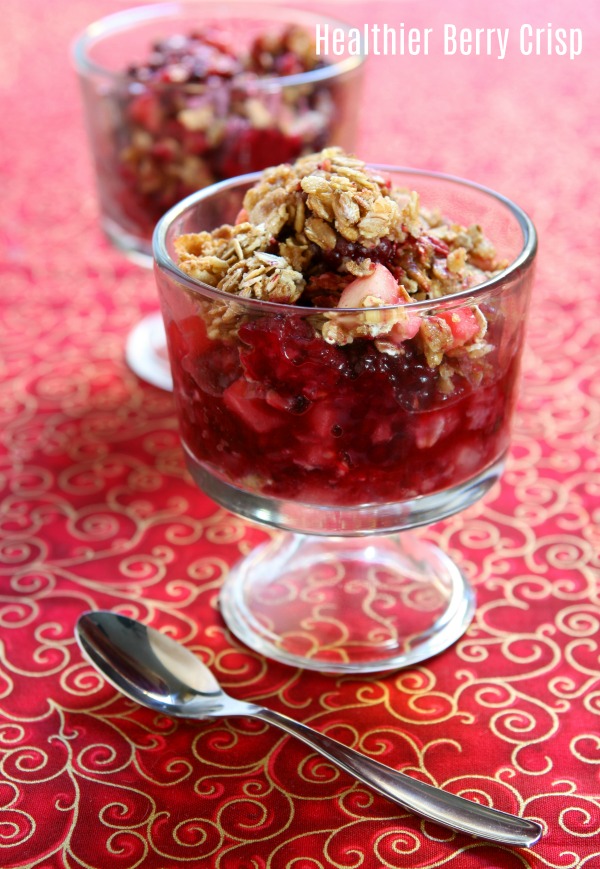 Want a dessert that won't wreck your diet? Try this delicious berry crisp! Made with good-for-you ingredients and honey to add sweetness, you and your family will love it!
If you are looking for more healthy recipes to keep your eating on track, be sure to check out my 1500 Calorie 14-Day Healthy Eating Plan!
Healthier Berry Crisp - No Refined Sugar
Prep time:
Cook time:
Total time:
Ingredients
3 cups mixed berries (or any fruit), fresh or frozen
¼ cup plus 1 Tablespoon whole wheat flour
½ cup honey, divided
½ cups rolled oats
¼ cups chopped walnuts
1 teaspoon cinnamon
½ teaspoons ginger
¼ teaspoons nutmeg
1 teaspoon canola oil
Instructions
Preheat oven to 350 degrees.
Spray an 8″ x 8″ baking pan with non-stick cooking spray and set aside. In a large bowl, toss fruit and 1 tablespoon flour together. Add ¼ cup honey (set aside the other ¼ cup) and use a fork (or your fingers) to combine ingredients. If using frozen berries, the honey may cause them to bunch together, so make sure that you pick them apart. Pour fruit mixture into prepared pan.
In a medium bowl, mix remaining flour, oats, walnuts, cinnamon, ginger and nutmeg until combined. Add remaining honey and canola oil. Use your fingers to thoroughly combine the ingredients. Sprinkle the flour and oat mixture evenly over the fruit.
Bake for 40 to 45 minutes until fruit is bubbly and the topping is browned and crisp. Let cool for 20 minutes. Serve plain or top each serving with vanilla yogurt.
Looking for more healthy recipes?