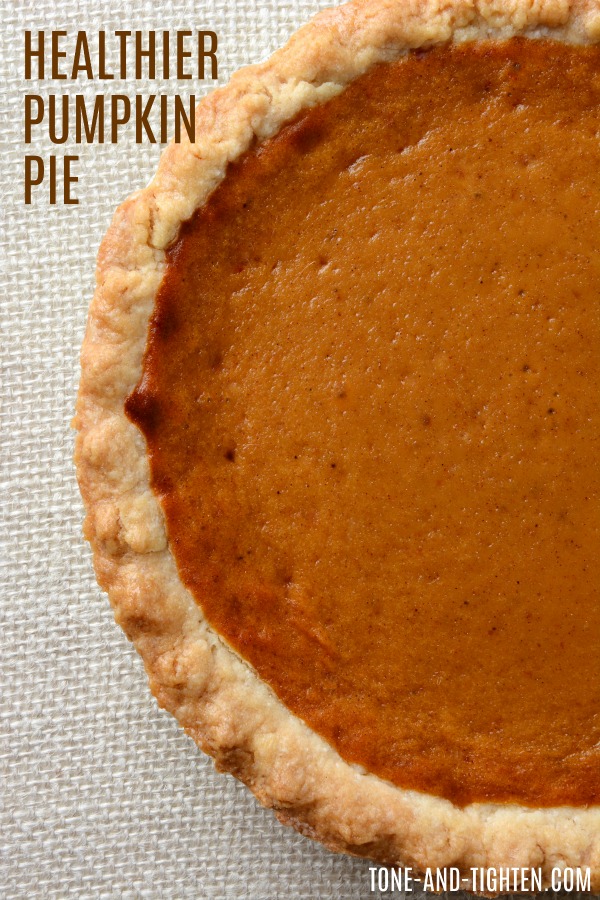 Between November 1 and January 1, the average adult gains between 5-10 pounds. Help combat that weight gain by making healthier swaps where you can, like with this pie! It has less sugar and less calories than the average pie, so your healthy eating won't be ruined by indulging in pie!
If you are looking for more healthy recipes to keep your eating on track (even during the holidays), be sure to check out my 1500 Calorie 14-Day Healthy Eating Plan!
Healthier Pumpkin Pie
Prep time:
Cook time:
Total time:
Ingredients
1 (15 ounce) can pumpkin puree
2 Tablespoons whipped butter, softened
¾ cup light brown sugar, unpacked
½ cup skim milk
1 large egg
2 large egg whites
½ teaspoon pumpkin pie spice
½ teaspoon ground cinnamon
¼ teaspoon ground nutmeg
1 teaspoon vanilla extract
1 frozen pie crust sheet, thawed to room temperature
Instructions
Preheat oven to 350 degrees.
Lightly dust a flat surface with flour. Roll out thawed pie crust sheet so that it becomes thin enough to cut off about 30%, making the final weight of the crust only 5 ounces. Place into a 9-inch pie dish, cutting off excess dough.
Place pumpkin puree in a large bowl. Add butter and mix well.
Using an electric mixer, mix in brown sugar, milk, eggs, egg whites, pumpkin pie spice, cinnamon, nutmeg and vanilla. Beat on medium speed until mixture is smooth.
Pour filling into unbaked pie crust. Bake in preheated oven for about 70 to 75 minutes, or until knife inserted in center comes out clean.
Cut into 10 slices and serve.
Notes
You don't need to remove 30% of the pie crust, but it's a great way to cut out some of the calories.
You could also make your own pie crust from scratch, if desired.
Recipe source:
SkinnyTaste
Looking for more healthy desserts?