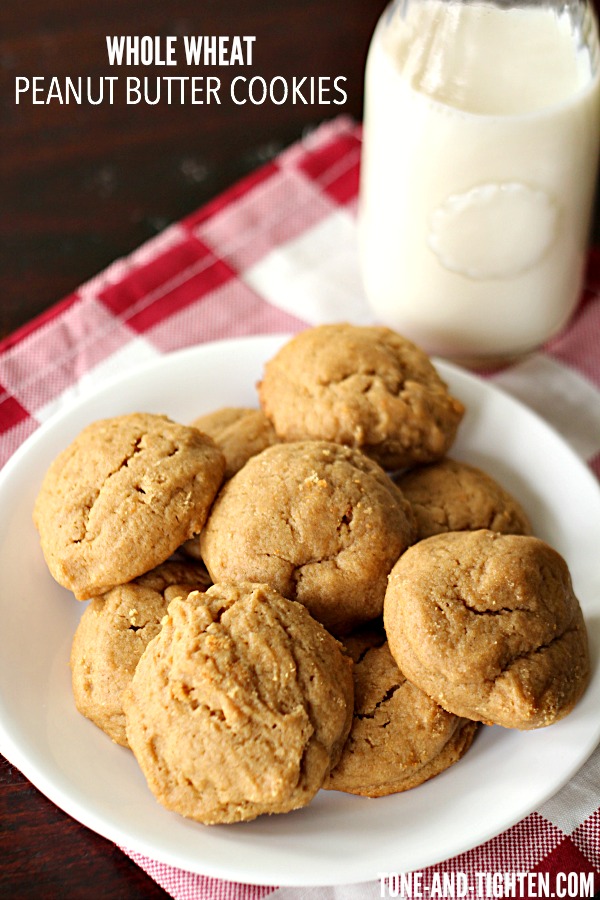 Let's be honest . . . everyone needs a little treat every now and then!
These peanut butter cookies are one of my favorites – they use whole wheat flour, pure maple syrup, and natural peanut butter to give you a delicious treat made with real foods that don't make you feel guilty.
My kids love these – and sometimes I will even throw in a handful of mini semi-sweet chocolate chips if I am feeling dangerous. Ha ha!
Healthier Peanut Butter Cookies
Prep time:
Cook time:
Total time:
Ingredients
1¼ cups whole wheat flour
½ teaspoon baking soda
½ teaspoon salt
¾ cup natural peanut butter
¾ cup pure maple syrup
½ cup (1 stick) butter, softened
1 large egg
1 teaspoon pure vanilla extract
⅓ cup unsalted peanuts, chopped
Instructions
Preheat the oven to 325 degrees F.
In a medium bowl, whisk together the flour, baking soda, and salt. Set aside.
In a large bowl, thoroughly mix the peanut butter, maple syrup, butter, egg and vanilla (handheld electric mixer or stand mixer is recommended). Mix until almost smooth; some small butter chunks may remain in the batter, which is okay.
Turn the mixer down to low and slowly add the dry flour mixture until well-combined. Do not overmix. Carefully fold in the peanuts.
Drop the cookie dough by the spoonful onto a large ungreased baking sheet and bake until the cookies are light golden brown, about 13-15 minutes. Transfer to a rack to cool.
Recipe from
100 Days of Real Food Cookbook
Looking for other healthy treats to try?