Eating healthy is easy when you have a plan and the best simple recipes up your sleeve. These 100 meal prep recipes will have you covered for breakfast, lunch, dinner and snacks. They include chicken, pork, beef, turkey, seafood, and meatless recipes – there is something for everyone!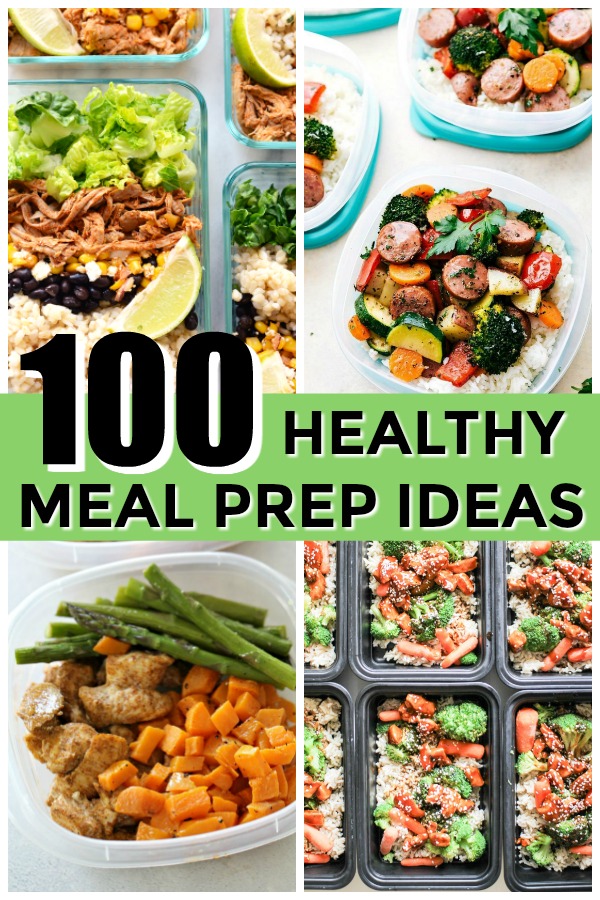 I have learned that when it comes to eating healthy and losing weight, my patients and clients have the most success when they plan ahead.
Meal prep is the perfect solution! Take a little bit of time to prep some meals ahead of time and then when it's time to eat, you have a healthy plan in place.
I have broken up the 100 recipes into the following sections:
Ground Turkey
Beef
Pork
Chicken
Meatless
Seafood
Snacks
Breakfast
There is literally something for everyone! Keep scrolling down to get the links to all the recipes.
What is meal prepping anyway?
Meal prep just means that you are prepping your meals once or twice a week in a large batch. It's really convenient because you only cook once but have enough meals to last you for 4-5 days.
I love having healthy meals ready for me in the fridge- I just pull it out of the fridge and heat it up. It's perfect for days when I am at home or even at work.
Meal prepping really does make eating healthy so easy!
I usually take some time on Sunday nights to meal prep for the upcoming week.
Meal prepping also saves you money because you are not eating out and it's cheaper to buy items in bulk like you need for meal prepping.
Why meal prep?
Meal prep can help with:
portion control
wondering what to eat for lunch or dinner
healthy meals that are ready when you are
avoiding the drive-thru at a fast food place
and all of these things lead to weight loss!
What are the best meal prep containers?
You can also purchase glass meal prep containers, which are really nice too. Whatever you prefer will work perfectly.
How long do meal prep bowls last in the fridge?
I have found that for myself, I prefer to eat my meal prep bowls within 3-4 days. When they get much older than that, they start to lose their fresh taste.
Meal prep bowls that are made with seafood will only last 2-3 days.
If you are making salads as meal prep, you will want to make sure that you don't mix the dressing in until right before you eat (otherwise the salad will be soggy).
===========================
Eliminate guesswork and confusion and start seeing results.
Subscribe to Tone-and-Tighten.com and get our FREE "7-Day Workout and Healthy Menu Plan" delivered daily right to your inbox. CLICK HERE to get it.
===========================
Ground turkey:
30 Minute Thai Basil Turkey
Turkey Taco Lunch Bowls
Ground Turkey Sloppy Joes
Ground Turkey Zucchini Sweet Potato Bowls
Chinese Green Beans and Ground Turkey
Honey Sriracha Glazed Meatballs
Ground Turkey Burrito Bowls
Dirty Rice
Ground Turkey and Sweet Potato Skillet
Ground Turkey Freezer Burritos
Ground Turkey Taco Skilet
Italian Ground Turkey Meatballs
Ground Turkey and Peppers
Beef:
Beef and Broccoli
Sheet Pan Steak Fajitas
Korean Beef Meal Prep Bowls
Teriyaki Beef Zoodles
Sheet Pan Steak and Veggies
Spicy Ground Beef and Butternut Squash
Taco Salad Lunch Bowls
Teriyaki Steak Rice Bowls
Mexican Zucchini and Beef
Enchilada Casserole
Steak Cobb Salad Meal Prep
Skillet Meatballs and Marinara
Pork:
Sausage and Gnocchi Skillet
Pulled Pork Protein Bowl
Carnitas Burrito Bowls
Pork Tenderloin and Fall Vegetables
Italian Sausage and Veggies
Ranch Pork Chops and Vegetables
BBQ Pulled Pork Bowls
Pork Chops with Carrots and Potatoes
Vietnamese Pork Bowls
Garlic and Herb Pork Tenderloin
Hawaiian Pulled Pork Rice Bowls
Chili Dijon Pork Tenderloin
Chicken:
Roasted Chicken and Vegetables
Greek Chicken Meal Prep Bowls
Spicy Chicken and Sweet Potatoes
Pesto Chicken Pita Pockets
Cilantro Lime Chicken with Cauliflower Rice
Jerk Chicken Meal Prep Bowls
Fiesta Chicken Rice Bowls
Chicken Burrito Bowls
One Pan Chicken and Vegetables
Asian Chicken, Veggies, and Rice
Chicken Butternut Squash Pasta
Chicken, Apple, and Pecan Salads
Baked Lime Chicken
Hawaiian BBQ Chicken and Pineapple Bowls
Baked Cajun Chicken and Vegetables
Meatless:
Asian Zucchini Noodle Salad
Greek Tortellini Pasta SaladRoasted Vegetable Buddha Bowls
Broccoli Pasta Salad
Garden Vegetable Soup
Vegetarian Falafel Bowls
Roasted Meal Prep Bowls
Sweet Potato Bowls
Mediterranean Quinoa Meal Prep Bowls
Grilled Veggies and Black Bean Bowls
Quinoa Taco Bowls
Make-Ahead Meatless Burritos
Curried Chickpea Meal Bowls
Seafood:
Teriyaki Shrimp Zoodles
Shrimp Taco Meal Prep Bowls
Lemon Roasted Salmon with Sweet Potatoes and Broccolini
Shrimp Fried Rice Bowls
Teriyaki Salmon and Veggies
Spring Roll Meal Prep Bowls
Hawaiian Tuna Burgers
Lemon Butter Garlic Shrimp and Asparagus
Sheet Pan Shrimp Boil
Shrimp Pad Thai
Cajun Shrimp and Sausage Vegetable Skillet
Tortellini with Shrimp and Veggies
Chile Lime Salmon
Snacks:
Oatmeal Raisin Energy Bites
Peanut Butter Balls
Chocolate Protein Energy Bites
Pumpkin Spice Energy Bites
Chocolate Peanut Butter Energy Bites
No Bake Cookie Protein Bars
Deli-Style Protein Boxes
Healthy Carrot Cake Muffins
Salted Turtle Energy Bites
Chia Seed Pudding
Peanut Butter Granola
Fall Harvest Granola Bars
Breakfast:
Overnight Chocolate Banana Oats
Healthier Pumpkin Muffins
Green Smoothie Freezer Packs
Baked Banana Oatmeal Cups
Chocolate Peanut Butter Banana Blender Muffins
Peach Blueberry Muffins
Healthy Banana Oat Muffins
Healthy Oatmeal Breakfast Cookies
Make Ahead Breakfast Bowls
Peanut Butter Banana Baked Oatmeal
Sweet Potato Breakfast Bowls
Freezer Breakfast Quesadillas
Breakfast Casserole
Be sure to not miss another post!
Follow Tone and Tighten on Instagram | Facebook | Pinterest | YouTube
Have you checked out my YouTube channel?
I am always sharing healthy recipes, physical therapy tips, and workouts to help make your life easier – like this one that shows you how to get rid of muscle knots!