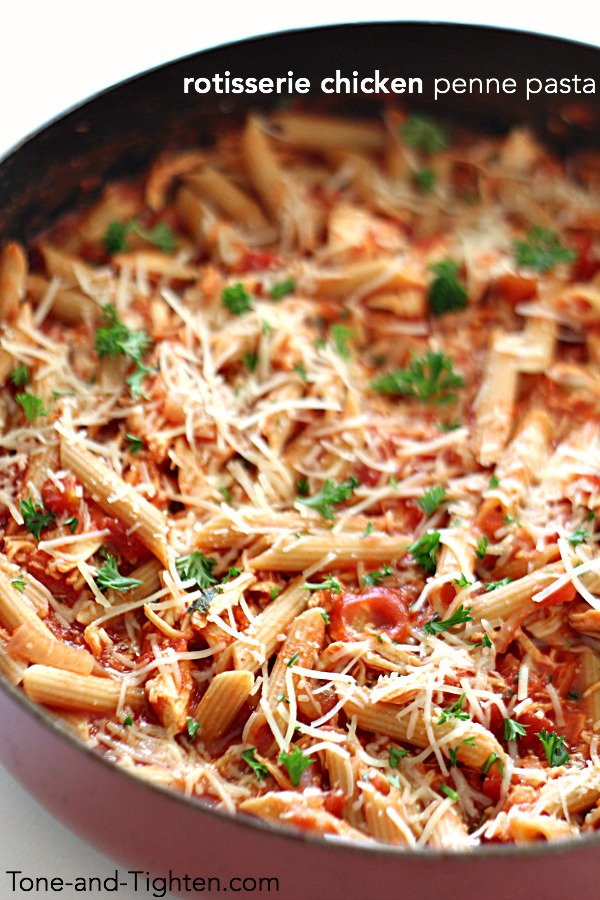 Need a quick and delicious (plus healthy!) dinner idea?
This simple skillet dish comes together in a matter of minutes – just pick up a rotisserie chicken on the way home from the grocery store and you are good to go!
If you are looking for more healthy recipe ideas that your whole family will love, be sure to check out my 30 Days of Healthy Eating Menu Plan – I did the hard work of putting together breakfast, lunch, dinner, and snacks for an entire month! Click HERE to learn more.
Rotisserie Chicken Penne Pasta
Ingredients
1⁄2 medium yellow onion, finely chopped
4 garlic cloves, minced
1 (14½ ounce) can diced tomatoes
2 (8 ounces each) cans tomato sauce
1 (6 ounce) can tomato juice
2 tablespoons basil, chopped fresh
1 tablespoon olive oil
1 tablespoon parsley, chopped fresh
black pepper to taste
1 teaspoon salt
2 cups cups rotisserie chicken, shredded
2 cups penne pasta, uncooked
parmesan cheese, grated
Instructions
In a large skillet over medium-high heat, sauté onions in olive oil until translucent.
Add garlic and cook for one more minute. Add tomatoes, tomato sauce, tomato juice, black pepper, salt, basil, and parsley to skillet and bring to a boil.
Once sauce starts to boil, reduce heat to low and let simmer for 8-10 minutes.
In a separate saucepan, cook penne pasta in boiling, salted water according to package directions.
Strain pasta and add to sauce. Add in cooked chicken and stir well.
Serve topped with Parmesan cheese.
Notes
For added heat and flavor, add some red pepper flakes and oregano!
Nutrition info:
Serving Size: 1
Servings Per Recipe: 5
Calories 322.8
Total Fat 9.3 g 14%
Saturated Fat 2.1 g 10%
Cholesterol 37.1 mg 12%
Sodium 1036.6 mg 43%
Total Carbohydrate 44.4 g 14%
Dietary Fiber 7.3 g 29%
Sugars 7.4 g 29%
Protein 17.6 g 35%
Looking for more healthy dinners? Try these: