Workouts, healthy recipes, motivation, tips, and advice all right to your inbox! Subscribe to Tone-and-Tighten.com RIGHT HERE and get our FREE "Beginner's Guide To Weight Loss" ebook!
Ladies – if you're anything like my wife you're all about shapely legs and a perfectly round booty. My beautiful bride has come to me many times in her life asking for some workout advice with these two areas. Over the years we've tweaked things a bit to come to what she feels to be the biggest burn for her time. Introducing an all-new gym leg workout that is sure to tone and tighten all the right things in all the right places! This one's going to be fun! 
For this workout we'll be focusing on three of the main muscle groups in your legs – your quads, your hamstrings, and your glutes. We'll do some of the most effective exercises to shape tight, toned muscle in these areas and help you see the gains you've always desired.
We'll do 6 exercises total, broken into 2 circuits of 3 exercises each. Perform all exercises in circuit A prior to moving on to circuit B.
Alright here we go…
Circuit A
1. Barbell Squats – quads and glutes. Spread your legs slightly wider than your knees/hips for some inner thigh work as well!
10 Reps (and then on to Exercise 2 – Prone hamstring curls)
2. Prone Hamstring Curl – smash the hams to define the back of your legs and round them out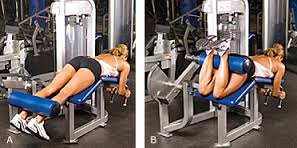 10 Reps (and then on to Exercise 3 – Cable kick backs)
3. Cable Kick-Backs – Keep your leg locked out and focusing on smashing your glute throughout the motion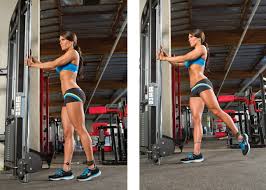 10 Reps (and then back to Exercise 1 – Barbell squats)
Repeat Circuit A three times and then move on to Circuit B
Circuit B
1. Bulgarian Split Squat – elevate your leg game by elevating your back leg during this lunge/squat motion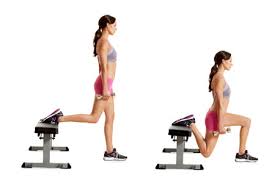 10 Reps (and then on to Exercise 2 – Barbell Straight-Legged Dead Lift)
2. Barbell Straight-Legged Dead Lift – focus on keeping your back straight, use your hamstrings and glutes to pull you upright.
10 Reps (and then on to Exercise 3 – Smith Machine Donkey Kicks)
3. Smith Machine Donkey Kicks – one final pull through the glutes as we push the bar skyward
10 Reps (and then back to Exercise 1 – Bulgarian Split Squat)
Repeat Circuit B three times.
This is one of my wife's favorite leg workouts in the gym. Not only has she gotten a lot stronger, but I'll vouch for the results!
Looking for more amazing gym workouts just like this one?
Is working out from home more your style? Tone and Tighten has you covered!
Our 8-Week Beginner's Workout Plan features over 50 workouts, 15 healthy and delicious recipes, tips, motivation and more to help you achieve your fitness goals! Check it out here!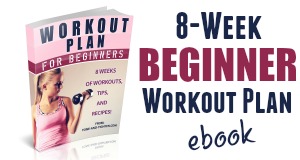 Looking for something a little more difficult? Our follow-up ebook, the "8-Week Advanced Workout Guide" takes your results to a whole new level! Over 75 workouts to push you harder and yield incredible outcomes! Learn more here!