Workouts, recipes, motivation, tips, and advice all right to your inbox! Subscribe to Tone-and-Tighten.com using the red bar up at the top of the page.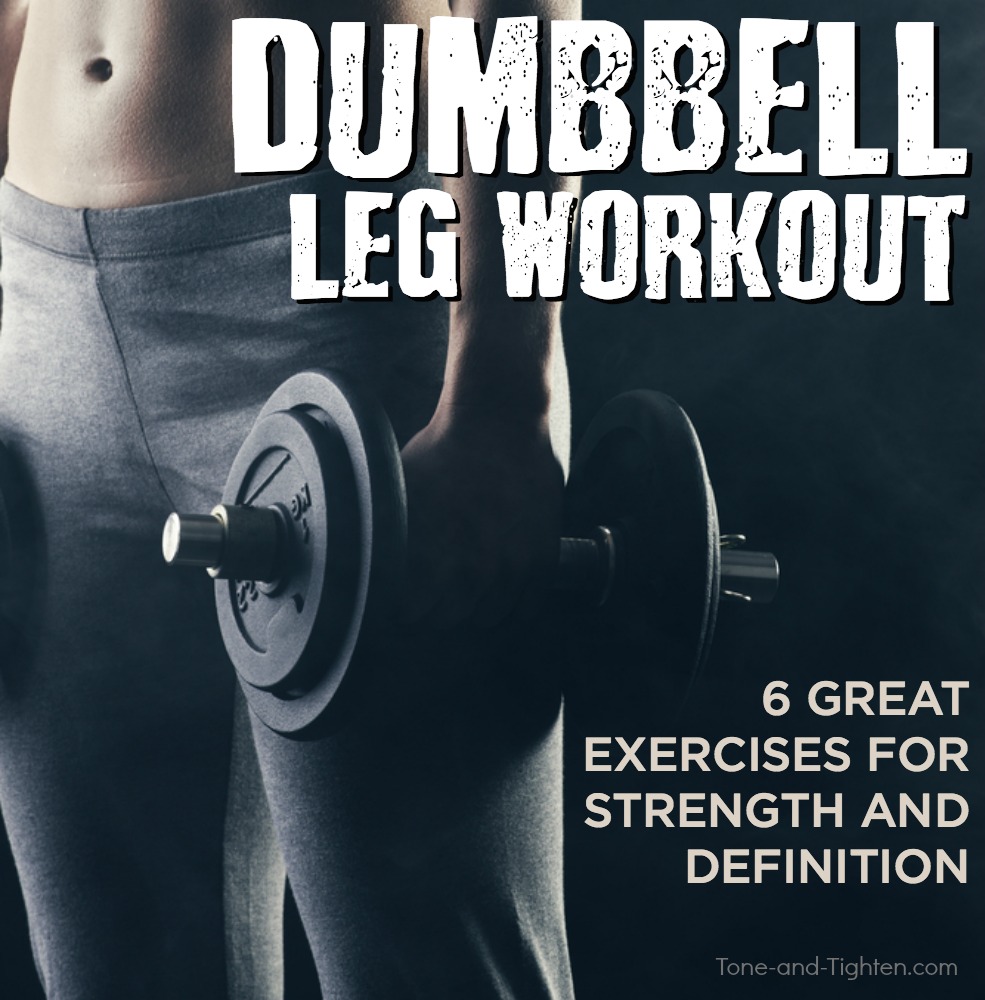 Adding resistance to your workouts is a great way to increase muscle strength and improve definition. Dumbbells are one of my favorite ways to add resistance to at-home workouts; they're compact, portable, and so versatile! Today I am sharing one of my favorite 30-minute leg workouts that you can do at home using just a pair of dumbbells. Get ready to squat and lunge your way to amazing leg definition – this one is going to be a burner!
Below you will find 6 great dumbbell leg exercises. The key to this workout is to not take any rest between sets of each exercise; however after completing the 6th exercise (dumbbell squats) take 2 minutes to catch your breath. Your legs are going to be on fire with this one, but I know you can do it!

Need some dumbbells? Here's a link to some of my favorites! I love that you can adjust these to all different weights (light to heavy) and that they're so compact and sturdy!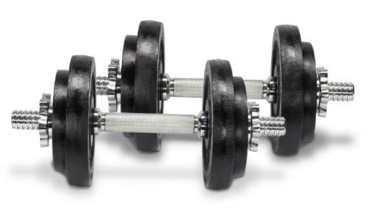 Warm up
Perform 30 seconds of each of the following four exercises – marching in place, jogging in place, butt-kickers, and jumping jacks.
The Workout
10 Overhead squats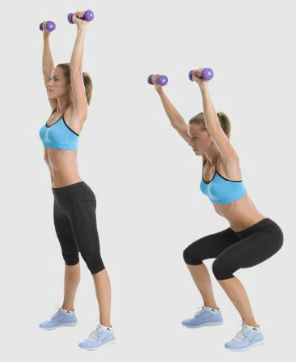 Great way to work the back and core a little bit harder while performing a squat. Lift your dumbbells over your head and keep them there throughout the entire squat motion.
10 Lunges (each leg)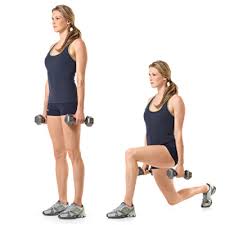 With the dumbbells down to your side lunge forward on to your left leg and then return to the upright position repeat this motion on your right leg. Try to keep your head high, shoulders back, and chest up (do not let the dumbbells roll your shoulders forward).
10 Plié squats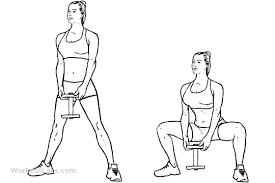 Hold one dumbbell in front of you with two hands as shown. Spread your legs out wider than your hips and angle your toes outward. Try to keep your knees relatively in line with your toes as you drop down into a squat position (thighs parallel to the ground if you can). Return to the upright position.
10 Backward lunges (each leg)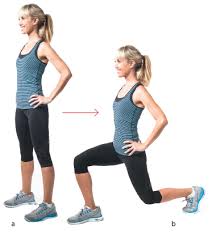 Similar to our forward lunge, however now you are going to be taking a big step backwards instead. With the dumbbells in your hands at your sides, take a large step backwards on to your left foot while bending at the right knee until your right thigh is parallel to the floor. Use your right quad and glutes to pull yourself back to an upright position.
10 Single leg deadlifts (each leg)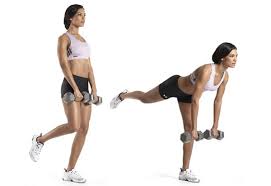 One of my favorite at-home exercises for your butt/hips. Stand upright with a dumbbell in each hand. Lift your right leg up off of the floor behind you as you bring your torso forward, hinging at your left hip. Pull through your left hip/butt to bring your body back to an upright position.
10 Dumbbell squats (weights outside of knees)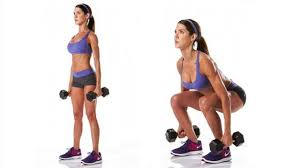 Finally, we will end with a variation of a dumbbell squat. Stand with your feet shoulder width apart with a dumbbell in each hand at your side. Lower yourself into a squat with dumbbells traveling just outside your knees. Once again, try not to let your shoulders round forward. Keep your shoulders back and your head up throughout this motion. Power through your legs to bring yourself back to upright.
Congratulations! You made it through your first set! Now you get to repeat everything 2 more times (3 sets total)!
Looking for more great at home leg workouts like this one? Tone and Tighten has you covered!
Click this link to be taken to a killer list of leg workouts!
Make it happen,
Jared