Workouts, healthy recipes, motivation, tips, and advice all right to your inbox! CLICK HERE to subscribe to our email list and get our FREE "Beginner's Guide To Weight Loss" ebook!
You brought this on yourself.
Hey everyone! I hope you all had a phenomenal Thanksgiving yesterday! If it was anything like mine there was lots of fun, lots of family, and lots of FOOD! I was determined to be better this year than I have in years in the past, which – I'm happy to report – I think I did! However, there's still nothing like an amazing calorie burn after a cheat day. Cue this at-home video workout! Heads-up… this does take about an hour but it's a BURNER! Shred a massive 800 calories all with zero equipment required! The video is broken down into two 10-minute and two 20-minute segments; even if you don't have time (or energy!) for the whole thing you can still do a part of it for a great at-home workout. Excited? Good – you totally should be!! Here we go:

Share this bad boy with your friends! See the social tags below for easy one-click sharing on Facebook, Twitter, Pinterest, and more!
Looking for more amazing at-home workouts just like this one? Tone and Tighten has you covered!
Our 8-Week Beginner's Workout Plan features over 50 workouts, 15 healthy and delicious recipes, tips, motivation and more to help you achieve your fitness goals! Check it out here!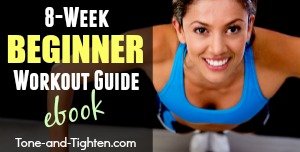 Looking for something a little more difficult? Our follow-up ebook, the "8-Week Advanced Workout Guide" takes your results to a whole new level! Over 75 workouts to push you harder and yield incredible outcomes! Learn more here!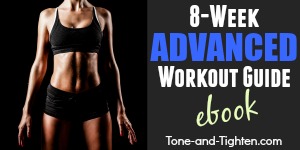 By Jared Beckstrand