15 of my favorite high protein and low carb snacks that power me through the day – and still taste delicious!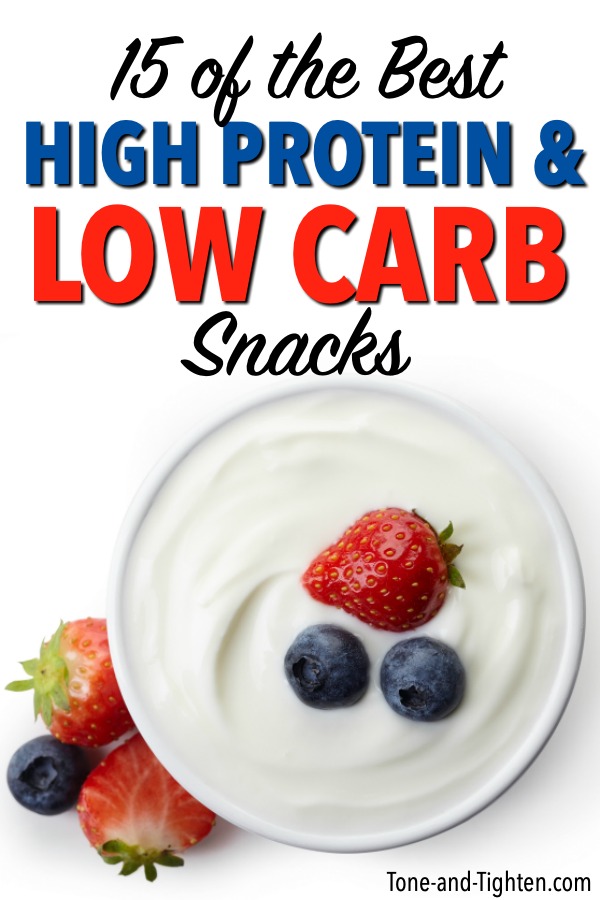 Snacks are a huge part of my diet – especially when cravings hit each afternoon. However, so many snack foods are filled with sugar and carbs, which don't do much to help you feel full or give you energy.
I have found that if I have a snack that is high in protein and lower in carbs, it helps power me through my day.
Protein helps you to feel more full because it signals the release of appetite-suppressing hormones, helps to slow down your digestion, and helps stabilize your blood sugar levels (which means you won't get that carb/sugar crash shortly after eating your snack).
I wanted to share with you some protein snacks that I always keep on hand.
If you are trying to get more protein in your diet and less carbs, these are some snack ideas that you are going to want to add to your pantry and fridge!
Are you trying to lower your carb intake?
You are going to want to check out my newest cookbook: Low Carb Dinners.
My wife and I put together 40 of our family's favorite dinners and BONUS – they are all low carb and high protein!
Get your copy of my Low Carb Dinners cookbook here!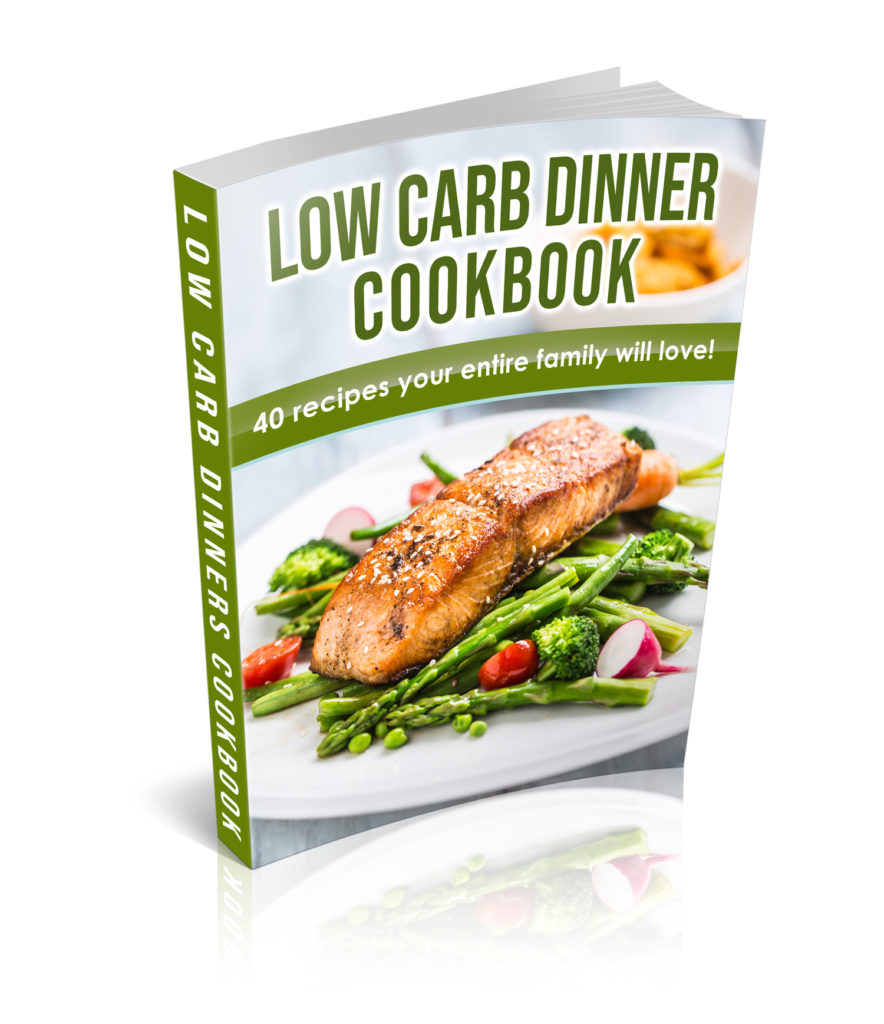 Now onto the snacks!
1. Turkey Roll-Ups
I am going to start off with one of my favorite go-to snacks – take a piece of turkey deli meat and wrap it around a piece of string cheese. It's delicious and easy to throw together in a matter of seconds!
You could also use a piece of ham or roast beef instead of turkey.
If you don't have any string cheese available, spread cream cheese on the deli meat, top it with a pickle and a tomato slice, and roll it up. Either way is delicious!
2. Jerky
Jerky is such a quick and convenient snack! Throw a couple of beef jerky pieces in your bag for an easy snack on-the-go.
Jerky is meat that has been trimmed of it's fat, cut into strips, and then dried.
Look for a jerky that is high in protein, low in fat, and watch for the added sugar (some have lots added!).
My favorite is turkey jerky because it's usually got more protein and it's lower in sugar. You can also get chicken and salmon jerky, which are both delicious.
3. Low Fat Greek Yogurt
I love to get plain or vanilla Greek yogurt and make it sweet by adding in berries or even a little squirt of honey. Be aware that many Greek yogurts that have fruit mixed in are very high in sugar.
Greek yogurt is also high in calcium as well as probiotics, which are great things to help your body stay healthy.
4. Protein Drink
When it comes to drinking protein, I am a big fan of mixing it in with my smoothies (however, I do love this kind of pre-made protein drink!).
I prefer to use a whey protein powder. Look for a powder that is lower in calories, lower in fat, and lower in carbs. I love this protein powder because it has 120 calories and 24 g of protein per scoop.
I will add a scoop of chocolate protein powder in with 1 cup of spinach, 1/2 of a banana (I keep frozen bananas in the freezer for my smoothies), 1 cup of water, and a handful of ice. It tastes like a chocolate milkshake and I get a ton of protein!
5. Collagen Peptides
Another way that I get more protein into my diet is to add a scoop of collagen peptides to my water bottle. 1 scoop is 10 g of protein and it's tasteless, so I can mix it into any drink that I want and it suddenly becomes a protein drink!
Collagen is one of the most important nutrients needed to to ensure the health and vitality of your skin, hair, tendon, cartilage, bones, and joints. Around the age of 30, our bodies naturally begin to produce less collagen, and the first signs of aging start to occur – so not only are you getting additional protein, but also collagen! It's a win-win situation.
6. Hard-Boiled Eggs
I love to make a dozen hard boiled eggs at the beginning of each week and then have them available all week long for a quick and easy snack!
Check out how I made hard-boiled eggs in my Instant Pot in a matter of minutes! It is so easy to make perfect hard boiled eggs when you use an Instant Pot.
I also love to turn my hard boiled eggs into deviled eggs – this recipe for Greek Yogurt Deviled Eggs is my favorite (and bonus – SO MUCH protein!).
7. Nuts
I love to purchase nuts in individual serving packages because then I know I can keep my serving size under control (nuts can be high in fat and calories and it's so easy to go overboard!).
The best nuts to snack on are pistachios (did you know that you can buy them without shells?), almonds, cashews, and pecans.
8. String Cheese
What can I say – I am a kid at heart! I love keeping string cheese at all times in my fridge so that I can grab it when I need a quick snack in a hurry.
Be sure to check the nutrition facts on the string cheese before purchasing – look for cheese that is made with low-fat or skim milk and is high in protein.
9. Hummus and Vegetables
Hummus is made from mashed chickpeas and then blended with tahini or oil. It can be used as a dip (such as for vegetables) or even as a spread on crackers or sandwiches.
A 1/3-cup serving of hummus contains 6.5 grams of protein, making it a filling snack that's also high in many other nutrients.
I love eating it with carrot sticks and celery sticks.
10. Cottage Cheese
Cottage cheese is super filling and packed with protein.
In just a 1/2-cup serving of cottage cheese, you get over 14 g of protein! You also get a good serving of calcium, which is another important nutrient that your body needs.
I love to eat cottage cheese on it's own or dip vegetables or crackers in it.
11. Protein Bars
I have a couple of favorites when it comes to protein bars – they are such a good snack to keep in your desk at work or in your bag for when hunger strikes.
Many protein bars are very high in carbs and/or sugar, so be aware of what you are consuming by reading the nutrition facts.
My favorites include:
You can also make your own protein bars! Check out my favorite homemade protein bar recipe HERE.

12. Tuna
Tuna is loaded with protein and makes a very healthy and convenient snack. One cup of tuna has 39 grams of protein, making it extra filling (not that you would eat 1 cup in a sitting . . . but if you did . . .).
I love the pouches of tuna that you can get at the grocery store. Some of my favorite flavors are Hot Buffalo Tuna and Spicy Thai Chili.
13. Peanut Butter + Celery Sticks
Peanut butter sometimes has a bad reputation, but it actually contains 4 g of protein per tablespoon and it's known for making you feel fuller longer.
Make sure that you read the nutrition label of your peanut butter – the only ingredient on there should be peanuts (no added sugar or other garbage). This is one of my favorite natural peanut butters.
If you don't like peanut butter or have an allergy, any type of nut better will do!
Pair it with a simple vegetable like celery sticks and you have the perfect snack.
If you don't like celery, pair it with an apple.
14. Roasted Chickpeas
Even though hummus is made from mashed chickpeas, did you know that you can roast them as well? They make a delicious crunchy snack that is good for you too!
You can make your own roasted chickpeas by adding a little oil and seasonings or you can even buy snack packs of them!
If you are someone that loves chips, this is a great alternative.
15. Chicken Salad
While this may seem like more of a meal to some people, I added it into the list because it's also one of my favorite snacks! I love to pair it with some vegetables (like sliced cucumbers) or even whole wheat crackers.
My simple recipe for chicken salad uses Greek yogurt, so it gives you that added protein . . . making this a protein-packed snack!
I have also spotted snack-size containers of chicken salad at Costco . . . that would be a great thing to grab!
Looking for more Low Carb recipes?
Check out my favorites:
Be sure to not miss another post!
Follow Tone and Tighten on Instagram | Facebook | Pinterest | YouTube
Have you checked out my YouTube channel?
I am always sharing healthy recipes, physical therapy tips, and workouts to help make your life easier – like this one that shows you how to get rid of muscle knots!