Looking for the perfect all-natural butt lift? This 14-day butt lift workout challenge will shape the best glutes of your life. Bringing you the top exercises to tone and tighten your butt. Includes 14 workouts designed to target your booty and get you a great backside.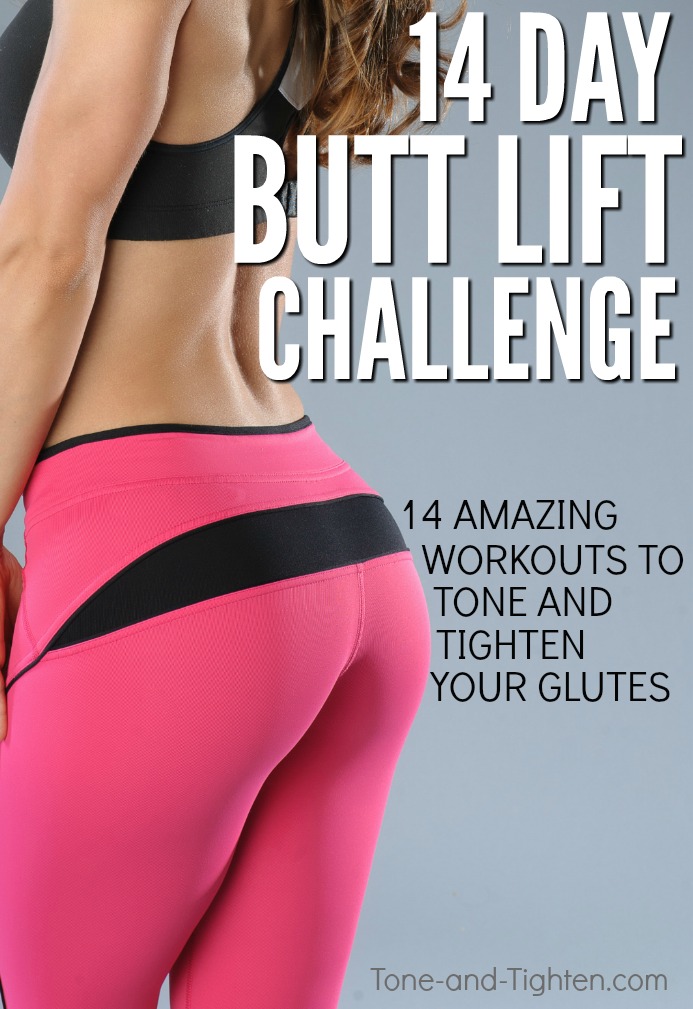 14-Day Butt Lift Challenge – Workouts You Can Do At Home
Day One- 10 Minute Butt Lift challenge

Day Two- Butt Pyramid Workout

Day Three- Five Bodyweight Squat Variations

Day Four- 15-Minute Abs, Butts, and Thighs Workout

Day Five- At Home Booty Builder Workout

Day Six- Butt and Leg Toning Workout

Day Seven- Get Rid of Saddlebags Workout

Day Eight- 15 Minute Booty Pop Workout

Day Nine- Booty Pop Workout #2

Day Ten- Burn 100 Series- Burn Your Butt Off

Day Eleven- Barbell Booty Workout

Day Twelve- Killer Leg Circuit Workout

Day Thirteen- Lower Body Burnout Workout with Weights

Day Fourteen- 30 Minute Thigh and Butt Burner Workout
Click on the pictures below to get the workouts.
===========================
Eliminate guesswork and confusion and start seeing results.
Subscribe to Tone-and-Tighten.com and get our FREE "7-Day Workout and Healthy Menu Plan" delivered daily right to your inbox. CLICK HERE to get it.
===========================
Hello, welcome to Tone-and-Tighten.com. I know you're here for my butt-lift challenge, but I briefly wanted to introduce you to Tone and Tighten and all the amazing things you can find here.
Ever since starting this site 2 years ago I have had one goal in mind – to make "Real Fitness For Real People". Here you'll find amazing workouts, healthy recipes, tips and advice, and much more. Take a minute to click around.
But of course you're here for the butt lift. If your posterior is hanging a little too far inferior and you would like to boost it up a bit then I have got the series for you.
Introducing Tone and Tighten's "14-Day Butt Lift Challenge". 14 killer workouts you can do to shape rounder, tighter glutes… because hey – who doesn't want that?
Check it out below…
…