Healthy, delicious, easy, and only takes 5 minutes to make. Make this Cookies and Cream protein balls recipe for a great protein boost after a tough exercise. A great post-workout snack or when you need something healthy on the go.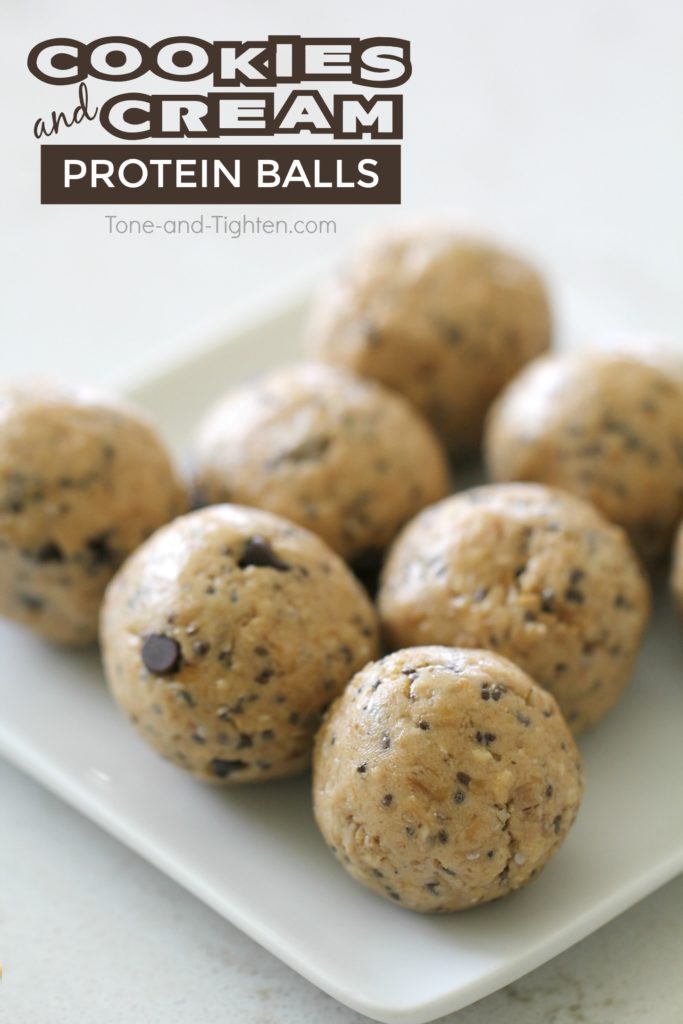 Cookies and Cream Protein Balls Recipe
Keep reading below for the protein ball recipe plus more healthy tips for your protein intake.
===========================
Eliminate guesswork and confusion and start seeing results.
Subscribe to Tone-and-Tighten.com and get our FREE "7-Day Workout and Healthy Menu Plan" delivered daily right to your inbox. CLICK HERE to get it.
===========================
If you are anything like me, you are always on the lookout for ways to sneak more protein into your diet. Increasing your protein intake is a good way to feel full longer (and thereby decrease excessive eating/snacking and cravings).
Your body is also better at utilizing protein as an energy source which results in decreased "storage" (i.e. fat cells and "problem areas").
I'm always looking for quick, easy, and delicious ways to consume more protein in my day – and this one is absolutely my favorite go-to.
Today I have teamed up with BodyTech and Vitamin Shoppe to bring you these "Cookies And Cream Protein Balls". They literally take less than 5 minutes to prepare and provide you with 5 grams of protein per ball.
Trust me – this one will become a standard at your house! …