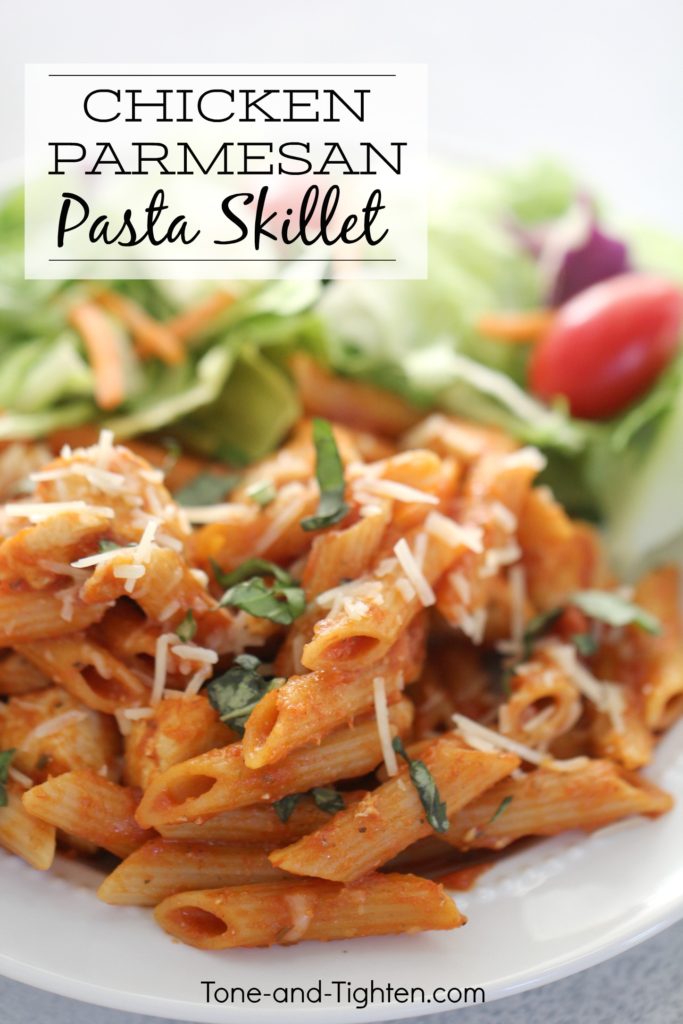 I love pasta. Spaghetti, lasagna, fettuccine, etc – if it's pasta covered in sauce with some  kind of meat and/or cheese — I'm usually all over it!
Today I'm sharing one of my all-time favorite pasta dishes – a clean, lighter version of a grilled chicken Parmesan that's kid-friendly (my 3 kids LOVE this recipe), dishwasher-friendly (literally only one skillet pan!), time-friendly (30 minutes start-to-finish), and macro-friendly (enjoy your pasta dishes while actually INCREASING your protein intake?! It's about to happen…).
We all know that portion control is important when it comes to eating healthy. All of us should strive to consume a good balance of "macronutrients" including carbohydrates (short-term energy source), proteins (long-term energy source) and fats (energy storage).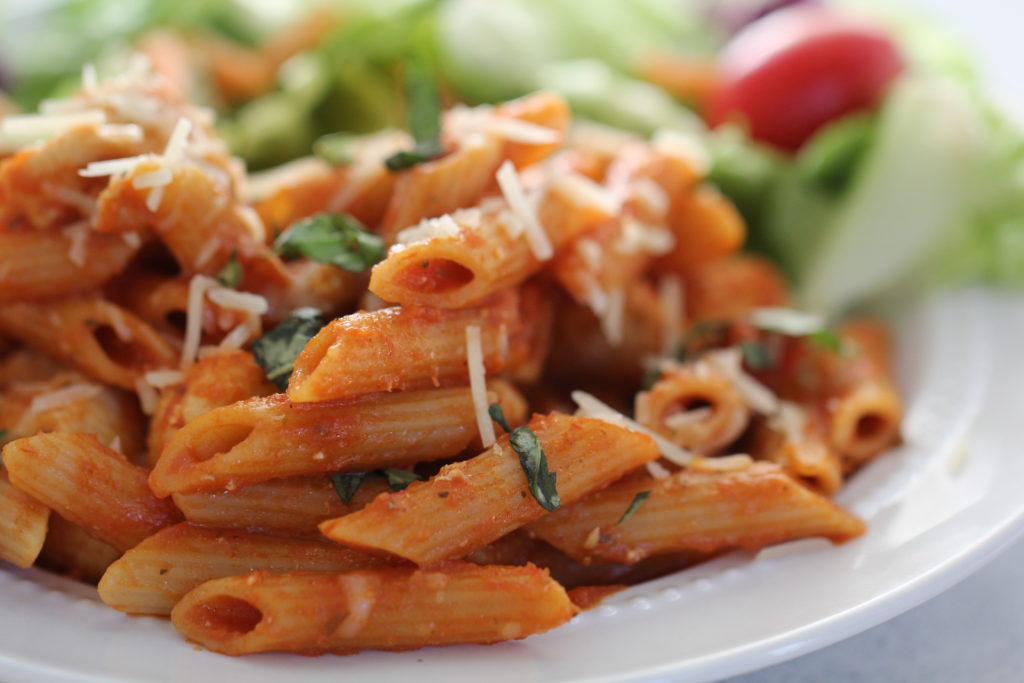 One of the things I love about pasta is that it is so easily paired with other foods to bring on different textures, colors, and flavors. While pasta is traditionally a great source of carbs, there are many other foods that can be easily added to make your meal a little more well-rounded and balanced by incorporating other macronutrients.
For this recipe we'll be adding some chicken to increase protein and your favorite marinara sauce to up the fruits/veggies (however you want to look at a tomato) intake for a well-balanced, healthy, and delicious meal!
Today I would like  to introduce you to the Barilla ProteinPLUS™ line of pasta! They've created a variety of pastas that have all the delicious flavor and texture of your favorite classics, but with more protein per serving!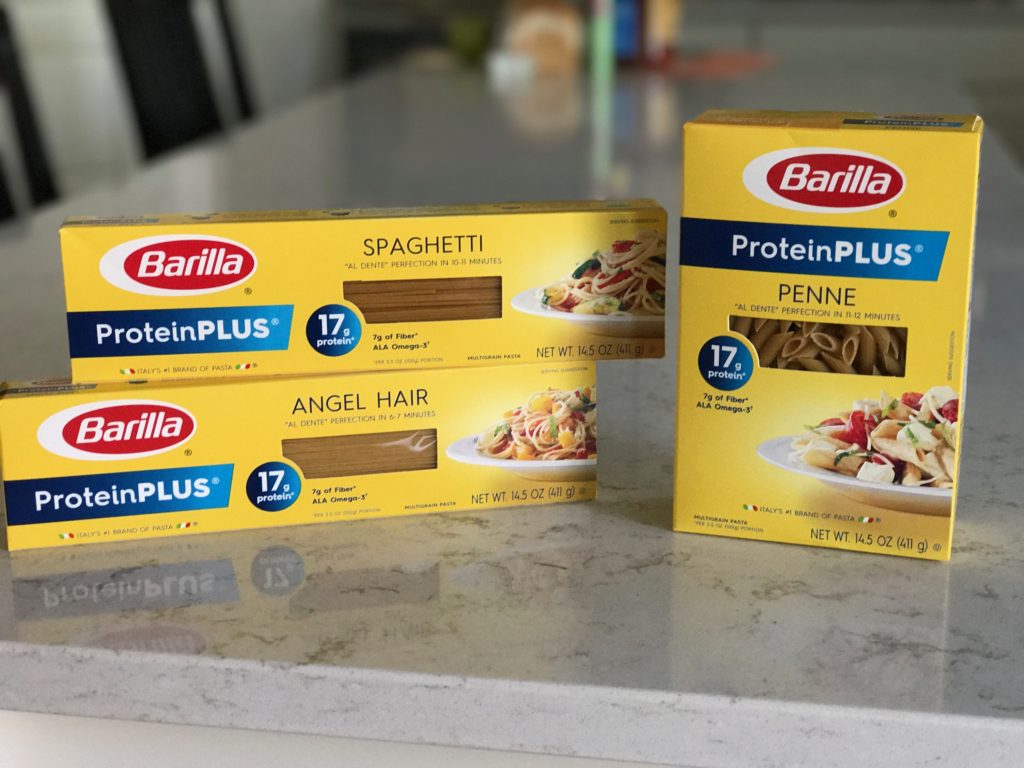 The secret is in the ingredients. While traditional pastas are made primarily of wheat and flour, Barilla ProteinPLUS™ has found a delicious way to incorporate a "Grain and Legume Flour Blend" that actually includes lentils, chickpeas, barley, oats, spelt, egg whites, and oat fiber into this line of pasta. The result is a great-tasting pasta line that has high quality protein, a good source of fiber, and even ALA Omega-3.
Barilla makes ProteinPLUS™ pasta in all your favorite varieties so you can incorporate it into all your favorite recipes! You can pick up the following ProteinPLUS™ varieties:
Angel Hair

Elbows

Farfalle

Penne

Rotini

Spaghetti

Thin Spaghetti
This pasta truly has been a game-changer over at my house. It's a healthy pasta option that lines up a little better with my macro needs to keep me on track with my personal fitness plan.
So grab a box of Barilla ProteinPLUS™ Penne and let's get to work on this recipe!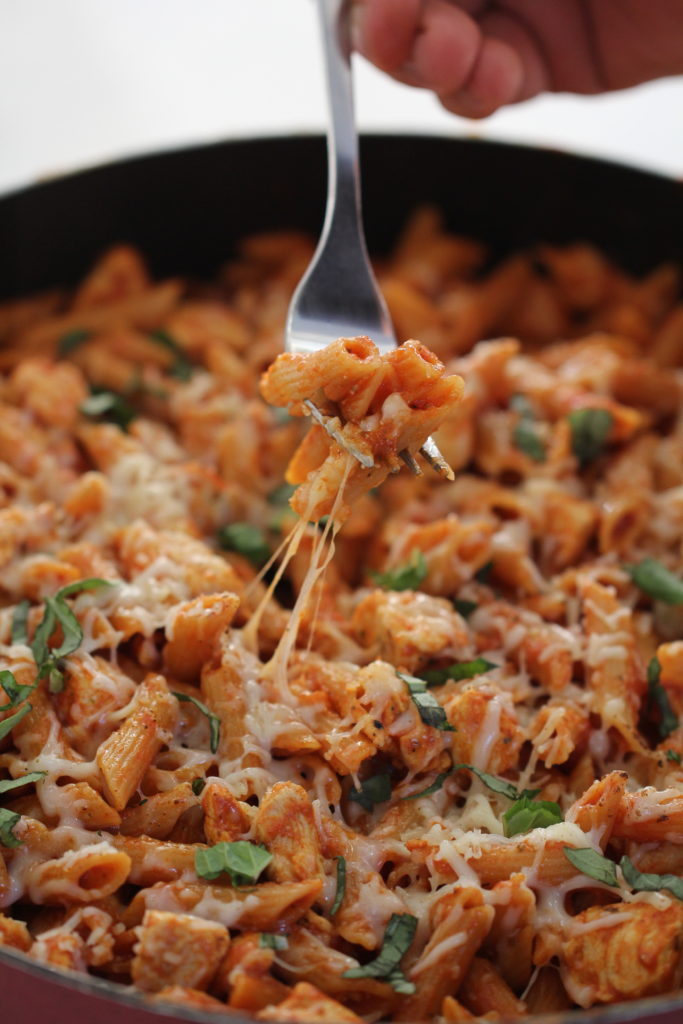 One-Pan Skillet Chicken Parmesan
Ingredients
2 Tablespoons Extra Virgin Olive Oil
4 chicken breasts – cubed
2 Tbs Italian seasoning
2 tsp onion powder
1 tsp garlic salt
16 oz Barilla ProteinPLUS™ Penne pasta
24-26 ounces your favorite pasta sauce (watch for sugar content!)
1/3 cup shredded mozzarella cheese
1/4 cup shredded Parmesan cheese
Chopped fresh basil
Salt and pepper to taste
Instructions
Place olive oil in a large skillet pan and heat over medium-high heat. Add the cubed chicken breasts, Italian seasoning, onion powder, and garlic salt.

Cook the chicken until slightly browned and no longer pink in the center (about 5-8 minutes depending on thickness of chicken).

Add entire box of Barilla ProteinPLUS™ Penne pasta and entire jar of pasta sauce. Fill the empty pasta sauce jar with water and add that to the skillet (I used about 3/4 jar of water as I prefer a "thicker" sauce).

Bring mixture to a boil and then reduce to a simmer on medium heat.

Cover and cook for about 15-18 minutes until pasta is done to your liking, stirring once or twice while cooking (I stir mine at about 8 minutes and check it again at about 15 minutes to check doneness of pasta).

Top with shredded cheeses and leave on heat until cheese is melted (1-2 minutes)

Top with fresh chopped basil, serve it to your family and friends, and watch them LOVE it!
Many thanks to Barilla for sponsoring this post. The content and opinions are all my own.