You'll love this easy grill recipe– steak that's loaded with flavor and bright peppers grilled to perfection. Marinated steak and veggie kabobs are great after a workout to give your body protein and iron and many important vitamins and minerals to boost your energy and build muscle. Try this healthy kabob meal on the grill.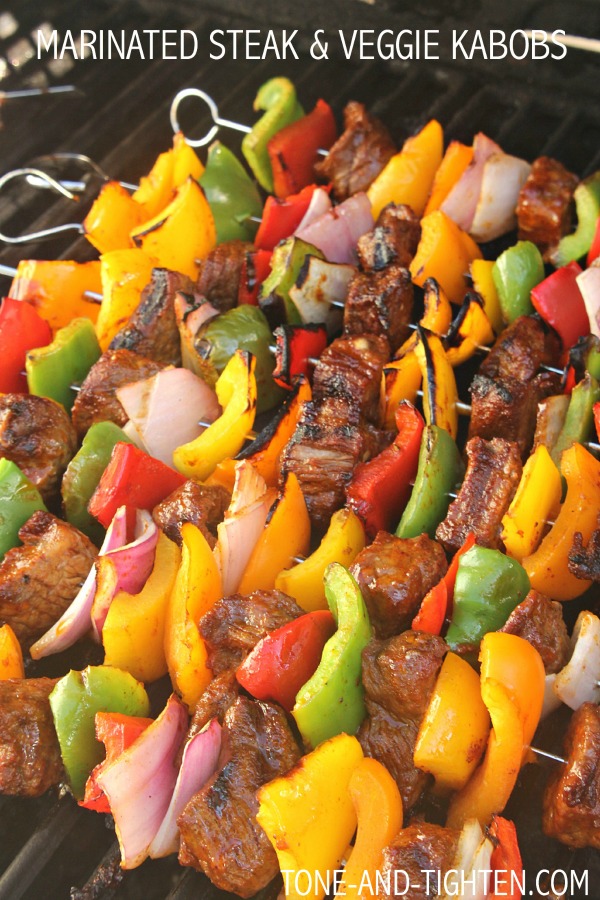 Marinated Steak and Vegetable Kabobs
Keep reading for the recipe.
===========================
Eliminate guesswork and confusion and start seeing results.
Subscribe to Tone-and-Tighten.com and get our FREE "7-Day Workout and Healthy Menu Plan" delivered daily right to your inbox. CLICK HERE to get it.
===========================
Fire up the grill.
Grilling can be healthy if you skip the processed fatty meats such as sausage and hot dogs. Add some veggies and you can get a great balanced meal loaded with healthy nutrients. 
These kabobs are a great example, they are loaded with flavor, but are actually good for you too.
Plus- grilled peppers are one of my favorite ways to eat vegetables. So tasty and nutritious. 
You won't be able to get enough of these steak and veggie kabobs.
Make it a family event and get some fresh air and exercise while you're outside grilling tonight. 
HOW DO I LOSE STOMACH FAT?
Introducing my all-new Mommy Tummy Fix program!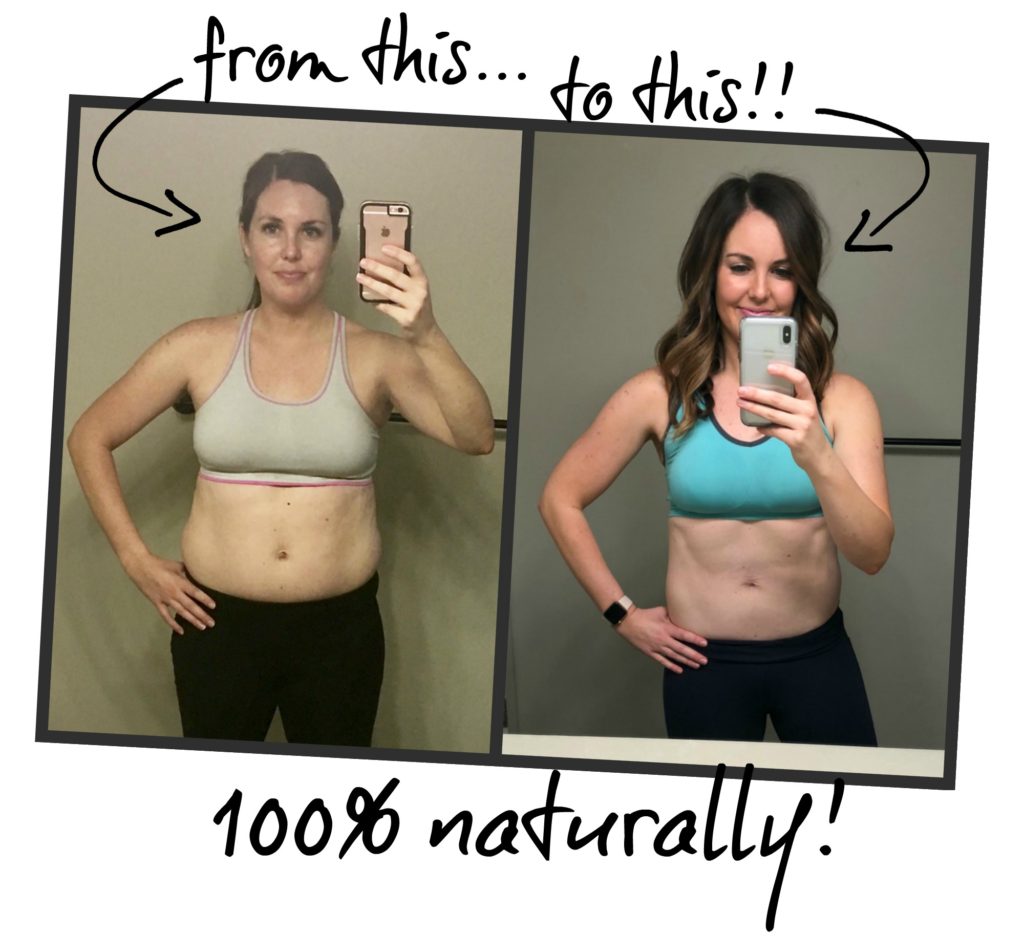 Moms ask me all the time how they tighten their tummies after having a baby to get rid of their "mommy pooch". It requires more than just crunches and planks.
That's where this program comes in.
A six-phase workout plan designed specifically to flatten your stomach and help you to heal up diastasis recti. This is the same progression I use with my postpartum patients in my physical therapy clinic to get science-based, proven results you can't help but notice.
​Six phases of workouts to ensure your continued progression
​Large color photos and clear instruction regarding performance, sets, and reps of each exercise to ensure proper performance
​The exact same workout plan my wife used for her amazing results
The best exercises in a simple-to-follow progression to tone and strengthen your abs correctly and ensure maximum success. Progressive workout routines = progressive results.
BEST VEGGIES TO INCLUDE IN A GRILL KABOB
You can experiment and add pretty much any veggies you like to a kabob. 
This delicious steak and veggie kabob recipe calls for bell peppers and red onion, but once you've tried this version, don't stop there. Keep experimenting with other veggies and foods you like to grill. 
Try adding cubed zucchini, cherry tomatoes, yellow squash, eggplant, or mushrooms.
It can also be fun and delicious to add other foods like pineapple, potatoes, even bacon, shrimp, or pieces of corn on the cob. 
Go for a rainbow of colors, flavors, and textures and you can enjoy a variety of veggie skewers all grill season long (which is all year, right?).
HEALTH BENEFITS OF STEAK AND VEGGIE KABOBS
It's always a good idea to load up on the fruit and vegetables, but including meat into your diet is extremely beneficial as well, especially after a workout. 
After a workout you need some high quality protein to help you build and replenish muscle. Steak is a great source of protein, one 3 oz serving provides about 25 grams of protein. The recommendation is about 15-25 grams per meal in order to repair and build muscle, and one serving of steak perfectly hits that goal. 
Besides being a great way to get protein, steak has some essential nutrients your body needs such as iron, vitamins B12 and B6, zinc, niacin, phosphorus and many more. 
These nutrients are so helpful for you after a workout. Iron helps your body use oxygen (and the iron in steak is the most easily absorbed by the body), vitamin B12 and B6 boost your energy, niacin supports energy production and metabolism, riboflavin helps you get fuel from your food, selenium helps protect your cells from damage, protein helps your body build muscle, and on and on and on.
There's so many health benefits from steak. And when you are pairing it with colorful veggies, you'll get balanced nutrition in each skewer
HEALTH BENEFITS OF USING THE GRILL
There are some important health benefits of cooking your food on a grill. 
Some veggies retain more of their vitamins and minerals (and you can digest and absorb them better) when they are grilled. It's best to get a variety of vegetables in each type of preparation stage: fresh, grilled, canned, frozen, dried, etc. Grilled kabobs is a delicious way to include a lot of veggies in one meal.  
You can also enjoy lower calorie and lower-fat meals when grilling food.
If you cook your food on the grill correctly, you can lock in so much natural flavor in juicy meats and tasty veggies that you won't need other unhealthy toppings. You won't find yourself reaching for extra sauces and dips that add unnecessary sugar, fat, and calories. 
You'll also eat less fat if you cook your food on a grill. The fat will drip off of your meats instead of pooling in a pan and staying in your meat, and you won't need to add butter because it will already taste amazing.
Using a marinade like in this recipe, can also be a healthy, easy, and delicious way to flavor meat without adding too many extra calories. 
I hope you like this steak and vegetable kabob recipe. 
Marinated Steak and Vegetable Kabobs
Prep time:
Cook time:
Total time:
Ingredients
¼ cup extra-virgin olive oil
¼ cup Worcestershire sauce
3 tablespoons soy sauce
1 tablespoon lemon juice
1 tablespoon Dijon mustard
3 medium cloves garlic, minced
2 teaspoons dark brown sugar
2 teaspoons freshly ground black pepper
1½ pounds beef sirloin tips, cut into 1½-inch cubes
1 large red onion, cut into bite-size pieces (about 1.5" x 1.5")
1 red bell pepper, cut into bite-size pieces
1 green bell pepper, cut into bite-size pieces
1 yellow bell pepper, cut into bite-size pieces
1 orange bell pepper, cut into bite-size pieces
Instructions
Whisk together oil, Worcestershire, soy sauce, lemon juice, mustard, garlic, brown sugar, and black pepper in a small bowl. Place beef cubes in a large resealable plastic bag. Add marinade and seal bag, pressing out as much air as possible. Marinate, refrigerated, for at least an hour (I let mine soak for about 4 hours).
Remove meat from the fridge and discard marinade. Thread meat, peppers, and onion onto the skewers, alternating meat and vegetables.
Cook kabobs on the grill over medium-high, about 6-8 minutes each (turning once or twice to make sure that they are evenly cooked). Serve warm and enjoy!
Here are some great side dishes to add to your meal with these kabobs:
Mashed Garlic Cauliflower "Potatoes"
Be sure to follow Tone and Tighten on Pinterest, Twitter, Facebook, Instagram, and YouTube for more recipes, tips, workouts, and fitness ideas.
Looking for more delicious healthy recipes?
Easy Restaurant-Style Blender Salsa