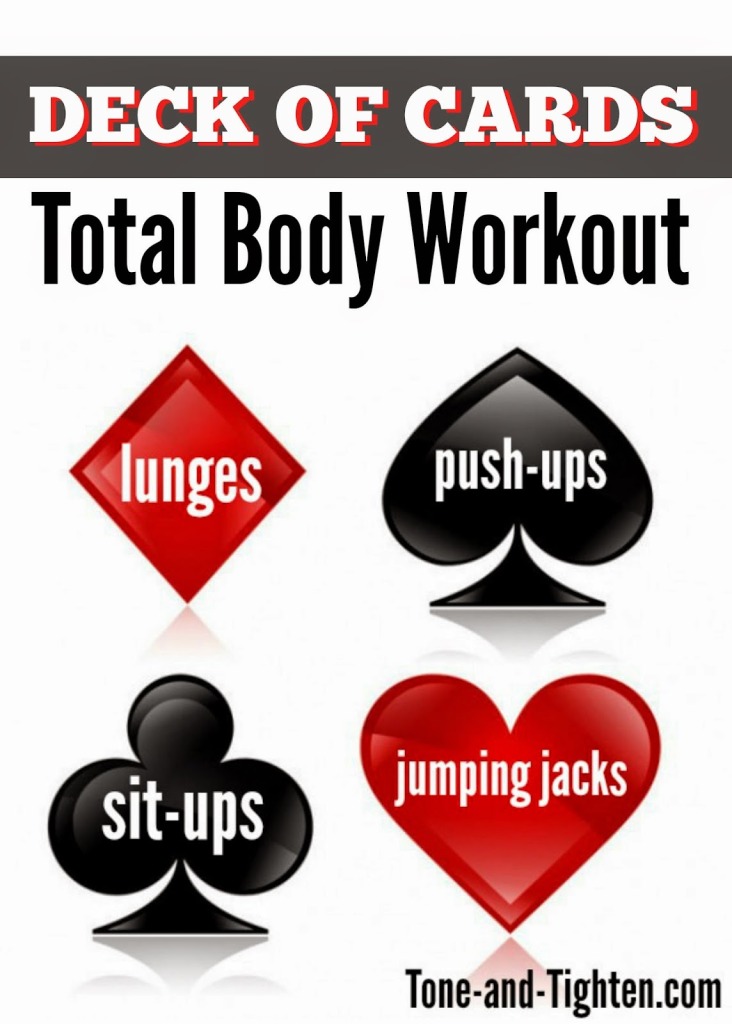 Ready for another great workout you can do at home?
I saw this workout on The Biggest Loser many years ago and thought that it was a great idea for when you needed a killer workout, but had no equipment or weren't sure what to do.

Grab yourself a deck of cards and let's get to work!
Instructions:
To do this workout, you will need a deck of 52 cards. 
All face cards (jacks, queens, and kings) have a value of 10 and aces have a value of 11.
Number cards are face value (if you pick of 6, you will need to do 6 moves of the assigned exercise).
Try to get through this workout as quickly as possible, with little or no breaks in between each one.

Diamond cards = Lunges
You can do walking lunges, alternating leg lunges, forward lunges, backward lunges . . . whatever is best for you. Just make sure that your knee never goes over your toe on your front leg and try to go as low as you can. You can thank me later.

Spade cards = Push-ups
If you are a beginner, feel free to standing push-ups against a wall.
If you are an intermediate, feel free to do these push-ups on your knees.
If you are at an advanced level, do a regular push-up on your toes. 

Club cards = Sit-Ups
Just your basic sit-up, all the way up and all the way down. Feel free to cross your arms over your chest or put them behind your head.

Heart cards = Jumping Jacks
The challenge with these is to do them as quickly as possible.

How'd you do? How long did it take you to get through the entire deck of cards?
Be sure to check out these other workouts you can do at home:
Make it happen,
Jared

By Jared Beckstrand