Turn "Thunder Thighs" into "Wonder Thighs" with this at-home workout!
First of all, thanks so much for your response to our new "Problem Areas" series! I started this series in response to many of your emails enquiring about specific exercises for areas you had the hardest time working. The result is some of my favorite posts I've ever done! I look forward to Fridays because that's the day I get to work on the "Problem Areas" series – can't believe we're on week 3!
Today we're dedicating to those of you wanting to slim and tone your lower extremities. Eliminate "Thunder Thighs" forever by turning them into strong, toned, and beautiful legs. Get the workout below!
We're going to combine two elements in this workout – strength and cardio. Cardio is going to take inches off and strength is going to tone muscle so your legs look amazing!
The Workout
Warm up
A quick jog around the block, run up and down your stairs for 2-3 minutes, even marching in place is going to get the blood flowing prior to our workout.

Squats
Start things off right with some good ol' air squats. Get low enough so your thighs are parallel to the floor.
3 sets of 15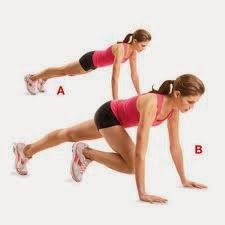 30 seconds Plank Jacks
Don't break between mountain climbers and plank jacks. Keep your hands stationary but now your jumping your legs apart and back.
Rest 30 seconds
Repeated 3 times and then move on to…
Lunges
Back to strength – Nice and in control, knee over toes while you lunge.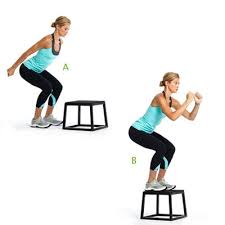 30 seconds Box Jump Squat
Cardio time! Mini squat followed by a jump up on to a box/stair/step/etc.
30 seconds Pistol Pulses (15 seconds per leg)
Stand on your left leg. Lift your right leg out in front of you with your right knee straight. Lift your right foot off the floor as high as you can. Now unlock your left leg to lower yourself about 8 inches. Return to the starting position and repeat. (Basically a mini pistol squat repeated as quickly as you can).
Rest 30 seconds
Repeated 3 times and then move on to…

Side Lunges
We won't forget about the inside and outside of the thighs!
3 sets of 15 on each leg

30 seconds Swiss Ball Hamstring Curls
(Single leg bridges if no ball is available)
Lay on your back with your feet up on a ball. Lift your butt up off the floor. Pull your feet in towards your butt by rolling the ball towards you with your feet. Slowly return to starting position.
Rest 30 seconds
Repeated 3 times and finish up with…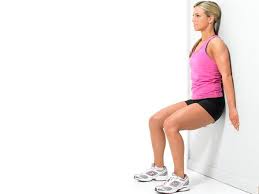 60-second Wall Sit
Your quads are going to be SCREAMING not to make you do this! Stick with it! Thats the inches melting off your legs!!

Congratulations!! Now THOSE are legs that will wow everyone!
(Sorry about any stairs tomorrow!)
Looking for more of the "Problem Areas" series on Tone and Tighten?
As always, I love to hear from our readers!! Leave me a comment below telling me what you think of this workout or email me at ToneandTightenFitness@gmail.com

By Jared Beckstrand