Looking for healthy recipes? I've done the work for you. Here are 100 of the best Weight Watchers recipes. This list includes a wide array of recipes from all sorts of cuisines of main dishes, side dishes, salads, appetizers, breakfasts, desserts, and soups. Nutritious meals like these will help you in your weight loss goals. These recipes are for anyone who wants a healthy meal you can feel good about.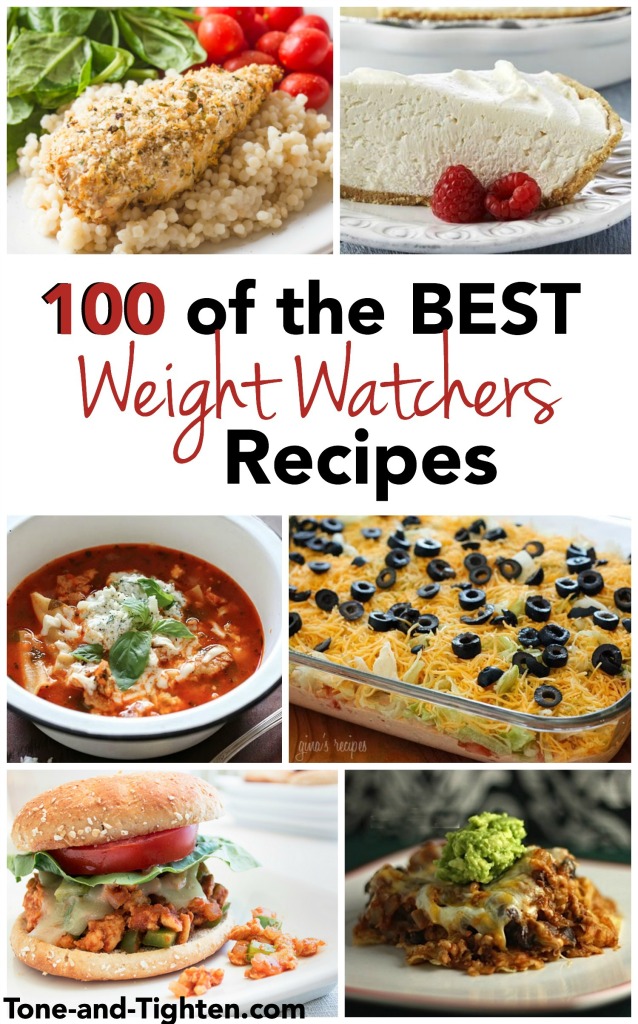 100 of the Best Weight Watchers Recipes
Soups

Main Dishes

Salads

Side Dishes

Appetizers

Breakfasts

Desserts
Keep reading for the best Weight Watchers recipes in each of these categories.
====================================
7 Days of awesome at-home workouts and delicious dinner recipes – delivered daily right to your inbox!
Sign up for our all-now "7-Day Home Workout and Recipe Plan" by clicking RIGHT HERE!
====================================
Need some more healthy recipe inspiration but don't have the time to scour the internet?
Luckily I have done that work for you and listed together my favorite recipes from Weight Watchers.
If you are trying to lose weight, these Weight Watchers recipes are perfect for you. They include healthy swaps of some of your favorite foods that still taste great. 
Even if you aren't doing Weight Watchers, they still have some delicious healthy recipes you can feel good about. 
Happy eating.
ARE WEIGHT WATCHERS RECIPES A GOOD WAY TO LOSE WEIGHT?
Weight watchers is an eating plan that lays a foundation for a healthier pattern of meals by steering participants towards more nutritious foods.
Following a Weight Watchers plan is similar to counting calories and making sure you are within your calorie limits for a healthy body weight. 
Weight Watchers recipes are typically lower in calories, saturated fat, and sugar, and higher in protein. If you are looking for a healthy recipe, Weight Watchers recipes can often be a great choice. 
WHAT ARE THE BEST DIETS TO LOSE WEIGHT? 
Unfortunately there is not a "one-size fits all" perfect diet to help you lose weight.
Popular fad diets are typically not an effective way to lose weight that you can keep off long-term. There are an immense amount of diets claiming to help lose weight, but yet overweight and obesity continues to be an increasing problem, which shows that the fad diets are not actually working to keep the weight off for long-term weight loss.
The temptation to go on a diet and quickly lose some weight can be very strong. Stop and think for a moment. Take a longer term approach and build a lifestyle approach focused on healthy long-term habits that stick.
Stop focusing on the scale so much and start focusing on the healthy habits, the weight will come and you'll feel great for life. 
In fact, this is the whole reason I created Tone and Tighten's TOTAL BODY TRANSFORMATION – because small, healthier changes over time are the most effective form of weight loss. Your goal should not be "completing your diet"… rather it should include adapting healthier choices into your life that you'll make everyday for the rest of forever.
This is the most-effective ebook I've ever written and the principles of this plan have helped hundreds of people lose thousands of pounds.
You can learn more about Tone and Tighten's TOTAL BODY TRANSFORMATION by CLICKING ON THIS LINK.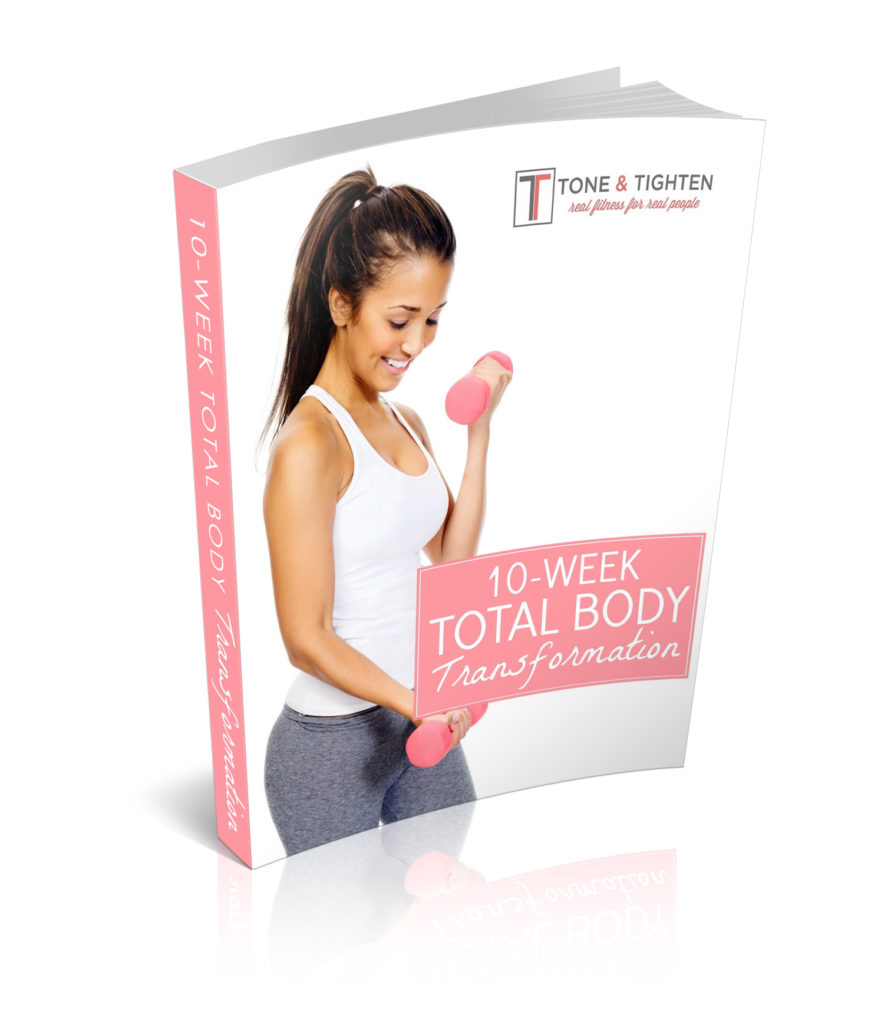 WHAT TO EAT TO LOSE WEIGHT
The best way to lose weight includes an approach of moderation and balance with eating. All foods can fit in a healthy diet in an appropriate portion. 
To lose weight, choose foods that are nutrient-dense and low in calories. Fill up on vegetables at each meal and then eat smaller portions of regular food. Include fruits, lean protein, healthy fats, whole-grains, and low-fat dairy products. 
Need some help with recipes that fit this criteria?
Check out Tone and Tighten's eBook. 30 days of breakfast, lunch, dinner, and snacks that are both delicious AND healthy.
"The 30 Day Healthy Menu Plan" Real recipes for real people – CLICK HERE to learn more.
You can do it! 
Without further adieu, here are 100 of the best Weight Watchers recipes that I have found.
Soup: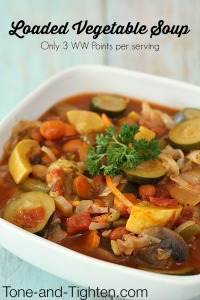 Main Dish: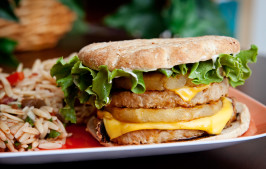 Slow Cooker Chipotle's Barbacoa Beef
Chicken and Broccoli Casserole
Rosemary Chicken and Brown Rice
Philly Cheese Turkey Sloppy Joes
Corn Salad with Red Pepper and Dill
Roasted Vegetable Quinoa Salad
Side Dishes: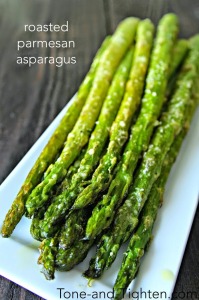 Broccoli and Cheese Potato Skins
Skinny Ranch Dip and Vegetables
Skinny Scalloped Potato Gratin
Appetizers: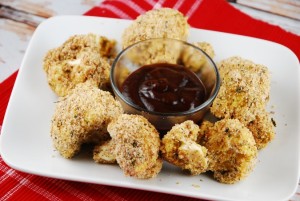 Breakfasts:

Avocado and Egg White Scramble
Frozen Healthy Breakfast Burritos
Baked Pumpkin Chocolate Chip Oatmeal
Ham, Cheese, and Veggie Frittatas
3 Ingredient Nonfat Strawberry Frozen Yogurt
Weight Watchers Chocolate Cupcakes
Looking for more healthy recipes?
Be sure to check out my healthy recipe index.
Make it happen,
Jared
Be sure to follow Tone and Tighten on Pinterest, Twitter, Facebook, Instagram, and YouTube for more workouts and fitness ideas.