Workouts, healthy recipes, motivation, tips, and advice all right to your inbox! CLICK HERE to subscribe to our email list and get our FREE "Beginner's Guide To Weight Loss" ebook!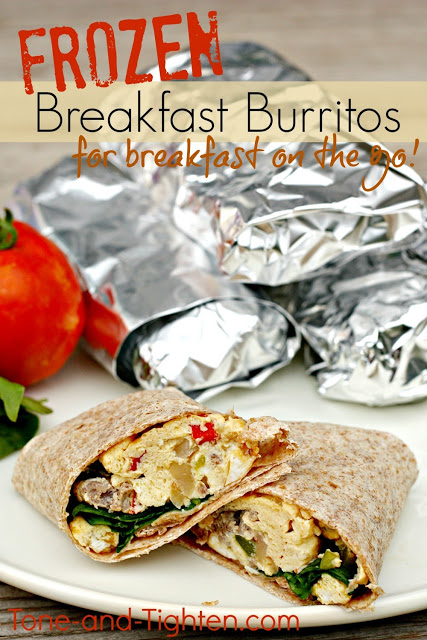 Did you know that 31 million Americans skip breakfast everyday?
And more men than women choose not to eat this morning meal 
(the best meal, in my humble opinion!). 
For many, the excuse for not eating breakfast during the busy week is that they just don't have time.
Well, I am here to solve all your problems!
[Okay, maybe not all your problems, but at least your lack-of-time-for-breakfast problems.]
Take 30 minutes one night and whip up these breakfast burritos and you will have more than enough to last you for the entire week. Plus, they are loaded with good food that will keep you energized throughout the morning.
Frozen Healthy Breakfast Burritos
Ingredients:
12 eggs (6 with yolks, 6 without (just the egg whites)- you could substitute all egg whites if you would like)
1/4 cup skim milk
1 red pepper, diced
1 green pepper, diced
1 onion, diced
3/4 lb turkey sausage
1 cup reduced fat cheddar cheese, shredded
10 whole wheat tortillas
Directions:
In a bowl, crack the eggs one at a time, add the milk, and beat together with a whisk or a fork until they are fully incorporated.
In a large skillet over medium high heat, brown the sausage, peppers, and onions until the sausage is no longer pink and the vegetables are tender. Turn the heat down to medium and add the eggs. Let the eggs cook for a minute or two. You can then scrape the eggs from the edge of the pan to the center and continue doing this until the eggs are just about set. Sprinkle the cheese on top and let rest for 20-30 seconds while the cheese melts.
Spoon some of the sausage and egg filling in the center of a tortilla. Wrap up each tortilla burrito-style, with the sides folded in. Place each burrito seam side down and allow to cool for a couple of minutes.
Wrap each burrito in plastic wrap and then either wrap in foil or place in a plastic freezer bag.
When ready to eat, remove wrap and place in the microwave for 90 seconds.
Makes 10 burritos.
These go perfectly with my favorite fresh homemade salsa recipe.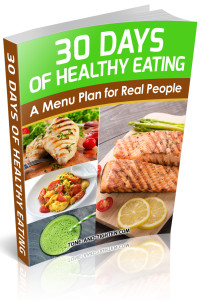 You're obviously interested in healthy recipes… how about entire menu plans? How about 30 days of breakfast, lunch, dinner, and snacks that are both delicious AND healthy?!
Check out Tone and Tighten's newest eBook…
"The 30 Day Healthy Menu Plan"!
Real recipes for real people –
CLICK HERE to learn more!
Nutrition Facts
Weight Watchers Points = 8