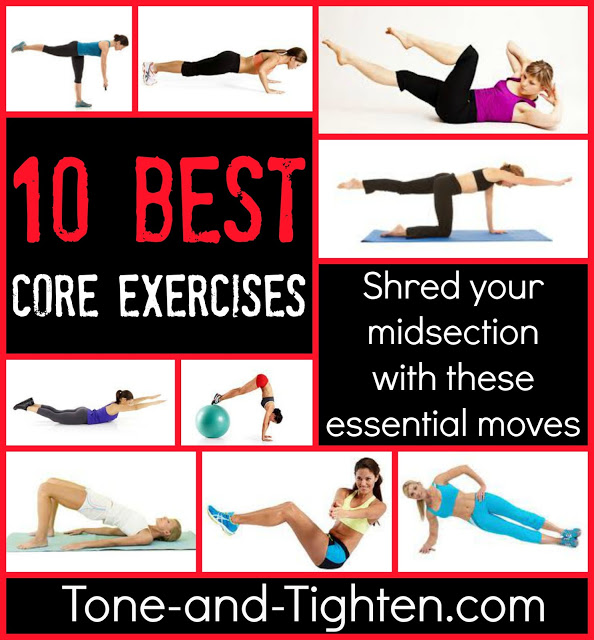 Let's face it- there's a lot that goes into core strengthening (click here for Tone and Tighten's core basics). Most people don't understand that "abs" are only a very small part of what makes up a rock-hard core. From a physical therapist's perspective I've put together this list of my top 10 favorite core moves and why they're vital to your strength program (alright- honestly there's 12 of them here… but who looks for a top 12 list?!). How many of them are you doing regularly?
Planks/side planks/back (reverse)
 planks:

Such a simple idea- you get into a static position and hold it for X amount of time. This isometric (sustained hold) contraction is a great way to get your core going crazy. If I'm short on time, this is my go-to routine. Front planks for the front, side planks for the side, and back planks for the back to hit all four core walls. Click here for T&T's 6 Minute Total Body Plank Routine



Bridges: One of my favorite in the clinic for any patient with low back pain. Smash your glutes together and squeeze your back to lose that excess around the belt-line.


Bird dogs: A relatively simple idea that combines balance, stability, and strength. Great to isolate the smaller stabilizing muscle groups in the back for a healthy spine.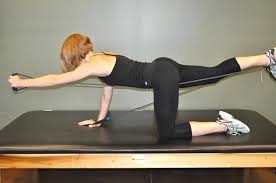 Russian twists:

The position is great for the anterior abdominal wall, but throw in the side-to-side motion and prepare to meet your obliques.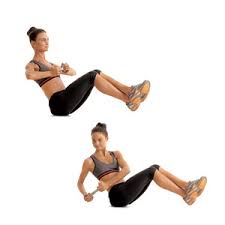 Physioball skiers (roll-ins):

Have a ball! The roll-in (I like "skier" as it simulates a mogul motion) is a great way to kick on your chest, arms, and shoulders while nuking the abs in the front.
Physioball pikes (v bends):

A solid nightmare for the lower abs. Introduce the chest, arms, and shoulders in one of those isometric holds and then pike your butt to the ceiling for a great abdominal exercise. Of course anything on a ball adds an element of stability which always makes things more difficult. 
Push-ups:

I LOVE push-ups. There's no better exercise in my opinion. Minimal space, no equipment, and work you from your arms and chest to your abs and hip flexors.
Supermans:

Your best impression of the Man of Steel makes this a killer low-back and butt workout. Smash your glutes together while concentrating on extending at your back and hold for 5-10 seconds. Leaping tall buildings in no time…
Sit ups:

Ever notice how many people compare their exercise to a sit-up? Seems like every new piece of fitness equipment is "better than a sit-up". There's a reason for that! Sit ups are a great way to work the entire front of your abdomen from lower to upper abs. Try sucking your bellybutton all the way to your spine while doing a sit-up to really kick on the vital transverse abdominis muscle.
Single leg deadlifts:

My favorite butt and low-back exercise. Everyone who comes through my clinic from knees and hips patients to low-back patients and runners have to do single-leg deadlifts perfectly before I discharge them. Great total-core exercise that's the fastest way to a tight butt and strong back.
Supine bicycles:

the key here- never turn the muscles off. Constant movement in a more-or-less stable spine position makes this bad-boy another one of my favorites. Extend your legs all the way out straight and squeeze your quad to activate even more of the quads/legs.
Did I leave off your favorite? Leave me a comment to let me know about what it is (I'm sure everyone else is interested in your advice!)

To view the rest of this post, be sure to head over to www.tone-and-tighten.com.
Have a great day!
Jared