Need an awesomely effective workout that you can do right at home? Blast your lower body with this indoor or outdoor stair workout. Mix up your workouts by adding in this amazing stair challenge.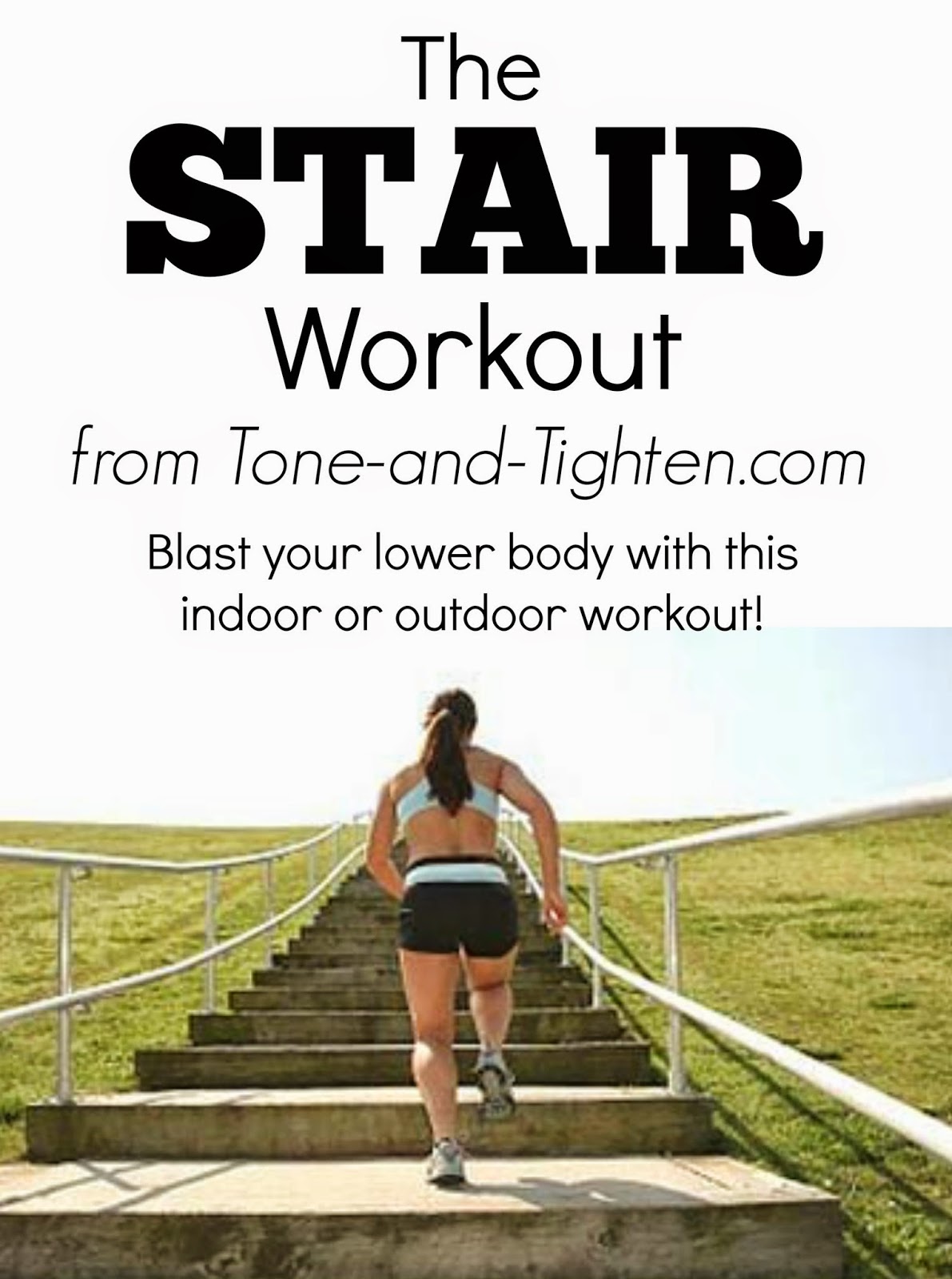 The Stair Workout- make those legs burn!
Skip A Step

Side Step Ups

Hop Ups

Calf Raises

Two Up, One Down

Squats

Skater Steps

Static Lunges

Power Walk
Keep reading for a step-by-step guide of the workout with pictures, videos, and descriptions of each of these exercises.
===========================
Eliminate guesswork and confusion and start seeing results.
Subscribe to Tone-and-Tighten.com and get our FREE "7-Day Workout and Healthy Menu Plan" delivered daily right to your inbox. CLICK HERE to get it.
===========================
This workout is perfect for outdoors or indoors – if you are outdoors, find a local high school stadium or even a building with a large flight of stairs (I have a church in my neighborhood that has a great flight of cement stairs I use). If you are indoors, use the stairs in your house, the flight of stairs that leads up to your apartment, or even the stairs in a hotel. There is no excuse to not try this workout!
For this workout, I used a flight of stairs that had 20 stairs. If yours has less stairs (i.e. only 10), double the time or reps of each exercise for a killer workout!
Want to push yourself? I have included challenge exercises to try if you are an experienced stair climber!
Want to get in better shape but not too sure where to start?
I've got your solution!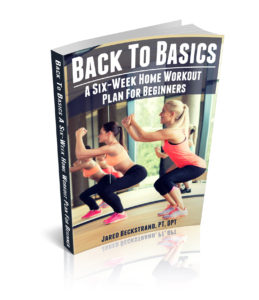 Our "Back To Basics" ebook is a 6-week workout plan designed specifically for beginners to help you burn calories, lose weight, and tone muscle – all from the comfort of your own home! There's no equipment required, each workout is completely unique, and best of all – there's video instruction for every single workout.
CLICK HERE to learn more about "Back To Basics"
Is Climbing Stairs Good Exercise?
Taking the stairs is always a good idea. It helps you stay active by getting more steps and adding more movement into your day.
Climbing stairs works your legs and can help you tone the muscles in your lower body. Skip the elevator and take the stairs each day, it will help you burn calories, be more active, tone your legs, and boost your overall health.
Is Climbing Stairs Bad for Knees?
Climbing stairs is good for your legs and knees, but for individuals that are overweight or have knee problems it is best done in moderation. In order to have healthy and strong knees you should focus on appropriate exercises that can strengthen the muscles in your leg muscles and knees.
I have some great exercises for strengthening and stretching your knees. Check some of them out:
Best Exercises and Stretches for Knee Pain
How To Treat IT Band Knee Pain – Best Exercises At Home!
Feel Better Now Series – How To Treat Knee Pain – Free Download
Now on to the workout. Choose your flight of stairs and follow the instructions below for a creative and incredible workout.
Warm-up:
Walk up and down flight of stairs 5 times.
Jog up and down stairs 5 times (if you have knee problems, just walk back down the stairs).
Push yourself: Sprint up and down stairs 5 times.
The Workout:
Skip A Step:
Walk up the flight of stairs, climbing two steps with each step.

Quickly walk down the flight of stairs.
Repeat 5 times.
Push yourself: Run up the steps, two at a time. Jog back down the steps.
Side Step Ups:
Turn your body perpendicular to the step, so that your right foot is closest to the steps.

Step up onto the step, bring your left foot up, and then step back down to the ground.
Repeat 15 times, then switch and turn, stepping up with your left foot.
Push yourself: When you step up, climb two steps instead of one.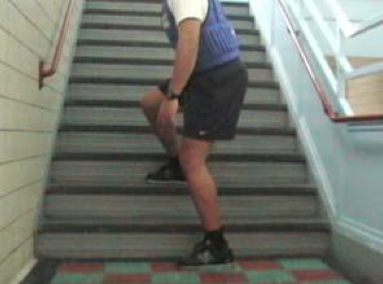 With feet shoulder width apart, start on the ground and hop up onto the step in front of you.

Repeat and hop up the entire flight of stairs, using your arms to help propel you onto the next step.
When you get to the top, walk back down. Repeat three times.
Push yourself: Hop up the stairs as fast as you can with no breaks on each step.
Step up on to the bottom step with your heels hanging off the edge.

Raise your heels up and down, going as low as you can.
Repeat 30 times.
This one is a little tricky at first, but as soon as you get the hang of it, it's pretty fun. See how fast you can do it after practicing it once or twice.
Walk up two stairs, then come back down one.

Repeat until you reach the top.

Do this twice.
Push yourself: Do this as quickly as you can.
Turn around with your back facing the flight of stairs.

Squat as low as you can (try to get your bum to barely touch one of the stairs).
Repeat 30 times.
Push yourself: Make these power squats, adding a little jump at the end of each squat. Try to jump as high in the air as possible.
Stand facing stairs. Step right foot to the right side of first step.

Push off of right foot and step left foot to the left side of next step.

Continue up, alternating sides.
Push yourself: Do these as fast as you can.
Facing the flight of stairs, keep your left foot on the ground and lift your right foot up on the steps (try to skip a step if you can for a more difficult lunge).

Do 15 lunges on one leg and 15 on the other (30 total).
Walk up and down as fast as you can. Repeat 3 times.
Advanced level: Sprint up and down as fast as you can.
Awesome! Repeat the entire circuit (minus the warm-up) at least two times. If you want to push yourself, go for three times.
Looking for more great outdoor workouts?
Want to know what I eat in 4 weeks to lose weight?


Here's my 4 Week 1500 Calorie Healthy Meal Plan – breakfast, lunch, dinner, and snacks.
Each day is perfectly calculated to 1500 calories by a registered dietitian.
All recipes are family-friendly and budget-friendly – it makes weight loss taste good!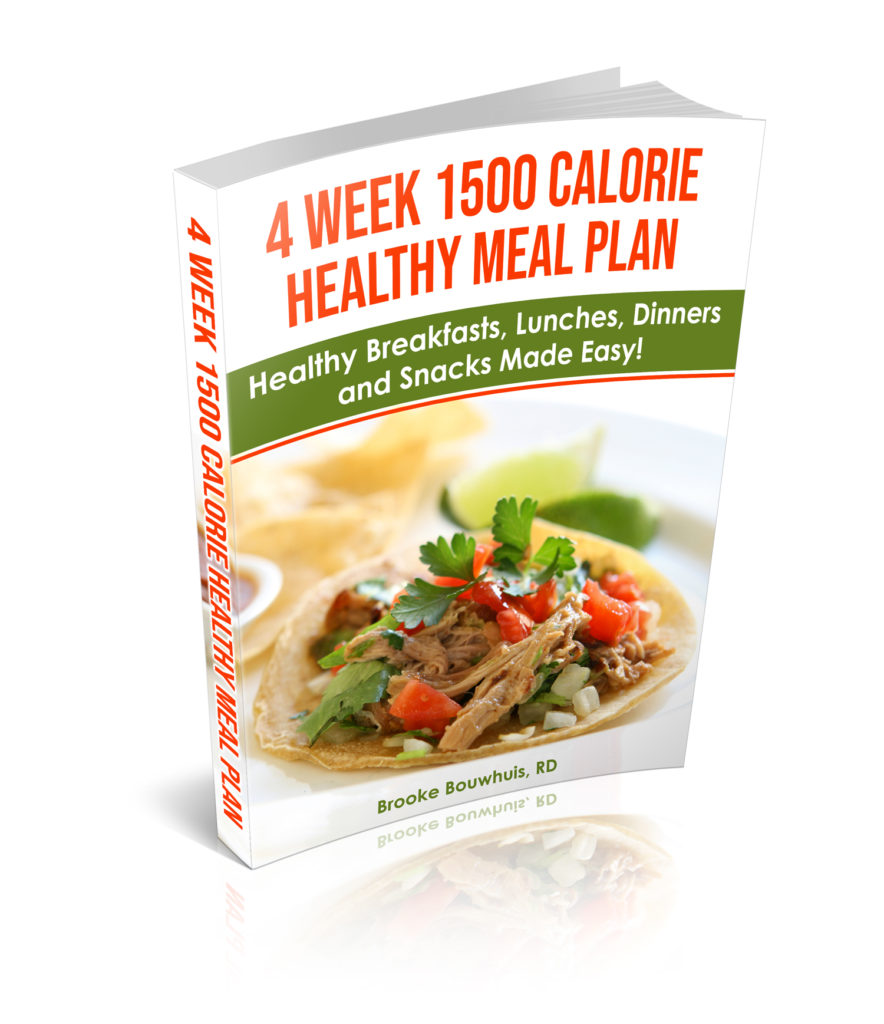 By Jared Beckstrand