Are you on Instagram? Tone and Tighten is! Follow here for more great fitness ideas!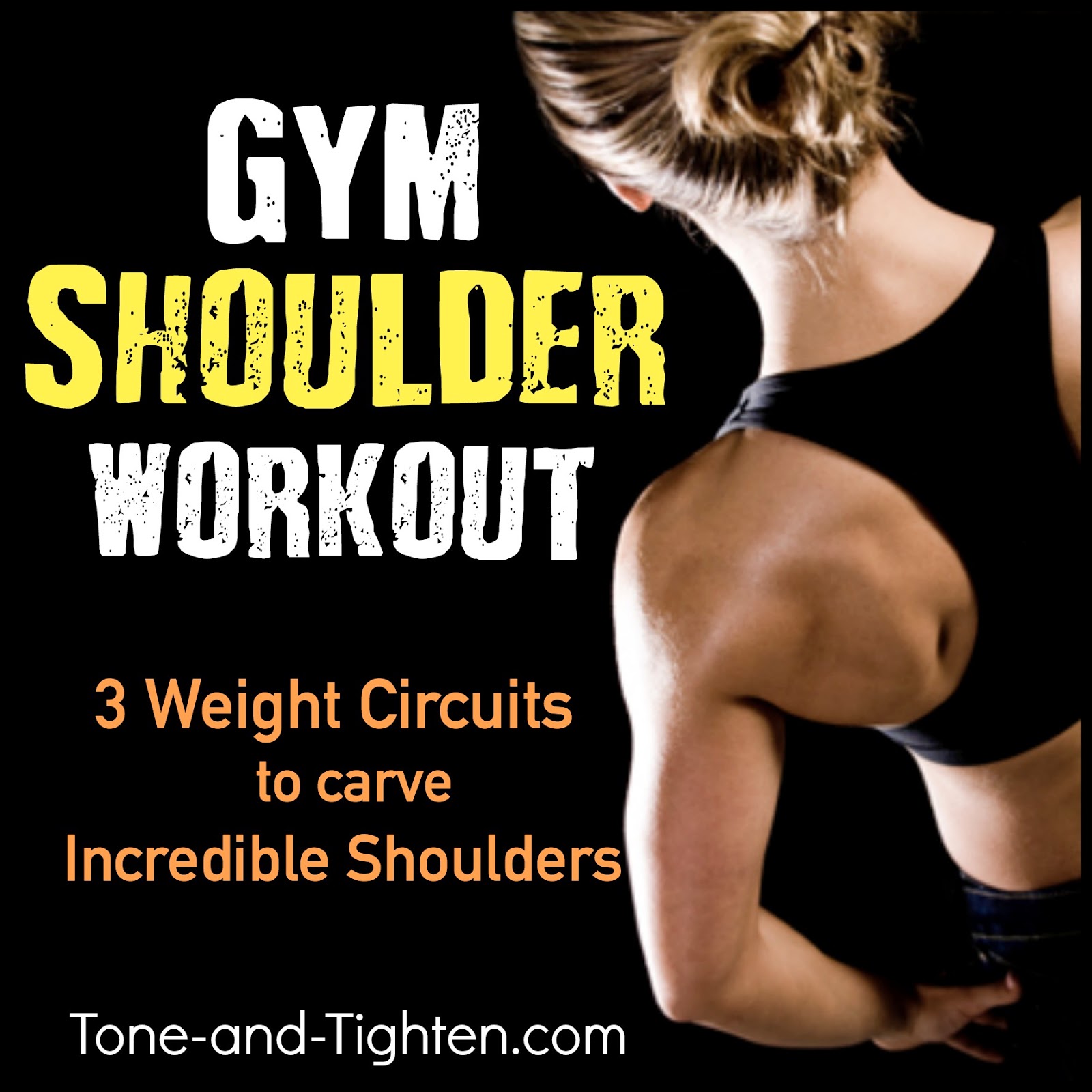 In my opinion, shoulders are one of the most often over-looked muscles to work, yet the most vital to shaping your ideal body image. Women tend to spend more time on their legs and core; men on their chest and arms. However, shoulders are vital to attaining that perfect hourglass (women) and broad V-shape (men) that so many of us are working towards. That being said, I wanted to share my go-to shoulder day workout that I did earlier in the gym this week as part of the "What I Worked Wednesday" series. Ready? Here we go!!




Caveat to Jared's workouts – I have two primary goals when I hit the gym:
1. Get big
2. Do it quickly
That being said, my sets/reps are a little different then what I usually post here on T&T. Many of the workouts on this site are designed to Tone and Tighten – slim you down and carve out lean muscle. Usually they consist of 3-4 sets of 10-12 reps. My workouts are usually geared towards higher weight and lower reps to increase muscle mass (
check out this post for more info on the tone vs bulk idea
). However, if you're not too into the bulk thing and more after lean mass simply change the sets/reps that I have listed into 3-4 sets of 10-12 reps and keep your weight consistent throughout the sets.
Also, I tend to do a lot of circuit work in my
routines
. Typically I don't have much time (about an hour) and want to maximize every minute that I have. Circuit training is a great way to get in lots of exercises as you work out one muscle group while resting another. For
more info
on circuit training
check this post out.
Finally – every
exercise machine
you encounter is going to be a little different. I've listed the weight that I use on our specific machines as a reference point, but find the resistance that's right for you!
The Workout
Warm Up: I'll usually try to do some type of warm up where the arms are primarily involved – try the row machine or arm bike (UBE). 10 minutes
Full disclosure: I actually suffered from some pretty intense shoulder pain many years ago. I kind of dreaded shoulder day as it would usually be pretty uncomfortable. Later in PT school I was able to diagnose this pain as muscle imbalance – too much time on the "get big, look good" muscles and not enough time spent on strengthening my rotator cuff. When I finally understood what this was and spent some time taking care of it, my shoulder pain has completely resolved (knocking on wood). However, I still spend every shoulder day warming up with these exercises for my rotator cuff.
Circuit 1
(Performed 1a, 1b, 1c, 1a, 1b… until all sets are completed)
1a. Shoulder press / Military: My favorite shoulder exercise –
works the majority of the major shoulder muscles with one simple movement. I used a barbell; can also be done with dumbbells.
1b. Shrugs: Great exercise to carve definition in your trapezius. WOMEN – this muscle is not just for men! It adds great definition to your neck and upper shoulders! Barbells or dumbbells – I used dumbbells on this one
1c. Roman chair extension: Just because I felt like I needed to add a little core! This is my favorite move for my lower back.
4 sets of 20 hugging a 25# weight
_______________________________________________________________________
Circuit 2
(Performed 2a, 2b, 2c, 2a, 2b… until all sets are completed)
2a. Upright rows: probably another one of my favorites. Perfect "short-on-time" exercise as it works the majority of major shoulder muscle groups. I used a barbell; can also be done with dumbbells
2b. Kettle bell swings: great for the hips, back, and shoulders. Check out a video tutorial of a great "Total Body Kettle Bell Workout" by clicking on the link.
__________________________________________________________________
Circuit 3
(Performed 3a, 3b, 3c, 3a, 3b… until all sets are completed)
3a. Shoulder raises – forward: I like to finish by tapping out my deltoids. This circuit is a fantastic way to do it! Start with shoulder raises forward.
8 reps with 25# DB (couldn't go heavier! Pretty tired by this point!!)
8 reps with 25# DB (couldn't go heavier! Pretty tired by this point!!)
8 reps with 25# DB (couldn't go heavier! Pretty tired by this point!!)
Well, what did you think?! You know what, don't answer until tomorrow… if you can raise your arms high enough to reach the keyboard . . . 🙂
Looking for more amazing gym workouts? Check out all the "What I Worked Wednesday" series:
If you liked liked this workout there's no higher compliment to a blogger than a good social media share. Look for the gray box below…

By Jared Beckstrand
To view the rest of this post, be sure to head over to www.tone-and-tighten.com.
Have a great day!
Jared