Get more from Tone and Tighten by following on Pinterest, Google+, Facebook, and Twitter!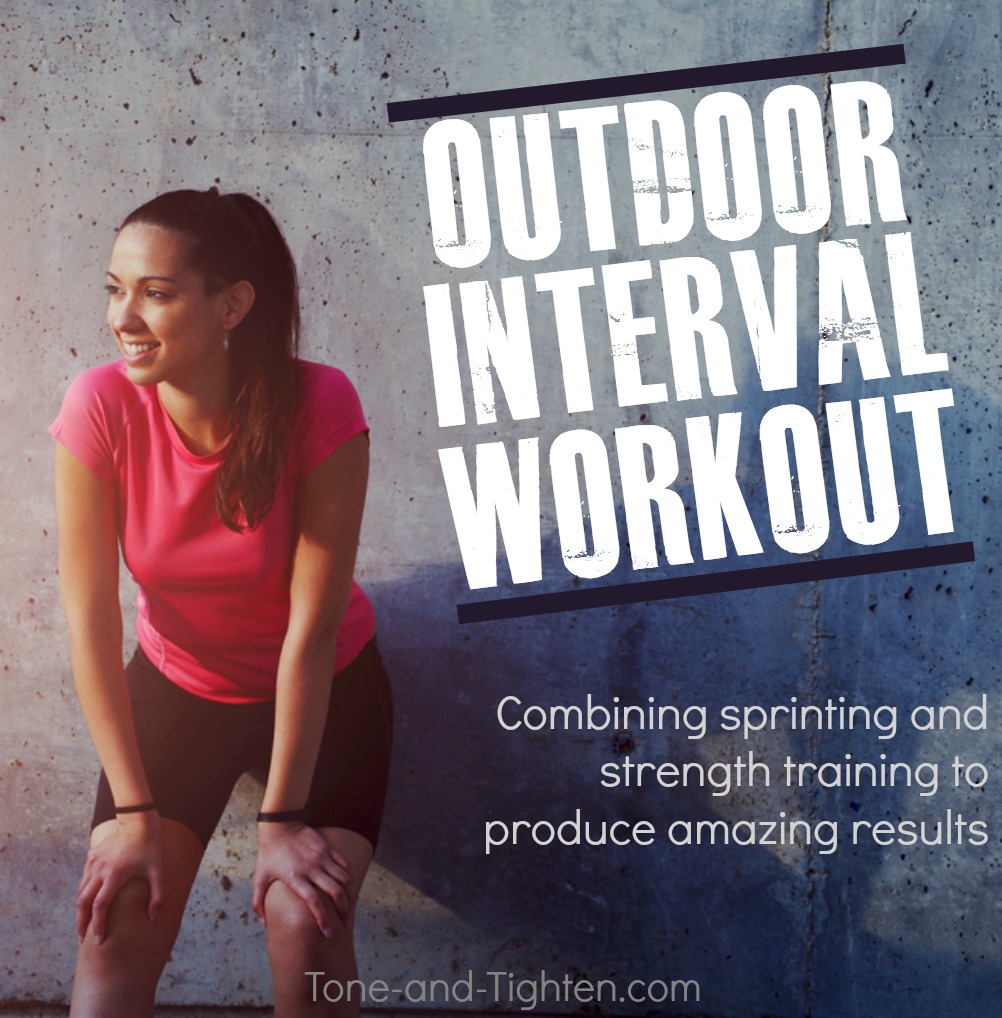 A great total body shred in the great outdoors!
My wife came to me looking for a killer workout to mix up her regular routine. She didn't have much time and couldn't go anywhere too far. Looking outside in our backyard I thought – "I've got just the thing!" This workout took about 20 minutes to do and it's a killer! We're going to combine multi-directional sprinting intervals with some of my favorite strength training exercises. Not for the faint of heart – but definitely for everyone looking for results! 
Following a short warm-up we'll run through 3 sets of three different circuits. All you need is three markers (cones, socks, your kids' toys… get creative) to set up for our ladder runs and about 30 yards of space to do them (our backyard is long and skinny; you can also head to the park, the parking lot, or even the street/sidewalk in front of your house if you don't mind revealing a little crazy to the neighbors!).
Set up the ladder: Find your starting point and put one marker about 30 feet (10 yards; about 10 meters) away. Then put another one 30 feet beyond that (20 yards; about 20 meters) and finally your third 30 feet beyond that (at the 30 yards/meter mark. So you should have a starting line and then 3 cones – 30, 60, and 90 feet out.


Ladder sprints are performed by sprinting to cone #1 and then sprinting back to the start. You then sprint to cone #2 and then back to the start and finally sprint to cone #3 and then back to the start. That's 1 ladder.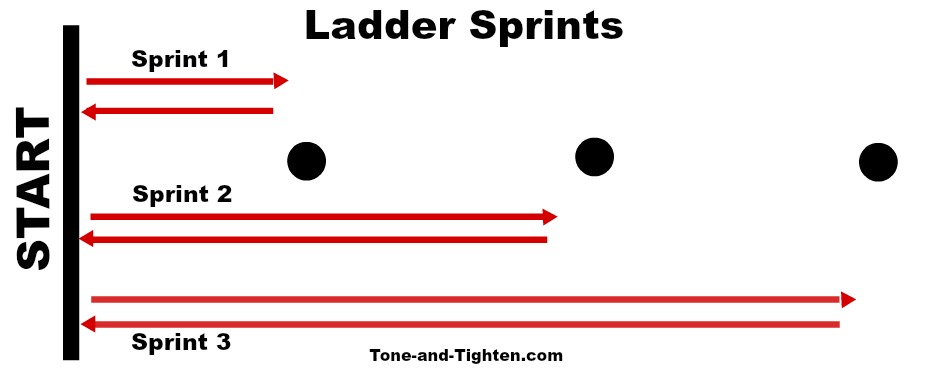 Warm Up
Jog 3 minutes – around the block

Circuit 1
1 Ladder sprint
Repeated 3 times

Circuit 2
Ladder shuffle
(Instead of sprinting forward you sprint the ladder by side-shuffling to each cone as fast as you can)
Repeated 3 times

Circuit 3
Ladder backwards
(1 Ladder sprint running backwards as quickly as you can)
15 Push ups

Repeated 3 times

Congratulations! You nailed it!
Combining sprint intervals with strength training is a great way to send your gains into overdrive by shredding fat and maximizing muscle gain!
Interested in more great outdoor workouts? Here are a few of my favorites:
As always if you have any questions or suggestions for Jared and Tone and Tighten, I would love to hear from you! Leave a comment below or email me directly at ToneandTightenFitness{at}gmail.com