This 15-minute at-home ab workout will tone your stomach so you can lose that belly pooch. Six of the best abs exercises to tone and tighten your belly pooch for stronger, skinnier lower abs.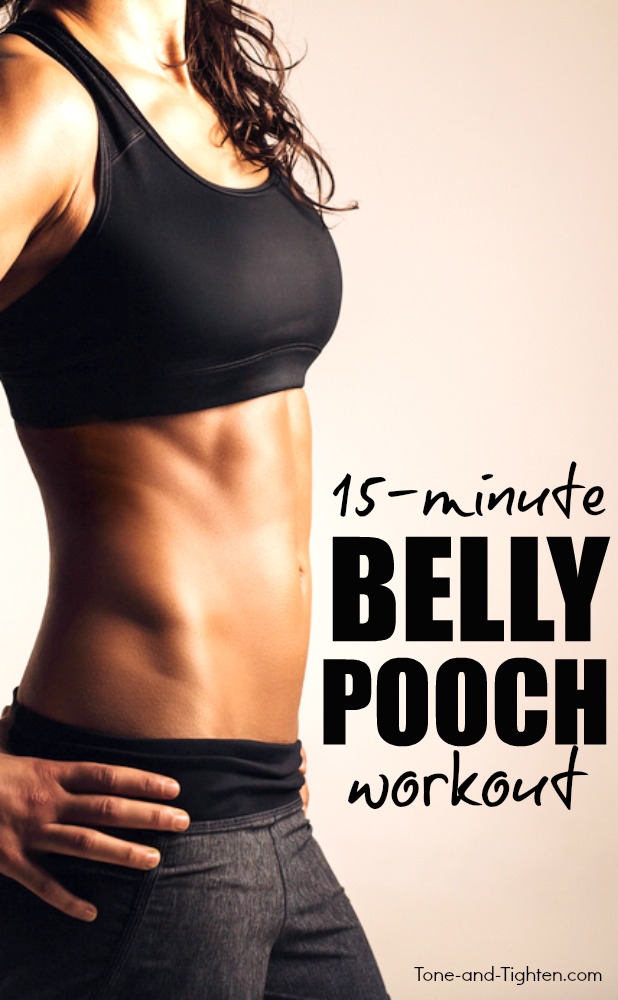 How to Lose Your Belly Pooch Workout At Home
Reverse Crunches

Flutter Kicks

Double Straight-Leg Raises

Scissor Kicks

Butt-Ups

Bicycle Crunch
Keep reading for a step-by-step guide of the workout with pictures, videos, and descriptions of each of these exercises.
===========================
Eliminate guesswork and confusion and start seeing results.
Subscribe to Tone-and-Tighten.com and get our FREE "7-Day Workout and Healthy Menu Plan" delivered daily right to your inbox. CLICK HERE to get it.
===========================
Hey everyone- Jared here.
You know – some of my favorite workouts on Tone and Tighten are in direct response to viewer emails.
Lately I've been getting quite a few asking for exercises to "tighten up my belly pooch" or to "get rid of my mom tummy." These emails are referring to your lower abs area, specifically between your belly button and your pelvis bone. Oftentimes these lower abs are the first to go and the hardest to get back.
However, today you're in luck! I've got a workout for you that is going to give you a big push in the right direction.
Eliminate tummy "pooch" forever with the following at-home workout. Six of the best exercises to tone and tighten your belly pooch.
WHAT IS BELLY POOCH?
Our body stores two types of fat around our stomachs- subcutaneous and visceral fat. Visceral fat usually contributes the most to the "apple shape" or "belly pooch" just over your jeans. It surrounds your organs and packs extra fat around your stomach area.
Getting rid of a belly pooch isn't just about improving looks- it's also important for your overall health.
Excess abdominal fat, especially visceral fat, is harmful to your health. It increases risks for type 2 diabetes, heart disease, and more.
Unfortunately- you can't choose how fat is stored in your body- hormones, age, and genetics play a role in that. But, you can control your exercise and eating habits in order to decrease excess body fat.
HOW LONG DOES IT TAKE TO GET RID OF BELLY POOCH?
If your goal is to lose excess body fat, the typical recommendation is to decrease your calorie intake by 500 to 1000 calories per day. At this rate you will have a healthy rate of weight loss of 0.5 pounds to 2 pounds per week.
Within 5 weeks you could realistically lose 10 pounds- that's a good amount of weight. Not all of it will come straight from your belly- but it will help you get rid of your belly pooch.
As well as eating right and within your calorie goal, you should burn more calories with a variety of exercise. You need cardiovascular exercise that burns calories quickly, and you also need strength training in order to build muscle for a healthier metabolic rate.
IS THIS WORKOUT SAFE FOR DIASTASIS RECTI?
Diastasis recti is a condition where stress on the anterior abdominal wall causes the rectus abdominis muscle to slit down the middle. This is a condition that affects nearly 60% of pregnant and postpartum women. While this can be a serious condition, but aesthetically and functionally, there is a lot that the RIGHT abdominal exercise can do to heal it up.
While this workout is one of the best to flatten your lower abs and eliminate that "pooch", it's not my first recommendation in the case of diastasis recti. You need more focus on activating the transverse abdominis, the deepest of your abdominal muscle layers, in order to heal up DR.
? CLICK THIS IMAGE TO SEE THE WORKOUT I USED TO HEAL MY WIFE'S DR! ?


AND NOW ON TO THE WORKOUT!
The goal of this workout is to tone and sculpt your lower abs. To do that, I'll be throwing some of the best exercises for your lower abs, however we won't do a "3 sets of 10 or 12" format… we'll do it in a timed interval. Perform as many reps of each exercise as you can in 30 seconds and then move on immediately to the next exercise.
Perform all the exercises one after the other and repeat three times for a killer, lower-abs "pooch" roaster.
The Workout
1. Reverse Crunches – 30 seconds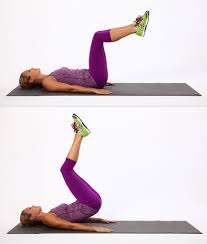 Lie on the ground in traditional crunch position with legs in the air and knees bent at a 90 degree angle.

Use your core and bring your knees up towards your head, pulling your tailbone off the floor.

Focus on crunching your abs as your bring your knees in. Return to starting position.
2. Flutter Kicks – 30 seconds

Lie on your back on a mat.

Press your low back into the mat and lift your feet about 5 inches off the floor.

Keep your legs straight and rhythmically raise one leg higher and lower the other leg by a few inches, then switch and move in a fluttering up and down movement.
3. Double Straight-Leg Raises – 30 seconds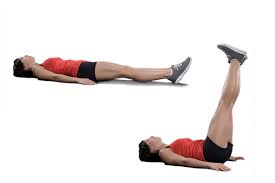 Lie on your back.

Pull your abs and lower back down to the floor while bringing your legs straight up, keeping your thighs, knees, and heels together.

Lower your legs slowly towards the floor again. Maintain control and a tight core.

Return the legs to an upright position and repeat.
4. Scissor Kicks – 30 Seconds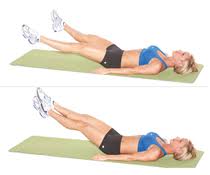 Lie on your back with arms at your sides.

Press your low back into the mat and lift your heels about 4-6 inches off the floor, keeping your legs together.

Keep your legs straight and rhythmically move your feet out and back in toward each other, but come back in a criss-cross motion. Cross one foot over the other then switch feet on the next movement.
5. Butt-Ups – 30 Seconds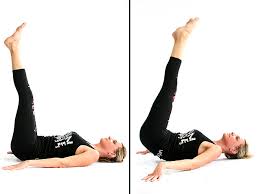 Lie on your back with your hands on the mat and legs straight up, your body at a 90 degree angle.

Focus on your lower abs and lift your legs higher up in the air, bringing your lower back and tailbone off the floor.

Slowly return your lower back down to the floor and repeat.
6. Bicycle Crunch – 30 Seconds
Start out on your back with your knees bent and heels a few inches in the air.

Put your hands behind your head and start by bringing opposite elbow towards opposite knee. Bring your knee up as you twist your elbow across your body.

Alternate sides and keep going in a rhythmic motion.
7. Rest – 60 seconds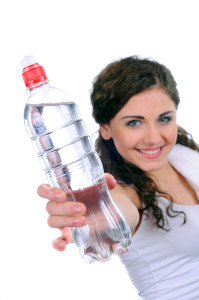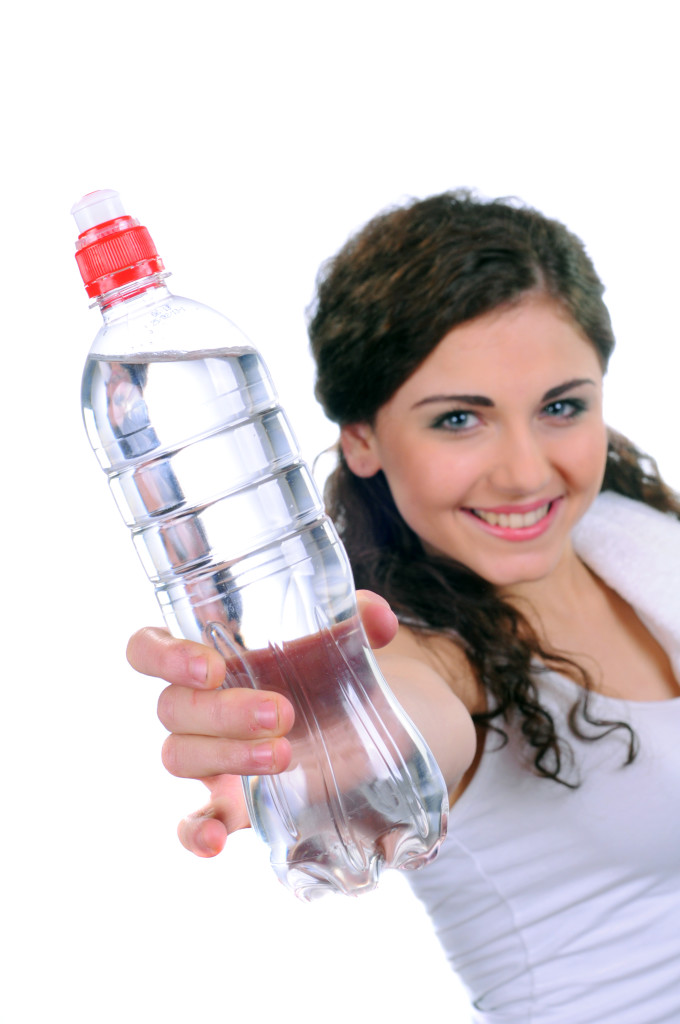 REPEAT 3 TIMES FOR A KILLER 15-MINUTE AB DAY!
Be sure to not miss another post. Get more recipes, workouts, and fitness tips- follow Tone and Tighten on Instagram | Facebook | Pinterest | YouTube | Twitter
Looking for more amazing ab workouts? Here are a few of my favorites:
20-Minute Non-Stop Abs Workout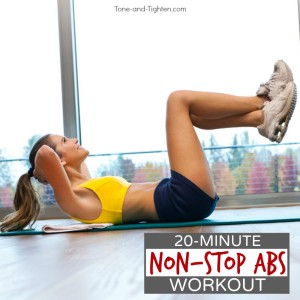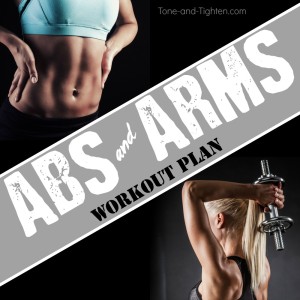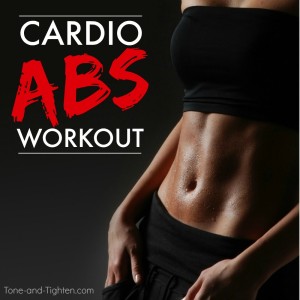 Quick 6-Minute Ab Workout- Toughest Ab Exercises At Home
Do you have a question you feel like I can answer? Send it on over.
I would love to try to help you out.
jared{at}toneandtightenfitness{dot}com
Make it happen,
Jared