Workouts, healthy recipes, motivation, tips, and advice all right to your inbox! Subscribe to Tone-and-Tighten.com RIGHT HERE and get our FREE "Beginner's Guide To Weight Loss" ebook!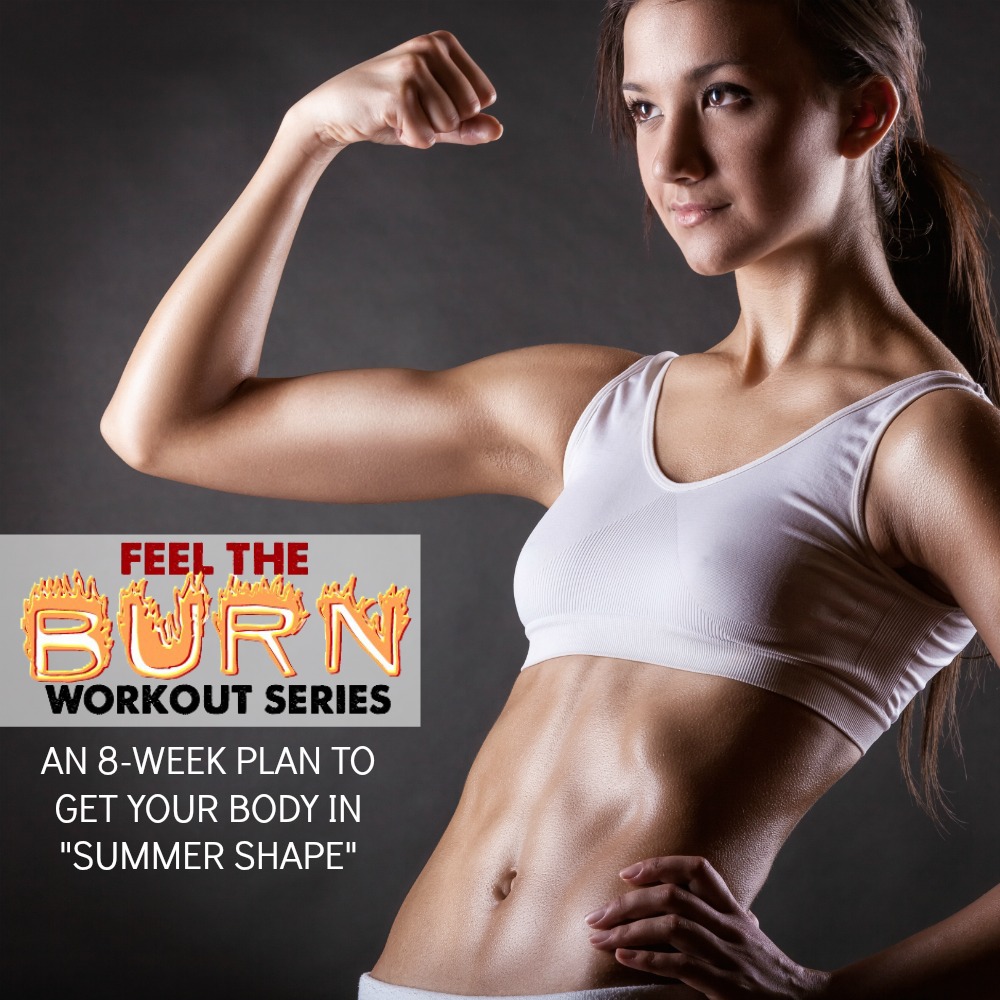 Because around here we finish strong.
Welcome to the eighth and final week of our "Feel The Burn" workout series!
Over the last 8 weeks we've pushed, pulled, ran, jumped, and otherwise sweated to get to the point where we are now.
There's been cardio; there's been strength training; and hopefully you've seen a lot of amazing progress!
So now we enter the last week – your last opportunity to get that summer bod rocking so you can uncover with confidence.
So what are we waiting for?!
Let's do this! Here are your workouts for Week 8… 
FREE "7-Day Workout and Healthy Menu Plan"! 7 amazing workouts and 7 delicious, healthy recipes delivered daily right to your inbox! Eliminate guesswork and confusion and start seeing results.
CLICK HERE to get it!
Here's how the "Feel the Burn" series works: below you will find

2 different 

workouts –

Cardio 

and Strength. I want you to alternate performing these workouts and try to do them 2-3 times each this week (performing each twice would be 4 workouts for

the week

; 3 times each means 6 workouts this week). I recommend trying to do them one a

day

and work them into your weekly 

schedule

as possible.
 Workout 1 – CARDIO
Taking things outdoors this week as we enjoy some of the beautiful weather! With your cardio workout this week we'll run through 3 sets of

three different

circuits. All you need is three markers (cones, socks, your kids' toys… get creative) to set up for our ladder runs and about 30 yards of space to do them (our backyard is long and skinny; you can also head to the park, a parking lot, or even the

street

/sidewalk in front of your

house

if you don't mind revealing a little crazy to the neighbors!).
Set up the ladder: Find your starting point and put one marker about 30 feet (10 yards; about 10 meters) away. Then put another one 30 feet beyond that (20 yards; about 20 meters) and finally your third 30 feet beyond that (at the 30 yards/meter mark. So you should have a starting line and then 3 cones – 30, 60, and 90 feet out.


Ladder sprints are performed by sprinting to cone #1 and then sprinting back to the start. You then sprint to cone #2 and then back to the start and finally sprint to cone #3 and then back to the start. That's 1 ladder.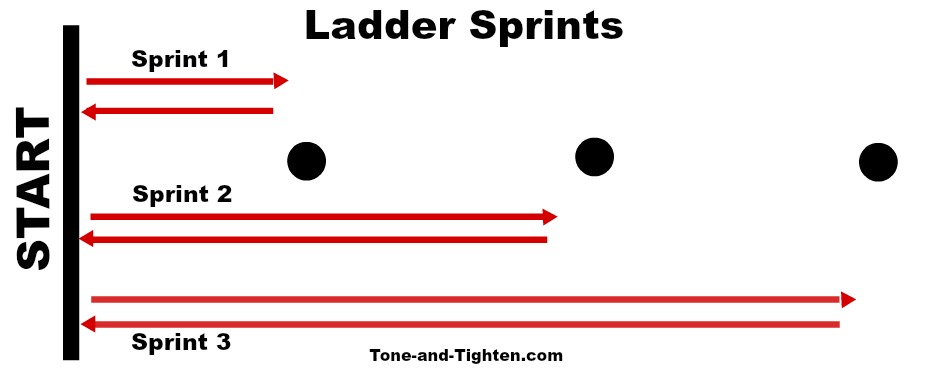 Warm Up
March in place, run stairs, jumping jacks, or check out this killer 3-minute at-homeworkout! Anything to get the blood flowing to our muscles prior to the workout:

Circuit 1
1 Ladder sprint
Straight forward sprinting to the cone; turn around and run straight back.
Repeated 3 times

Circuit 2
Ladder shuffle
(Instead of sprinting forward you sprint the ladder by side-shuffling to each cone as fast as you can)
Repeated 3 times

Circuit 3
Ladder backwards
(1 Ladder sprint running backwards as quickly as you can)
10 Push ups

Repeated 3 times
 CONGRATULATIONS! You crushed your cardio workout this week!
Workout 2 – STRENGTH
Your strength routine this week is one of my favorite at-home muscle-building workouts. I call it "The Dirty Dozen".
12 sets of 12 reps of each of 4 of my favorite bodyweight exercises. Works all your major muscle groups and is a killer workout!
12 Sit Ups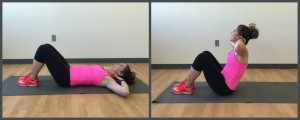 Looking for more amazing at-home workouts just like this one? Tone and Tighten has you covered!
Our 8-Week Beginner's Workout Plan features over 50 workouts, 15 healthy and delicious recipes, tips, motivation and more to help you achieve your fitness goals! Check it out here!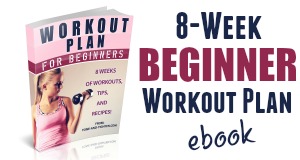 Looking for something a little more difficult? Our follow-up ebook, the "8-Week Advanced Workout Guide" takes your results to a whole new level! Over 75 workouts to push you harder and yield incredible outcomes! Learn more here!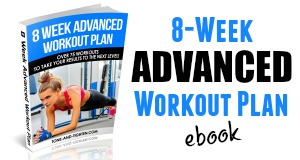 Be sure to check out all the other weeks in our 8-week "FEEL THE BURN" series:
Make it happen,
Jared