Take your legs to the next level with this 30-minute bodyweight leg workout that's guaranteed to sculpt and shape the legs, butt, and thighs. Tone and tighten lean leg muscle at home with these 7 great exercises. This workout includes bodyweight moves only – no equipment required.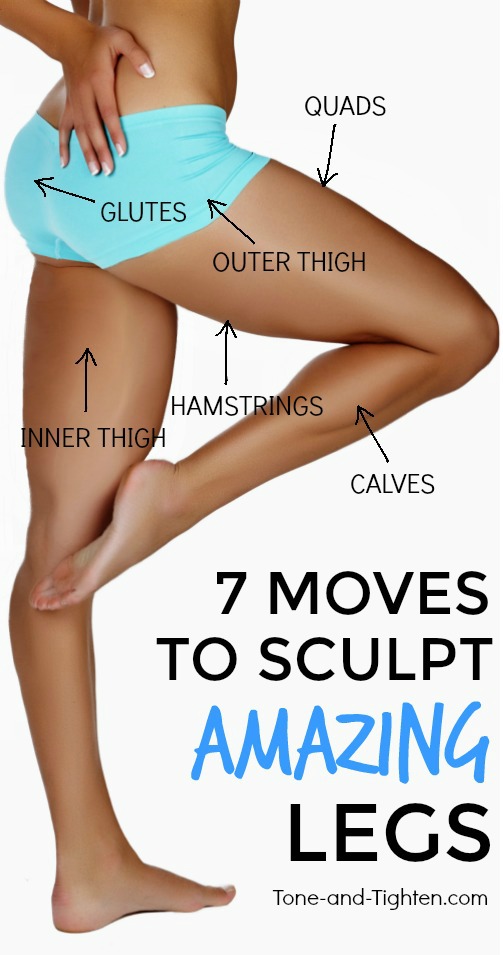 7 Moves To Tone Your Legs At Home
Air Squats

Glute Bridges

Quadruped Hamstring Curl

Traveling Side Lunges

Scissor Kicks

Walking Lunges

Heel Raises
Keep reading for a step-by-step guide with pictures, videos, and descriptions of each of these exercises.
===========================
Eliminate guesswork and confusion and start seeing results.
Subscribe to Tone-and-Tighten.com and get our FREE "7-Day Workout and Healthy Menu Plan" delivered daily right to your inbox. CLICK HERE to get it.
===========================
Lots of people come up with lots of excuses.
"I don't have the time."
"I don't have the equipment."
"I can't do some of these harder workouts"
These are things I hear in my comments and emails all the time.
Well here at Tone-and-Tighten.com our specialty is producing "real fitness for real people". It's our goal to help you realize you don't need a lot of time, a lot of equipment, or even crazy high-intensity exercise to get in an amazing workout that's killer effective.
Today I'm sharing with you one of my favorite 30-minute bodyweight workouts that's guaranteed to tone and shape the legs, butt, and hips you've always dreamed of.
CAN RUNNING TONE YOUR LEGS?
Running is a great cardio workout that also can strengthen and tone your legs, but you'll want to include some strength training for the best leg definition.
This bodyweight leg workout here targets each specific area of your leg to give you a full-leg workout.
HOW OFTEN SHOULD I DO A LEG WORKOUT?
If you want to really target your legs during the week, you'll want to include a leg workout no more than 2-3 days per week. Supplement the rest of the week with a variety of other workouts to balance your exercise schedule and target other body areas.
This leg workout is a perfect way to tone and sculpt leg muscle right at home with no equipment required.
I've included an exercise to target each area of the legs: the butt, hamstrings, quads, inner and outer thighs, and calves for a total-leg workout.
For this workout, we'll follow a 45/15 interval format. You'll perform an exercise for 45 seconds, rest for 15 seconds, then move on to the next exercise for 45 seconds.
You'll complete each exercise, take a 1-minute rest, and repeat the whole thing 3 times. Here we go.
Stand with legs hip-width distance apart. Keep hands in front of you or on your hips.

With chest and head up, bend at the hips and knees to lower down as if sitting. Keep your knees just over your toes.

Lower until your thighs are parallel with the floor.

Straighten and stand up.
Lay flat on your back with your knees bent and feet flat on the floor.

Use the muscles in your lower back and butt to bring your hips straight up.

Slowly lower.
Get down on your hands and knees

Keep your back flat and extend one leg behind you at hip height.

Bend your knee and bring your heel up and towards the back of your head.

Come back to starting position.
Start by standing straight.

Take a large step and lunge laterally over to one side. Be sure that your knee doesn't go past your toe. Keep your other leg straight.

Raise back up to standing and switch sides.

Perform a lateral lunge onto your left leg 5 times, then onto your right leg 5 times
Lie on your back with arms at your sides.

Press your low back into the mat and lift your heels about 4-6 inches off the floor, keeping your legs together.

Keep your legs straight and rhythmically move your feet out and back in toward each other, but come back in a criss-cross motion. Cross one foot over the other then switch feet on the next movement.
Stand on the ground or with your heels hanging off the edge of a stair or step.

Raise and lower your heels to feel the burn in your calves.