Be sure to follow on Pinterest, Google +, Tumblr, and Facebook for more workouts and fitness ideas!
So much more than your typical squat!
I'll admit – it was always harder for me to get excited about leg day than it was for upper body days. The main reason why was lack of variety. On upper body days you could lift arms, shoulders, chest, and back. I know 100's of exercises for each of these areas and could always add variety to my workouts. Leg days typically consisted of squats, lunges, deadlifts, and a few machines. And then I was introduced to the INCREDIBLE variety of ways you can lift your legs; totally rocked my world! My favorites are all the variations on weighted squats I've come across. Squats are probably my favorite lower body exercise because they really work so much; with one simple move you work your quads, hamstrings, hips, and core. Today I'm sharing 5 of my favorite weighted squat variations that you can try out the next time you're in the gym. Go beyond normal back squats to take your results to the next level!
First of all, we'd better talk about
The crown jewel of the squat world! Load the weight onto your trapezius muscles just below your neck. Keep your head up (look at the wall 1 foot above your head the whole time), shoulders back, chest high, and make sure you go down to parallel.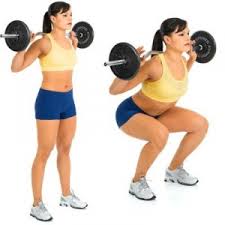 This time we'll keep the bar in front of your head. Load it onto your shoulder and grip it with an underhand grip (elbows are pointing straight out in front of you).
Give the adductors and hammies a run for their money with wide squats. Same normal back-squat set up but your feet are way out wider than your hips. Angle your toes out slightly and try to keep your knees in line with your toes as you're squatting. 
One of my newer favorites. Grab the heaviest kettlebell/dumbbell you can manage and hold it using both hands at the level of your chest. Sit back into the squat keeping your head high and shoulders back. Great way to kick on the arms, chest, and shoulders throughout the squat.
One of my favorite "combo" moves. Take the weighted barbell up over your head until your elbows are fully extended. Hold the bar overhead while performing the squat. Great at kicking on shoulders, arms, and all kinds of core stabilizers.
My go-to anytime I'm short on time in the gym. Combining squats with an explosive military press of the barbell (or dumbbells!). Upper body, meet squats. Squats, meet upper body.
Incorporate these into your next leg day to feel muscles I'm willing to bet you haven't felt in a while!!
Looking for more great leg routines? Here are a few of my favorites:

By Jared Beckstrand