Workouts, healthy recipes, motivation, tips, and advice all right to your inbox!
CLICK HERE to subscribe to our email list and get our FREE "Beginner's Guide To Weight Loss" ebook!
Looking for the best legs of your life? 
This amazing inner thigh workout only takes 20 minutes and will give you muscle definition you never thought possible! I apologize right now for any soreness you may experience tomorrow… or the next day… or the next 🙂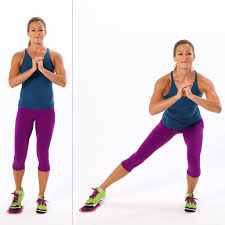 Can be done with a paper plate or plastic lid on the carpet or in socks/on a towel on hardwood
1 minute
2. Sumo squat to thruster
I love me some good wide Sumo squats; I love me some thrusters (add a military to your squat); let's combine them!
1 minute
Jump laterally onto your right foot and let your left foot cross back behind. Now leap to your left allowing your right foot to cross back behind.
1 minute
Wide squats holding some kind of resistance at chest level.
1 minute
5. Bridge with ball squeeze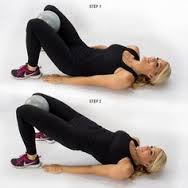 Squeeze a medicine ball, pillow, basketball, rolled-up towel, etc while doing your bridges.
1 minute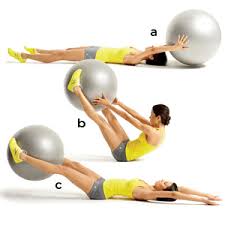 Laying on your back with a Swiss ball between your feet, bring your feet and hands towards the ceiling and pass the ball from your feet to your hands. Return to laying on the floor and then repeat, passing the ball from your hands to your feet.
1 mintue
Well I'm not a complete sadist.
1 minute
Feeling it? Good! Now repeat it three times!!!
Looking for more amazing at-home workouts just like this one? Tone and Tighten has you covered!
Our 8-Week Beginner's Workout Plan features over 50 workouts, 15 healthy and delicious recipes, tips, motivation and more to help you achieve your fitness goals! Check it out here!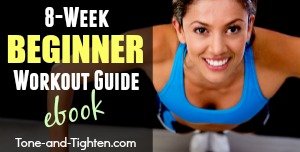 Looking for something a little more difficult? Our follow-up ebook, the "8-Week Advanced Workout Guide" takes your results to a whole new level! Over 75 workouts to push you harder and yield incredible outcomes! Learn more here!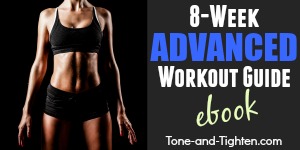 Questions or suggestions? As always I love to hear from my readers! Let me know at ToneandTightenFitness@gmail.com or by messaging me on Facebook