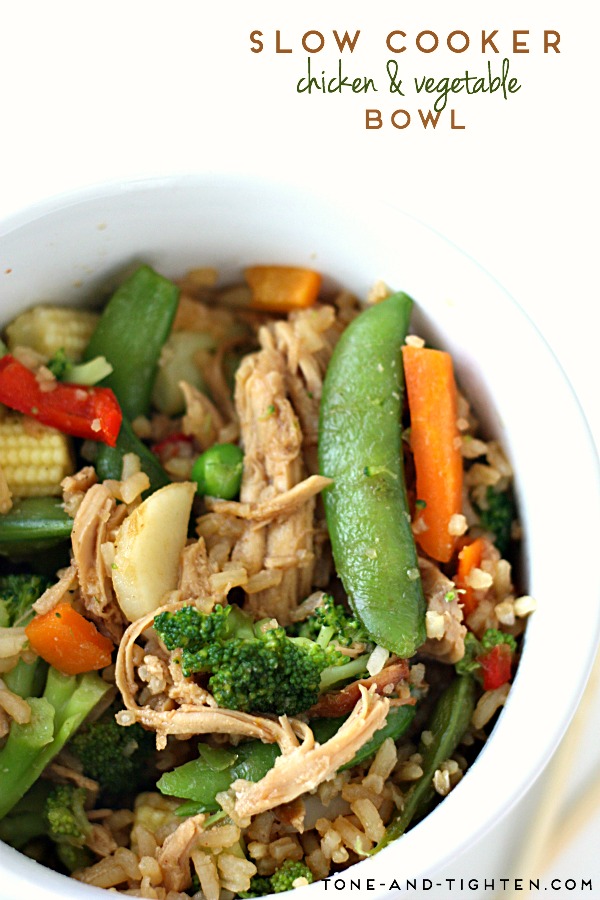 Eating healthy doesn't have to be hard . . . in fact, it doesn't get any easier than this recipe! Just dump it in your crock pot and let it do the cooking for you!
Slow Cooker Teriyaki Chicken and Vegetable Bowl
Prep time:
Cook time:
Total time:
With just a couple of ingredients, dinner is done in a matter of minutes!
Ingredients
1 lb boneless, skinless chicken breasts or thighs
1 recipe of Homemade Teriyaki Sauce (see recipe below or use your favorite bottle of teriyaki sauce)
1 (16 oz) bag frozen stir-fry vegetables
2 cups brown rice, cooked
Homemade Teriyaki Sauce Ingredients:
1⅓ cup reduced sodium soy sauce
¼ cup chicken broth
¼ cup rice wine vinegar
3 tablespoons white sugar
2 teaspoons ground ginger
2 cloves garlic, minced
Instructions
Spray a slow cooker with non-stick cooking spray.
Place chicken inside of slow cooker.
In a bowl, mix together all teriyaki sauce ingredients and pour over chicken.
Cook on low for 5-6 hours or high for 2-3 hours. During the last 30 minutes of cooking, add bag of frozen stir-fry vegetables and let them cook.
When time is up, remove chicken breasts from crock pot and shred using two forks. Return chicken to slow cooker and mix with sauce and vegetables.
Serve over brown rice.
Looking for more healthy recipes?