Cankles: 

a calf that goes directly into an ankle devoid of any shape or form.
Have you always wanted to add more shape to your legs? Ever thought that your legs could look better coming out of those shorts or poking out from under your skirt? The quickest way to sculpt amazing lower extremities that just beg to be showed off is by focusing on developing muscle tone in your calves. Today's "

Problem Areas

" series post is dedicated to toning and tightening up those calf muscles and help you shape the best legs of your life. Get ready for this one; we're going to work it!
First a couple of thoughts – while this workout is great at focusing on toning and tightening the legs and calves, it's extremely difficult to "spot treat" your body. You must actively take part in a healthy diet and regular cardiovascular activity. Combine those three – diet, exercise, and strength training, and you're well on your way to the cankle-free, best legs ever that you've always dreamed about! (Need help with these areas? Get T&T's Cardio Workouts Here. Get T&T's Healthy Recipes Here!)


1. Single Leg Heel Raises
Performed on the edge of a stair if you can
20 on each leg
2. Plie Squat With Heel Raise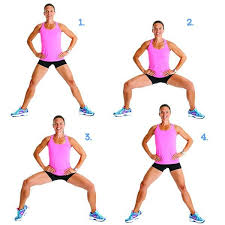 Not to forget about the rest of the legs! 12 reps (squat, heel raise, and return to standing position counts as one).
3. Alternating Toe Touches on a Box/Stair
Alternate touching toes on a step/stair/box – jumping foot-to-foot
60 seconds
Regular air squats, only now you're going to try to stay on your toes throughout the entire motion!
12 reps
Repeat these four exercises 3 times and then finish with…
Jumping Jacks
2 minutes

Congratulations! Totally nailed it!
You're well on your way to eliminating cankles from your life forever!
Like this workout? Share it with your friends on social media! See the colored boxes below for simple, one – click sharing.