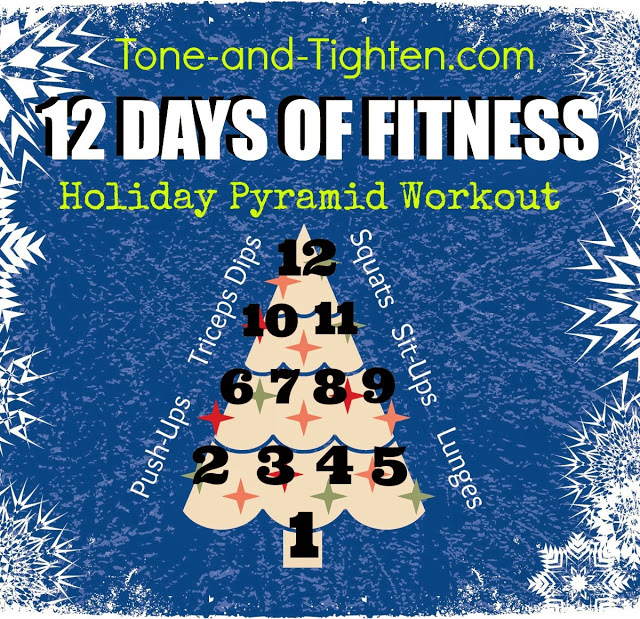 Happy Day 12 everyone! I can't believe it's already here! Seems like just the other day we kicked off this whole "12 Days of Fitness" series. Every two days for the month of December I've been bringing you a new workout tailored to a specific area of total-body fitness. Today we wrap things up with a little pyramid workout in honor of the Christmas season. Ever done a pyramid workout before? Intrigued? Ready… set . . . GO!!

The goal here is to perform 12 sets of each of the following five exercises as quickly as you possibly can. Your first set is one repetition of each exercise. Second set is two reps of each, third set is three reps of each, all the way up through the 12th set where in your performing 12 repetitions of each exercise. Still feeling good? Come back down the pyramid with 11, 10, 9, etc reps of each! According to my calculations, by the time you get done you will have performed 78 repetitions of each of these 5 exercises on the way up; 144 reps of each to come back down again! Consider it my little Christmas present to you! Timer starts… NOW!
Sit ups
Triceps dips
Lunges
And here's the complete package!!! 12 Days of workouts designed to
tone and tighten from head to toe!
Huge thank you to all of you who have made the month of December so wonderful here at Tone-and-Tighten.com! I have loved getting to know you better through your comments and emails. May you enjoy a blessed and safe next couple of days in preparation for this wonderful holiday. I hope your shopping is done, presents are wrapped, and the only thing left to do is relax and enjoy your time with family, friends, and loved ones!
Make it happen,

Jared

By Jared Beckstrand