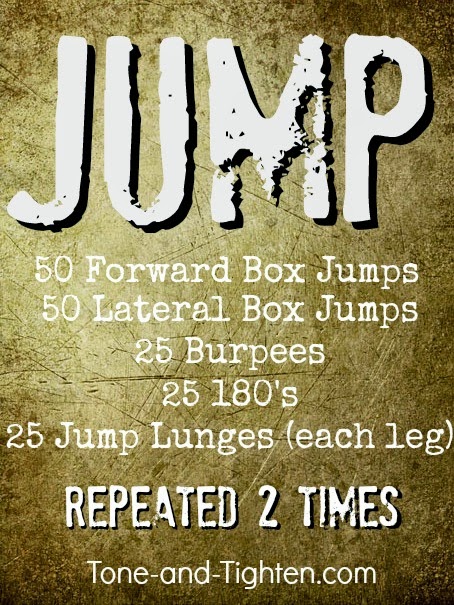 Today's workout is brought to you by my inner child (which is really brought to you by my 4 year-old son!). That kid is always on the move and it seems like lately jumping is his specialty. While his jumping is usually on the trampoline and off the couch, it got me thinking- when was the last time you jumped? Jumping is actually a great workout. Explosive upwards movements and decelerating landings (land "softly") are great ways to work muscles. With that I give you Tone and Tighten's JUMP workout. Enjoy!
50 Box Jumps


I use the stairs at my house. Explode up (1, 2, or 3 stairs depending on your strength and ability) and land softly in a squat position. Jump backwards to your landing spot and land in a squat postion. That's one rep. Do 24 more.
50 Lateral Box Jumps
Same thing as above but now turn sideways. Do 25 to the right and then 25 to the left.
25 Burpees
"Burpees are my favorite" said no one ever. They're beasts, I'm not gonna lie. But super effective in hitting everything from your chest and arms to your quads and calves. Muscle up and do 25.
25 180's
Jump in the air and turn 180 degrees (try to land softly). That's one. Jump in the air and turn 180 degrees the opposite direction. That's two. Repeat up to 25.
25 Jump Lunges
Start in a lunge position with your left leg forward. Explode up into the air and alternate your legs, landing in a lunge position with your right leg forward. That was one on the left. Repeat 25 times on each side.
I've got great news for you!!! You're halfway done!! Run through everything one more time and you're done! In the famous words of Van Halen… "you might as well JUMP"!
Make it happen,
Jared

To view the rest of this post, be sure to head over to www.tone-and-tighten.com.
Have a great day!
Jared