Be sure to follow on Pinterest, Google +, and Facebook for more workouts and fitness ideas!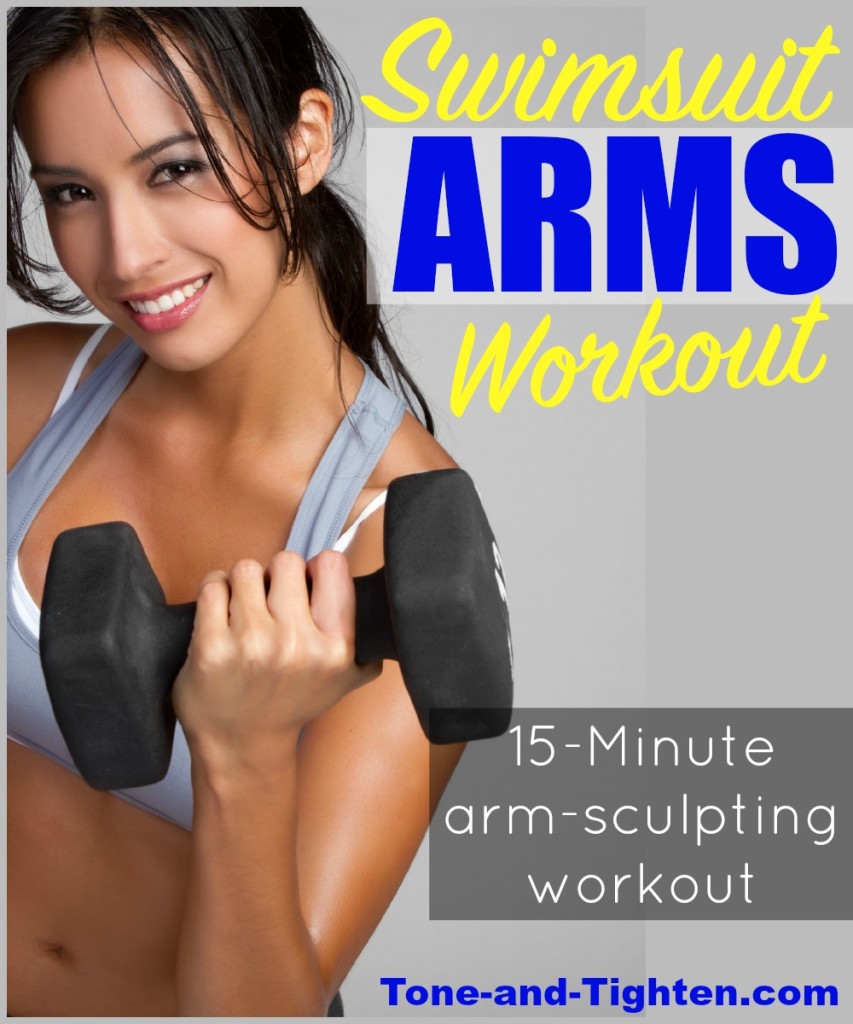 Sculpt sleek, sexy arms in just 15 minutes!
I know, I know – summer is still a ways away and there's still bound to be some ugly weather in front of us, but with weather this nice here in Utah my mind can't help but think of suntans and swimsuits! Make sure your arms are swimsuit-ready this year with this killer 15-minute arm workout! All you need is a pair of dumbbells, 15 minutes, and a little space to sculpt, shred, tone and tighten your upper extremities.
We'll follow an AMRAP format for this one. Set a timer and do as many reps of the exercise as possible in the time given. Also, why stand there statically working arms when we can very easily turn things into a total-body burner with an arms emphasis?! Yeah, let's definitely do that… here we go!
1. Lunge Curls

Stand up straight with your core tight. Keep your head and chest high as you drop down into a lunge while performing a biceps curl. Your arms come straight as you raise back up to the starting position. Repeat on the other side.
1 minute
2. Thrusters

Combining a military press with a squat – great for the triceps, shoulders, core, and legs.
1 minute
3. Sumo Squat with Triceps Extension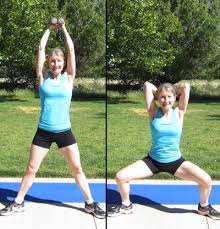 Because just doing triceps extensions would be too easy 🙂 Start with your feet way out wide holding 1-2 dumbbells over your head. As you drop down into  sumo squat let your elbows bend and bring the weights back behind your head. As you return out of the squat to an upright position bring your elbows straight and push the weights up to the ceiling.
1 minute
4. Bent Over Dumbbell Rows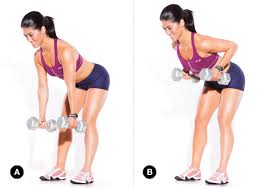 Keep your back straight, your core tight and bend forward at your hips. Keep your palms up and pull the dumbbells up into your chest; focus on squeezing your biceps up at the top of the contraction. Hold 3 seconds and then slowly return to starting position.
1 minute
(I was about to put in a one-minute rest, but when you're as pressed for time as I always am I propose we throw some core work into the mix! How about as long a plank as you can hold up to 1 minute total!!)
5. Plank

1 minute
Repeat the whole thing 3 times for a 15-minute at-home arm burner!
Got social media? Share this workout on Facebook, Pinterest, Google Plus, or Twitter! See the colored boxes below for easy one-click social sharing!
Make it happen,
Jared
By Jared Beckstrand