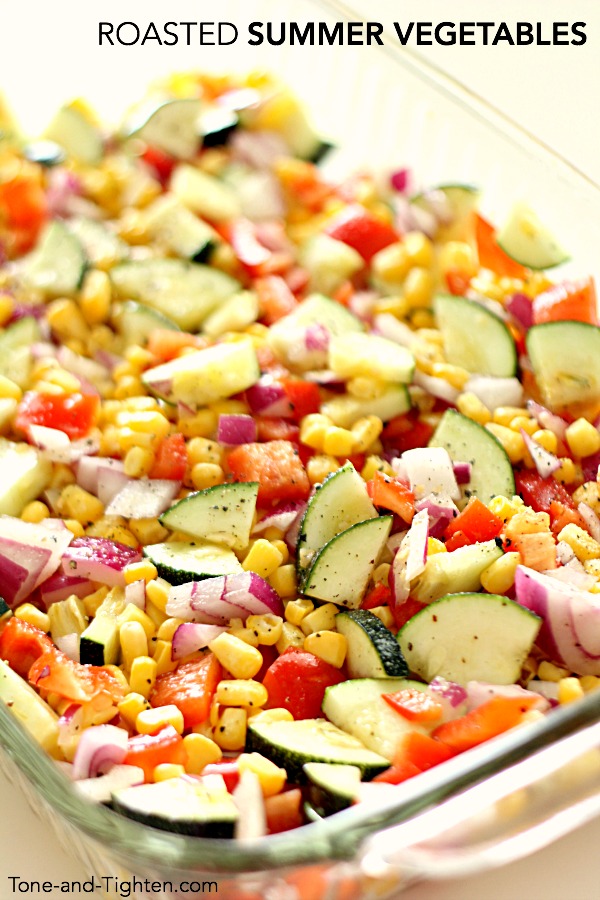 With all these delicious vegetables in season, why not throw them together and make the ultimate dish? This is the perfect side dish and it couldn't be easier to make! I love serving it with grilled chicken, but it could literally go with anything!
If you are looking for more ways to eat healthy, be sure to check out my 30 Day Healthy Menu Plan!
Roasted Summer Vegetables
Recipe type:
Side Dish - Vegetables
Prep time:
Cook time:
Total time:
Ingredients
1 red onion, diced
1 red bell pepper, diced
1 zucchini, diced
1 cup corn kernals (fresh or frozen)
2 roma tomatoes, diced
2-3 cloves garlic, minced
2 tablespoon olive oil
Salt and pepper to taste
Instructions
Preheat oven to 400 degrees F.
Spread all vegetables and garlic in a 9x13" baking pan. Drizzle with olive oil and stir until all are lightly coated with oil.
Season with salt and pepper, then roast in the oven for 15-20 minutes.
Notes
Make sure all vegetables are in a single layer so that they can evenly cook!
Recipe slightly adapted from Kevin and Amanda.
Be sure to check out these other healthy recipes: