Warm cooked apples with cinnamon make a super easy and healthy treat. These fried cinnamon apples are the perfect clean-eating dessert. Satisfy your sweet tooth without ruining your diet- these simple skillet apples contain no added sugar but provide tons of flavor and satisfaction.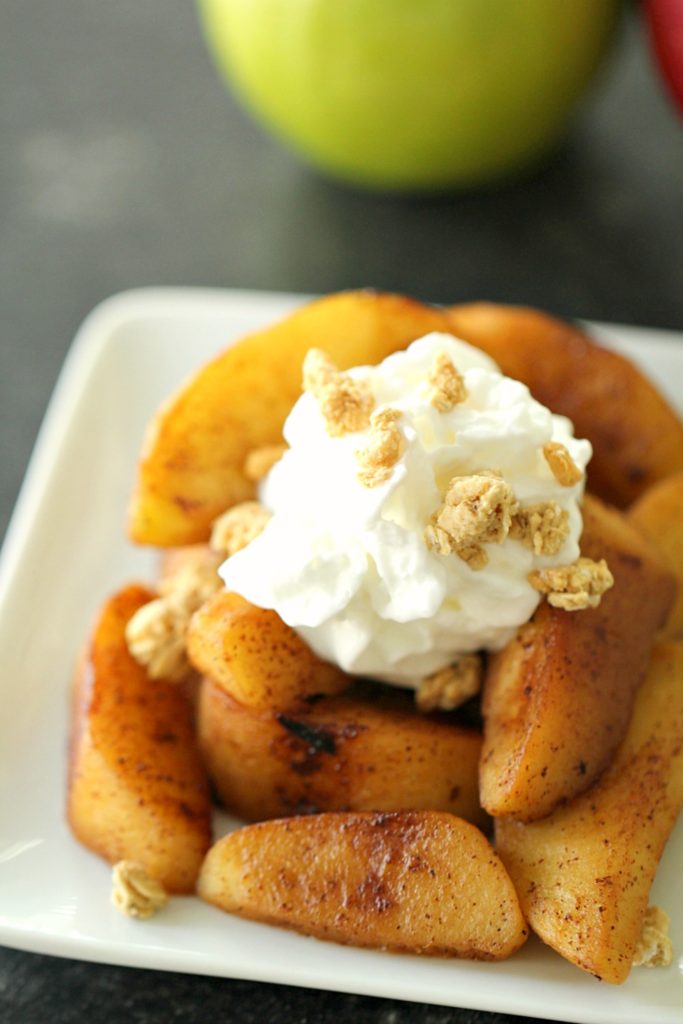 Healthy Fried Cinnamon Skillet Apples
Keep reading for the recipe and nutrition facts below. 
===========================
Eliminate guesswork and confusion and start seeing results.
Subscribe to Tone-and-Tighten.com and get our FREE "7-Day Workout and Healthy Menu Plan" delivered daily right to your inbox. CLICK HERE to get it.
===========================
Craving a delicious dessert but don't want to ruin your diet?
Cinnamon skillet apples are the perfect treat– warm cooked apples that are super easy, tasty, and not full of sugar and fat. Your sweet tooth will be completely satisfied with this good-for-you dessert.
It tastes like a delicious warm apple pie but so much faster and so much healthier.  
Use your favorite kind of apple for this easy 15-minute dessert recipe. When it's done add your favorite toppings- vanilla yogurt, granola, crushed graham crackers, whipped cream, or a small scoop of ice cream for a more decadent dessert. 
Get the recipe below. Hope you enjoy.
ARE COOKED APPLES HEALTHY? 
Apples are a good source of fiber, making them a heart-healthy choice for your day. Apples also provide vitamin C, potassium, and some smaller amounts of B vitamins and some antioxidants. 
Cooking lowers the nutritional value of an apple because heat destroys some of the nutrients, but cooked apples are still a healthy choice. 
When cooking apples, vitamin C and some B vitamins can leech into cooking water. The good news is that you aren't discarding any cooking water with this recipe, so the nutrient loss is minimal.
The best way to maximize the nutritional value of an apple is to cook it for the least amount of time. This recipe is a great choice because the apples are cooked in a skillet for a short amount of time, helping preserve more of the nutrients.
Some types of nutrients found in fruits and vegetables are also enhanced by cooking. It's best to eat a variety of fresh, frozen, canned, cooked, and dried produce for the most nutrients in your diet. 
CAN APPLES HELP YOU LOSE WEIGHT? 
Apples are a healthy food and a great choice when your goal is to lose weight. Apples are beneficial to include in your diet because they are low in calories and high in nutrients.
They are also a good source of fiber- which helps you to feel full and reduces your appetite and food cravings. Foods higher in fiber help you to eat less calories overall which helps with weight loss. 
Apples also provide many nutrients, help control blood sugar, and are a great and easy snack to help you lose weight. 
WHAT IS THE HEALTHIEST APPLE? 
There are hundreds of varieties of apples each with different sizes, tastes, textures, and colors. The different types of apples are pretty similarly nutritionally as well. Depending on the size, apples are usually less than 100 calories each and provide many nutrients.
Apples are a good source of fiber and water and also contain vitamin C, potassium, and some B vitamins, which are all important for an overall healthy, balanced diet. 
As far as choosing the healthiest apple, including any fruit or vegetable in your diet is beneficial. Choose your apples based on personal preference. If you like tart apples choose Pink Lady or Granny Smith, if you prefer sweet choose Fuji, or if you like a crisp apple choose a Gala. 
The recommendation is to get 5 or more servings of fruits and vegetables per day. Overall, including more fruits and vegetables into your diet is a healthy choice- including any type of apples. 
Trying to cut sugar out of your diet?
You can still enjoy desserts!
In 2016, I removed refined sugar from my diet and found ways to bake with natural sweeteners.
My friends and family had NO idea these yummy treats were made without sugar!
Get your copy of SUGAR-FREE DESSERTS HERE.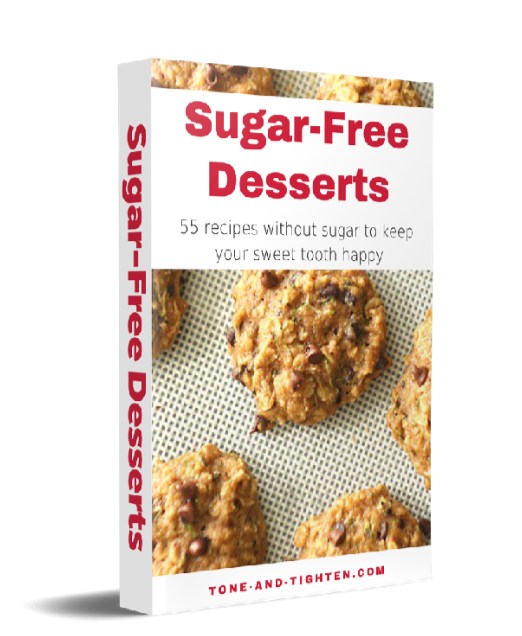 Tips for making this recipe:
These are a little bit of a more dry skillet apple. If you would like a thicker sauce with them, add in 1 teaspoon of cornstarch with the water during the last 2-3 minutes of cooking
For more flavor you can also add in 1 teaspoon vanilla extract, a dash of nutmeg, and dash of ginger.
If you want these to be sweeter, you could sprinkle a little coconut sugar or drizzle pure honey on top

These apples are delicious stirred into a bowl of oatmeal or eaten as a side dish. 

If you hate peeling apples, this apple peeler is a life saver.
Healthy Skillet Cinnamon Apples
Prep time:
Cook time:
Total time:
Ingredients
4 Apples (your favorite variety- I love Fuji and Granny Smith apples)
1 Tablespoon butter
Cinnamon to taste (approximately 1 tsp; more or less depending on taste)
1-2 cups water (as needed)
Instructions
Peel your apples and slice into wedges (if desired, you can leave the peels on).
Heat large skillet on stove top to medium heat. Add in butter and let it melt in the hot pan.
Place apples in hot skillet and sprinkle generously with cinnamon.
Slowly add ½ cup water to skillet and mix apples and cinnamon thoroughly.
Continue to add ½ cup water every 2-3 minutes as it evaporates off the griddle. You want to keep them moist.
Stir apples every 1-2 minutes until desired doneness is achieved (it will take approximately 10 minutes for them to be tender).
If desired, serve with Greek yogurt, whipped cream, vanilla ice cream, or granola.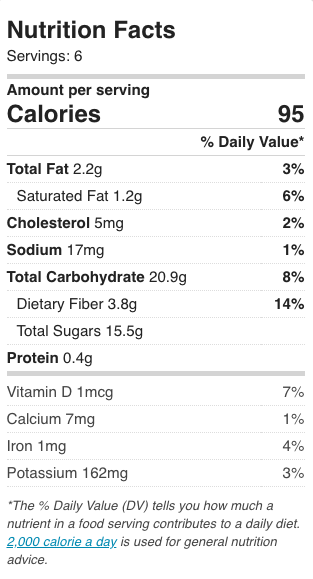 Be sure to not miss another post!
Follow Tone and Tighten on Instagram | Facebook | Pinterest | YouTube
Check out some more of my healthy recipes:
Make-Ahead Shredded Chicken (Freezer Meal)
Baked Blueberry Oatmeal Protein Cups
Healthy Honey Banana Muffins -No refined sugar
Want to get in better shape but don't know where to start?
I've got your solution!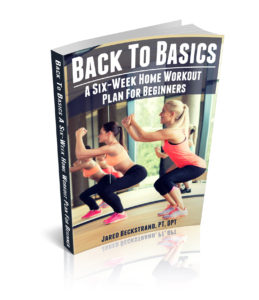 Our "Back To Basics" ebook is a 6-week workout plan designed specifically for beginners to help you burn calories, lose weight, and tone muscle – all from the comfort of your own home. There's no equipment required, each workout is completely unique, and best of all – there's video instruction for every single workout.
CLICK HERE to learn more about "Back To Basics"