These Baked Blueberry Oatmeal Protein Cups are perfect for a quick on-the-go breakfast, school lunch, or a filling snack. Make a batch today and freeze the leftovers for healthy lunches all week long.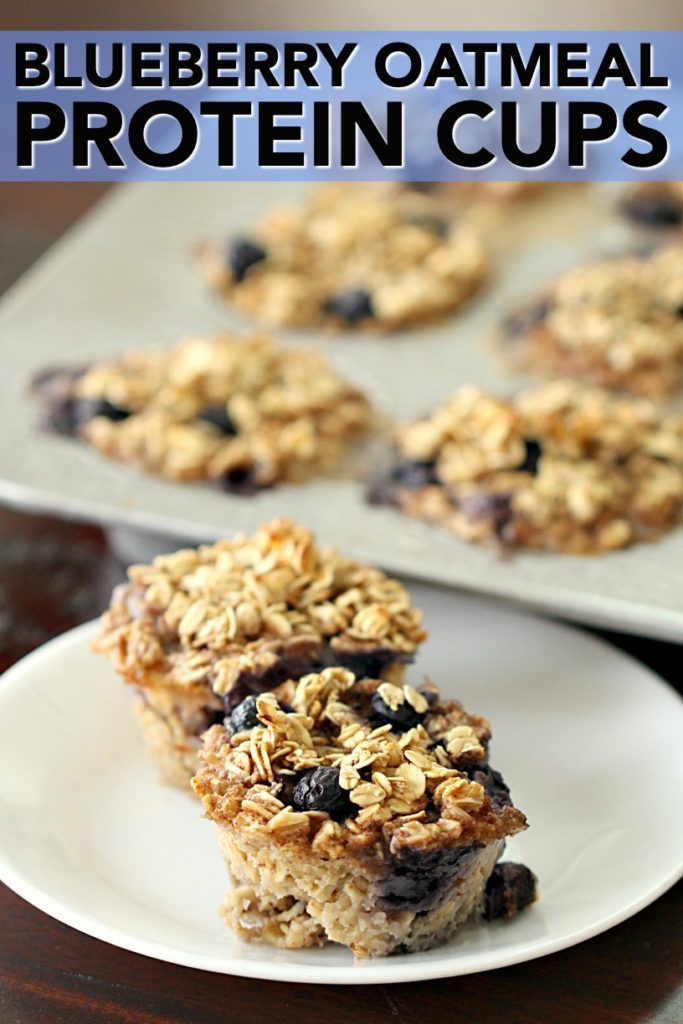 I love breakfast, but I know that many of you may not feel the same way. Whether you don't have much time in the mornings or you just aren't feeling too hungry, I hope that these Baked Oatmeal Cups will change your mind!
These oatmeal cups are made with simple ingredients that you probably have on hand. Don't have blueberries? Feel free to swap for your favorite berry – strawberries, raspberries, and blackberries would all work great in this recipe!
How to make Blueberry Oatmeal Protein Cups
In a bowl, mix together oats, cinnamon, baking powder, salt, skim milk, brown sugar (just a little bit), vanilla, maple syrup, blueberries, and protein powder together in a bowl.
Spray a muffin tin with non-stick cooking spray.
Scoop about 1/4 cup of the oatmeal mixture into each muffin well. Be sure to mix your mixture between each scoop so that the milk and oatmeal is evenly distributed.
Bake for 20 minutes or until done.
How to freeze Blueberry Oatmeal Protein Cups
I love to make a bit batch of these and then freeze them for another day.
To freeze, simply wait for the oatmeal cups to cool down. Scoop cups into a gallon-sized freezer bag in a single layer (I was able to fit about 9 cups into one gallon-sized bag) and stick in the freezer for 2-3 months.
When ready to eat, remove one cup from the bag and microwave for 30-45 seconds or until completely heated through.
I like to add a little bit more milk to my oatmeal cup and break up the oatmeal so that it soaks up the extra milk. It's delicious!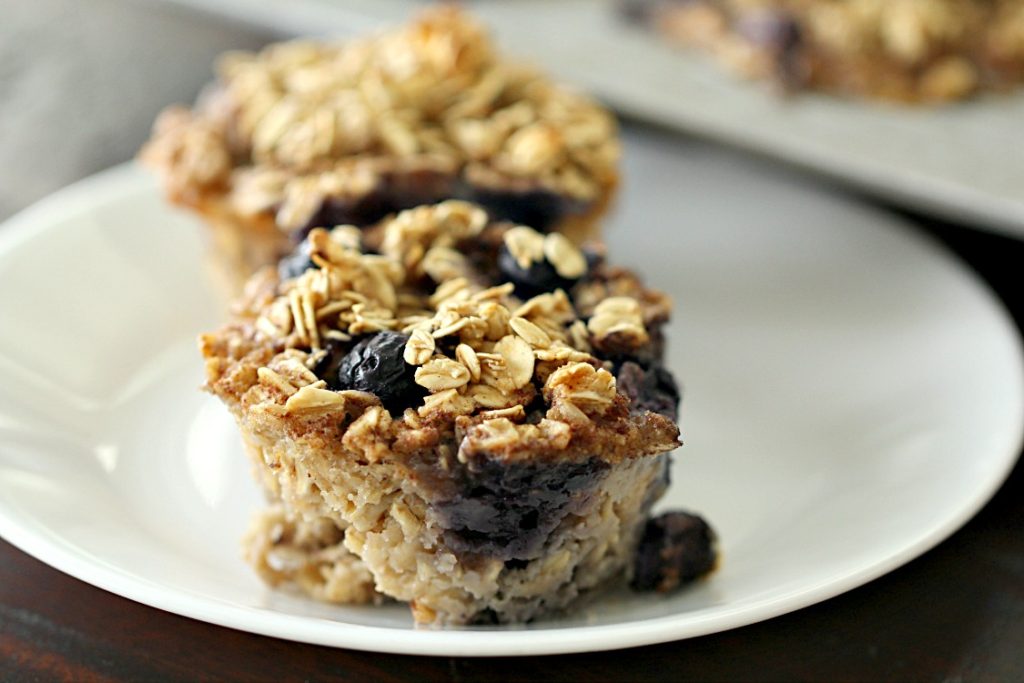 What protein is used in this recipe?
For this recipe, I used Vanilla Whey Protein Powder. You can find my favorite (Optimum Nutrition Gold Standard Protein) here.
Why is protein important?
Protein is a naturally-occurring organic compound that is essential to the structural components of body tissue, especially muscle and collagen.
In simple terms: protein helps build and repair cells that are damaged and need to be rebuilt/replaced (i.e. after a killer workout! Need a good workout? Try this one!).
Need more reasons why you should have more protein in your diet?
Because it is such a great source of branched-chain amino acids (BCAA's) protein serves to repair body cells, muscles, and bones – especially when taken immediately after a workout.
Some studies say that there may be some anti-inflammatory properties in protein which may ameliorate delayed-onset muscle soreness (DOMS) (the whole "2-days-after-my-workout-and-I-can-barely-move" thing!).
A little-known benefit of regular protein consumption is that it can actually help you to lose weight! When taken before meals it has been proven to help people drop pounds. But that's not all – when combined with regular exercise it can actually boost metabolic rate and help you naturally burn more calories each day.
If you want to learn more about protein, you can read all about it here: What is Whey Protein and Why Should I Take It?

Can I make these without protein powder?
I personally have not made these without protein powder, but I think it would be fine if you did. I would probably decrease the milk down to 2 1/3 cups instead of 2 1/2.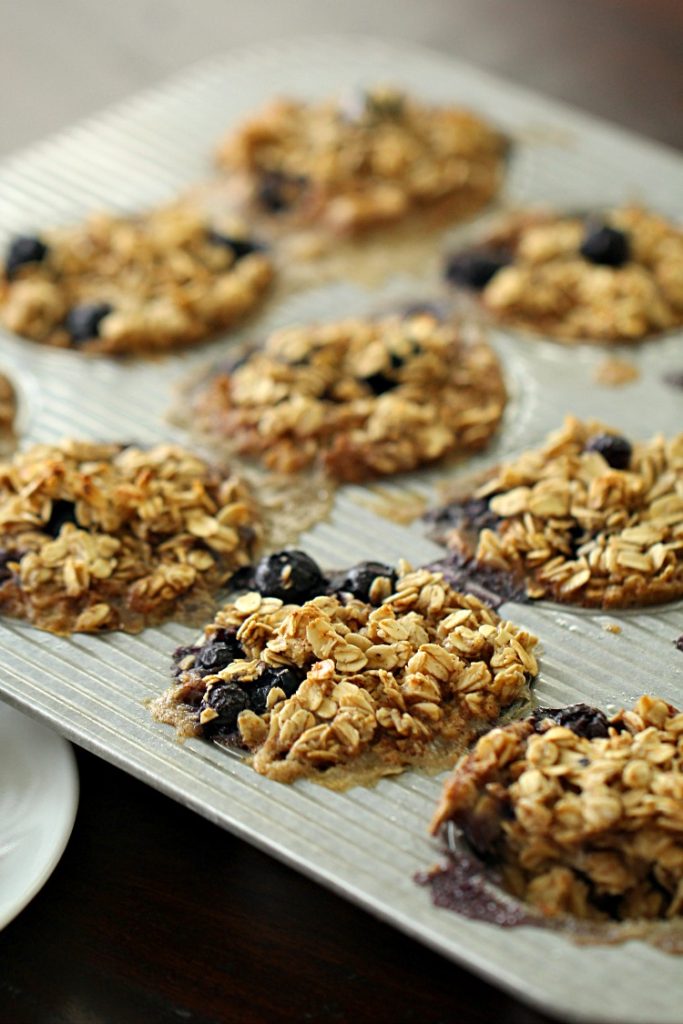 ===========================
Eliminate guesswork and confusion and start seeing results.
Subscribe to Tone-and-Tighten.com and get our FREE "7-Day Workout and Healthy Menu Plan" delivered daily right to your inbox. CLICK HERE to get it.
===========================
What are the nutrition facts in this recipe?
One batch of this recipe will make 12 cups. Each pancake has 122 calories, 1.1 g of fat, 22.9 g of carbs, and 4.8 g of protein.
I love starting my day with some healthy carbs and a good balance of fats and proteins.
If you are counting macros, this is a great choice for breakfast, lunch, or snack!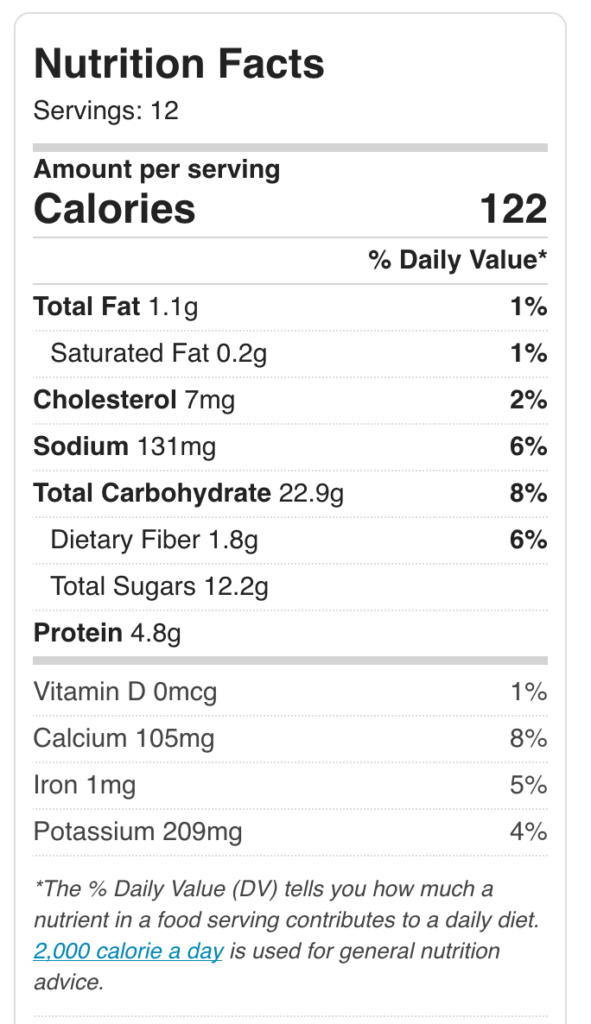 Want to know what I eat in a week to lose weight?
Here's my 4 Week 1500 Calorie Healthy Meal Plan – breakfast, lunch, dinner, and snacks.
Each day is perfectly calculated to 1500 calories by a registered dietitian.
All recipes are family-friendly and budget-friendly – it makes weight loss taste good!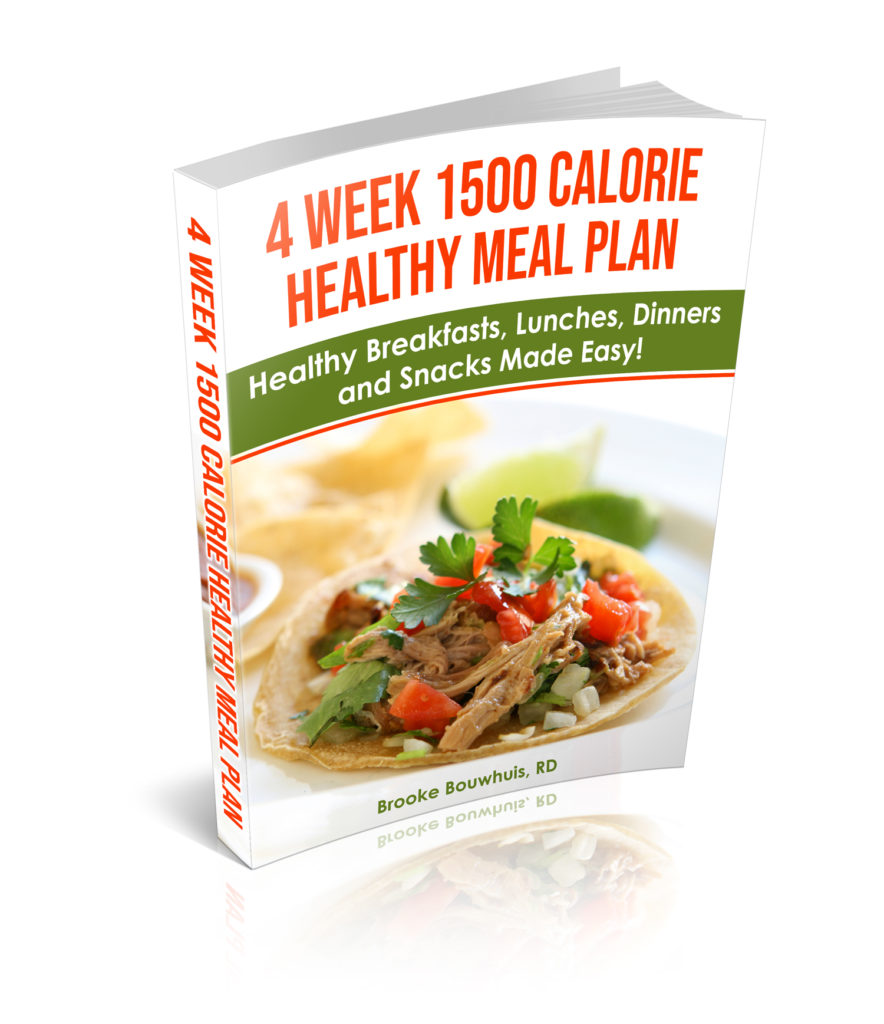 Other protein-packed breakfasts you are going to love:
Baked Blueberry Oatmeal Protein Cups
Prep time:
Cook time:
Total time:
Ingredients
4 cups old fashioned oats
1½ teaspoons ground cinnamon
1 teaspoon baking powder
½ teaspoon salt
2½ cups skim milk (or almond milk)
¼ cup brown sugar (or coconut sugar)
2 teaspoons vanilla extract
⅓ cup pure maple syrup
1 cup blueberries (fresh or frozen)
½ cup vanilla protein powder
Instructions
Preheat oven to 375 degrees.
In a large bowl, mix all ingredients together.
Spray a muffin tin with cooking spray and scoop oatmeal mixture in using a large ice cream scoop or a ¼ measuring cup. The mixture will be a little watery, so it's important to mix well before each scoop to make sure you get an even combination of milk and oats.
Bake oatmeal cups for 20 minutes, or until cooked through.
Nutrition Information
Serving size:
1
Calories:
122
Fat:
1.1 g
Saturated fat:
0.2 g
Carbohydrates:
22.9 g
Sugar:
12.2 g
Sodium:
131 mg
Fiber:
1.8 g
Protein:
4.8 g
Cholesterol:
7 mg
Be sure to not miss another post!
Follow Tone and Tighten on Instagram | Facebook | Pinterest | YouTube
I share healthy tips, recipes, and workouts every week! Check out this video on how to get rid of muscle knots in your neck, back, and shoulders!

This post may contain affiliate links. Read my disclosure policy here.