Got social media?? Follow T&T on Pinterest, Google +, Facebook, and Twitter!
A complete leg workout with one simple piece of equipment.
As a physical therapist, I am constantly recommending resistance band exercises to people. You really can't find a cheaper, more versatile piece of equipment out there! Super lightweight, super portable, and super effective! Today I wanted to share with you some of the best leg exercises that use resistance band as part of a total lower-body-sculpting workout. Hope you're ready for this one! Grab your resistance band and let's get to work! 
Squats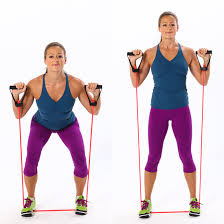 Step on the middle of your band and hold the tails in your hands. Perform a front squat against the resistance supplied by your exercise band.
15 reps
Lateral Band Walks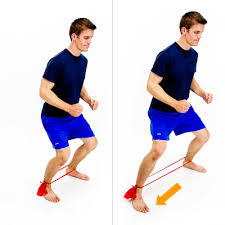 With you band looped around your ankles OR you can "criss cross" your band (left hand down around outside of right foot – along the ground to outside of left foot – up to right hand) walk laterally against resistance. Take a big step with your leading leg and a half step with your trailing leg so there is some resistance on the band at all times.
10 steps left, 10 steps right
Seated Quad Extensions



Anchor the band to a chair leg or to the door behind and under you. Perform a leg extension by taking your leg from 90 degrees bent to a position straight out in front of you.
15 reps on each leg
Prone Hamstring Culs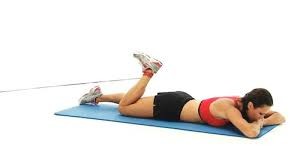 Anchor your band in a door behind you. Lay on the floor with your legs straight behind you. Loop the band around one leg and perform a hamstring curl by bending your leg to 90 degrees. Slowly return to starting position.
15 reps each leg
Glute Bridge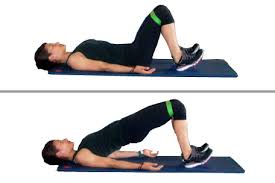 Loop the band tightly around your knees. Separate your knees against the resistance from the band, squeeze your butt together, and perform a bridge by lifting your buttocks up off the floor. Slowly return to starting position.
15 reps
Donkey Kicks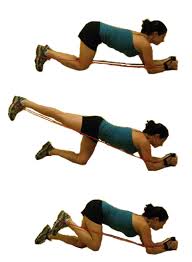 Get down on all fours. Hold the tails of the band with your hands and loop the center around your foot. Kick your leg straight back while raising your foot slightly towards the ceiling against the resistance of the band. Hold for 1 second at the top and slowly lower to starting position.
15 reps each leg
Repeat the whole series 3 times total for an amazing lower-body shredder!
Question or comment for Jared? I would love to hear from you! Leave me a comment below or you can email me at ToneandTightenFitness{at}gmail.com
Make it happen,
Jared