Workouts, recipes, motivation, tips, and advice all right to your inbox! Subscribe to Tone-and-Tighten.com using the black bar up at the top of the page.
At-home cardio strength workout with no weights required!
Buckle up – we're kicking the endurance and strength up to a whole new level with this one! You'll be doing 20 reps of each of ten of my favorite bodyweight exercises (no equipment required!). After you get done with the first set I'll ask you nicely to do it all again (20 exercises 40 times!)! Should take about 25 minutes of your day and should be a killer cardio-strength workout! Let's do it…
1. 20 push ups

2. 20 air squats

3. 20 alternating lunges

5. 20 single leg deadlifts

7. 20 jump squats

8. 20 alternating side lunges

10. 20 high knees

Try not to rest for more than 10-15 seconds between each move.
Once you complete the entire round, take a 2 minute rest, then repeat all 10 moves again.
Looking for more awesome at-home workouts? How about A LOT more of our popular at-home workouts?! 
Our 8-Week Beginner's Workout Plan and 8-Week Advanced Workout Plan are two hugely popular programs designed to help you gain strength and shred pounds! Find out more information by clicking on the pictures below…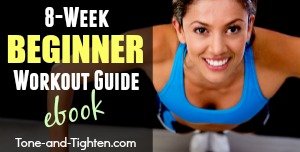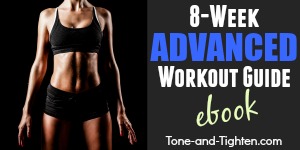 As always, I love to hear from Tone and Tighten's readers!
Leave me a comment with your fitness question below or you can always email me at ToneandTightenFitness{at}gmail.com
Make it happen,
Jared
By Jared Beckstrand