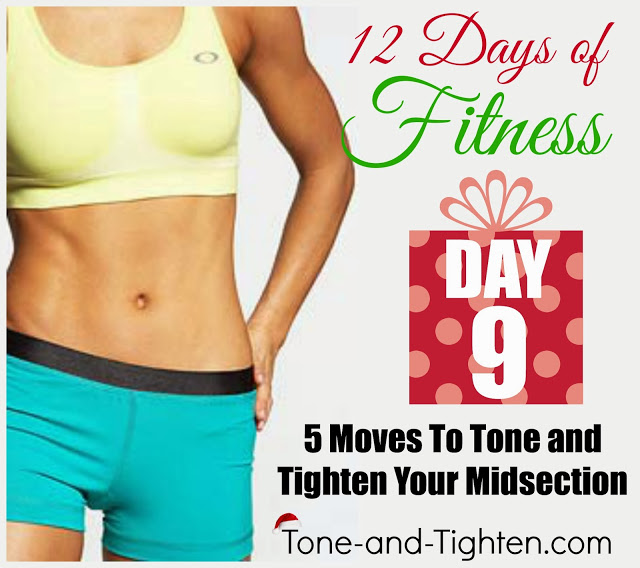 Merry "12 Days of Fitness" everyone! Hard to believe we're already up to to day 9 in this month-long December workout series. The last eight workouts I've been trying to mix it up and keep it interesting – something for everyone in the world of fitness. For the "ninth day of fitness", we're getting back to some basics with some good ol' core strengthening. Today we'll focus on shredding your midsection– just in time for you to write that follow-up letter to Santa for a smaller pants size!


Russian twists
One of my favorite exercises to get the whole abdominal wall fired up!
One set of 20 touches to each side
Try to suck in your gut the whole time you're up in the side plank.
30 seconds on each side
Bridge on Swiss ball (Single-leg bridge if no ball available)
When working your core it's vital that you don't forget about your back/butt. Bridges are a great way to ensure your toning efforts go all the way around!
One set of 20 on Swiss ball (or one set of 10 on each leg this single leg)
Great exercise to shred the rectus abdominis – that nice six pack muscle in the front of your abdomen.
One set of 20
Finish the round strong by climbing the mountain – suck it in and keep the midsection strong.
Assuming you and I are still friends, do two more sets of these five exercises. 🙂
We're 3/4 of the way there! If you missed any of the other days you can find them all below in this nice little package… One might even call it a present from T&T to you!
As always I love to hear from you! You can leave me your comments below or email me at toneandtightenfitness@gmail.com

Make it happen,

Jared

To view the rest of this post, be sure to head over to www.tone-and-tighten.com.
Have a great day!
Jared