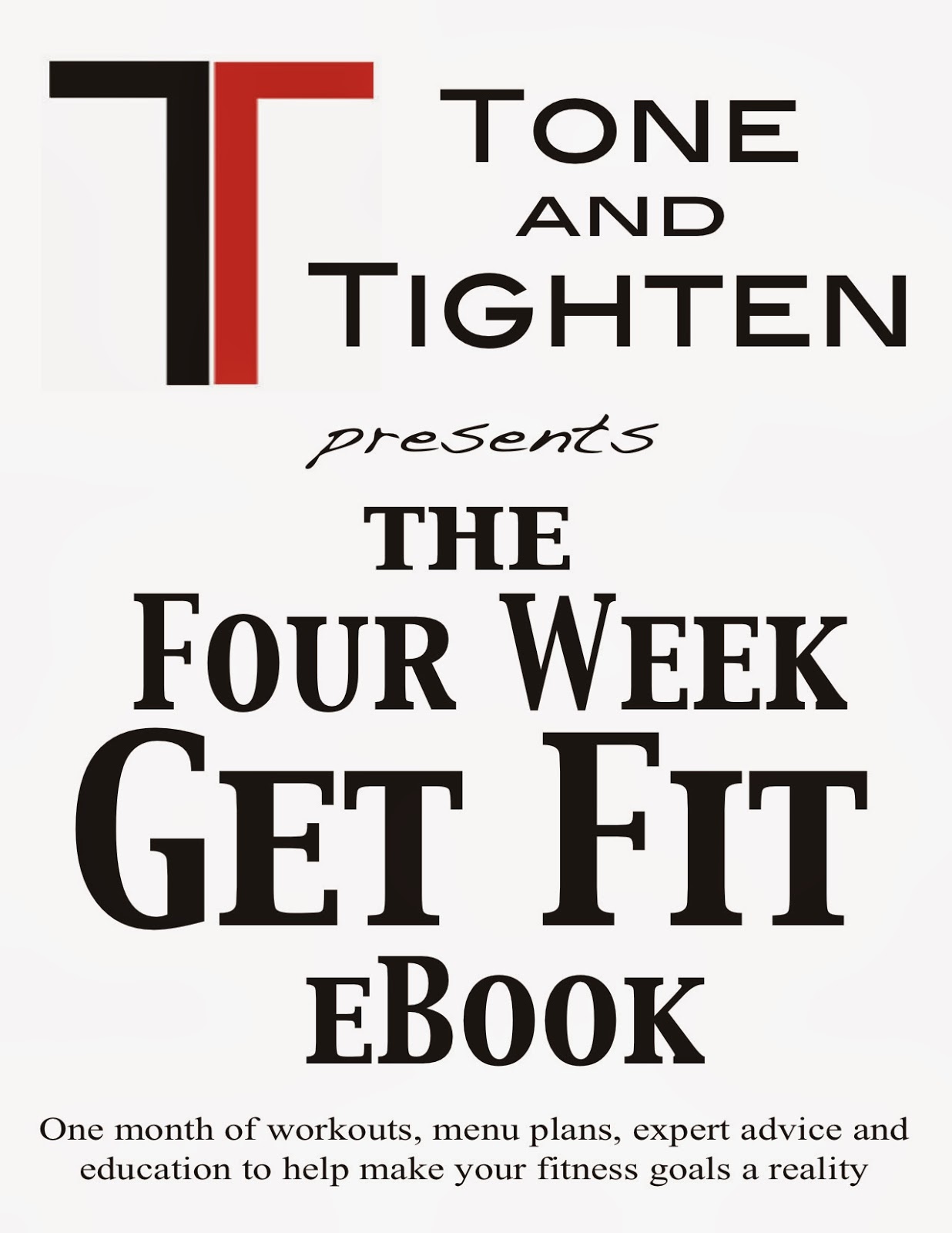 It's here! It's here! The moment you've all been waiting for (well, the moment I've worked really hard to get to, anyway!)!! It's with much pleasure that I introduce to you…
Tone and Tighten's
Four Week Get Fit eBook
What's inside? The book starts with a few chapters about weight loss; specifically diet and exercise and how they relate to staying healthy and getting fit. You get a printable calorie and activity tracker to help you monitor your food intake and activity level and to see how those relate to your current weight loss (or lack thereof). I've included our "Four Week Get Fit Challenge" (found FREE on this page) and I encourage you to make this a part of your upcoming month while participating in this Get Fit movement. Finally (and the part I'm most excited about) I've included an ENTIRE MONTH of healthy recipes, menu plans, and workouts to help you with your fitness goals. You get recipes for breakfast, lunch, dinner, and a snack daily and five killer Tone and Tighten workouts weekly to be done on your own schedule. I've even included beginner and advanced workouts so you're sure to find something that fits your fitness level! A total of 56 killer pages of T&T goodness!!!
Why should I buy it?

My goal with this eBook was to make it as all-inclusive as possible. Since starting this site I've received a multitude of emails from people about diet, exercise, and inquiring whether or not I could train them. In an effort to help you out I've decided to make my advice a little more general and offer it to everyone! I know from experience that if you follow the principles established in this book you will eat healthier, exercise more regularly, get stronger, have more energy, lose weight, and (above all) Tone and Tighten.
How to buy it: You get all this advice, menu planning, and exercise guidance for $9.99 (I feel like an infomercial – you won't pay $20; you won't pay $16; you won't even pay $12!!!). Make it yours now by clicking on the following link!!!
Should you have any questions or concerns about this amazing book please feel free to email me at toneandtightenfitness@gmail.com.
I would like to personally thank all my readers for all your support since starting up this blog. It really wouldn't be possible without your following and loyalty and for that I thank you! Cranking out amazing content is something I take very seriously and I hope to continue to be a vital part in helping you realize your potential! Much more to come!

Make it happen,

Jared




By Jared Beckstrand