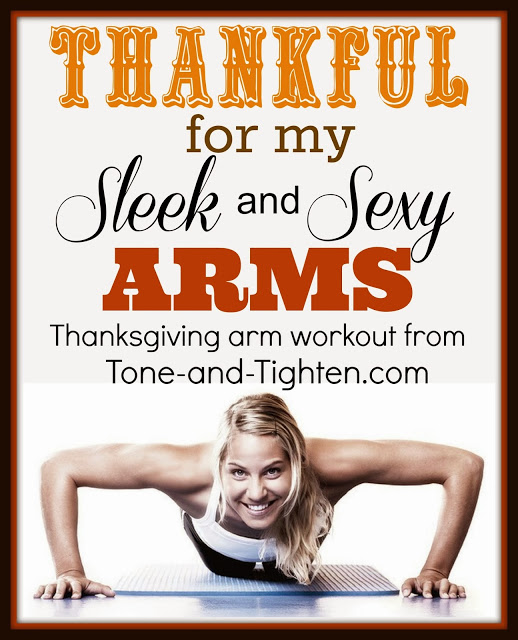 Happy November everyone!! I love this time of the year – a slight chill in the air, FOOTBALL, and an entire holiday centered around eating! Most of all, though, I love the Thanksgiving season for the chance to pause, reflect, and express gratitude for the many blessings in my life. It's for this reason that this month I'm introducing the "Thankful For My" series. Between now and Thanksgiving I'll bring you 4 different workouts to help you realize your goals and express thanks for your favorite areas (AT LEAST to remind you that they're there! I apologize for the soreness in advance!). Follow these workouts for the next 2.5 weeks and come Turkey Day we can all celebrate together!
Today's workout…
Click here for "Thankful For My" Amazing Legs (week 2)
Click here for "Thankful For My" All-Day Cardio (week 3)
Click here for "Thankful For My" Rock Solid Core (week 4)
30 Jumping Jacks
15 Burpees
10 Push-Ups (full if you can; modified if necessary)
10 Chair Dips
10 Up-Down Planks
30 Overhead Claps
Still don't have a good pic of this one! Sorry!
It's exactly what the name implies- stand with your arms straight out to your side. Keeping your elbows straight, clap your hands over your head and then return to the starting position.
Repeat this circuit 3 times!
The next workout in the series is coming at you
in 4 days
. Try to get this routine in
1 more time
before then!
Make it happen,
Jared
toneandtightenfitness@gmail.com

To view the rest of this post, be sure to head over to www.tone-and-tighten.com.
Have a great day!
Jared