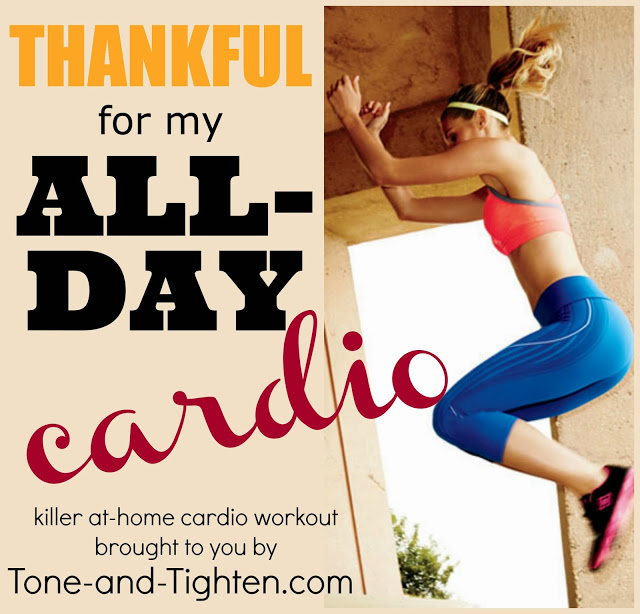 The third in my series of four "Thankful For My" workouts. What better way to celebrate November than with some killer workouts featuring different body parts and capabilities. Today we're highlighting a favorite area of fitness for a lot of people… cardio! Below you'll find one of my favorite in-home cardio routines to get your blood pumping and remind you how grateful you should be for your heart and lungs!
Click here for "Thankful For My" Sleek and Sexy Arms (Week One)
Click here for "Thankful For My" Amazing Legs (Week Two)
Click here for "Thankful For My" Rock Solid Core (Week Four)

Warm Up
March In Place (high knees without the aggressiveness)
Here we go!
Jumping Jacks (1 minute)
Butt Kick (1 minute)
Alternating Toe Touches (Box/Stair) (1 minute)
(Like pictured only the lead leg is up on a stair/box in front of you)
Burpee (1 minute)
Stairs (if they're available- run them for 2 minutes)
Russian Twist (1 minute)
High Knees (1 minute)
Speed Skaters (1 minute)
Repeat this series 2-3 times as time allows; should take 25-35 minutes total.
Cool Down
March in Place (march it out to bring the heart rate back down)
Thanks for continuing to follow as we shred through November! As always questions or comments are appreciated below or privately at toneandtightenfitness@gmail.com
Make it happen,
Jared

To view the rest of this post, be sure to head over to www.tone-and-tighten.com.
Have a great day!
Jared