A high-energy kickboxing workout you can do right in your own home. No gym required as you burn up some serious calories and carve incredible muscle definition punching and kicking into shape. Kickboxing is a great way to tone and tighten your whole body.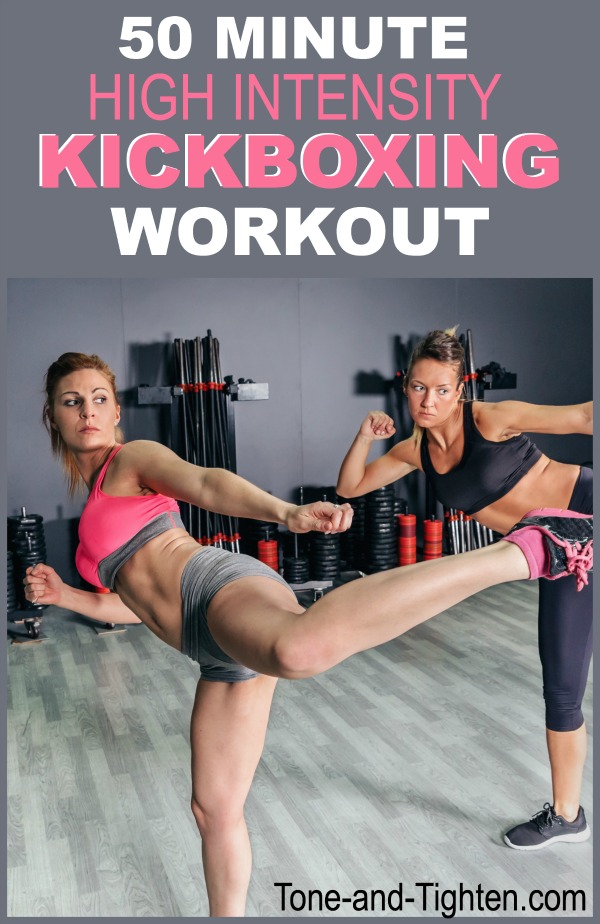 50 Minute Turbo Kickboxing Workout
Keep reading for the video to this high-intensity kickboxing workout. 
===========================
Eliminate guesswork and confusion and start seeing results.
Subscribe to Tone-and-Tighten.com and get our FREE "7-Day Workout and Healthy Menu Plan" delivered daily right to your inbox. CLICK HERE to get it.
===========================
No gym? No problem.
At-home workouts can be just as beneficial and totally effective. Today's at-home workout is high intensity kickboxing. 
I love kickboxing workouts.
They're a great way to utilize a ton of muscle groups, get the heart rate way up, and shred through some calories fast.
Today I wanted to share one of my favorite kickboxing workouts with you. This is a great video and works perfectly when you might not have a lot of time to get through it.
Get your sweat on with this high-intensity kickboxing workout in the comfort of your own home.
…