Healthy cooking starts here. This turkey and vegetable skillet is packed with nutrients for a high-protein, low-fat, and all flavor meal, plus it cooks in just one pan for simple cleanup. A perfect skillet recipe full of nutrient-rich vegetables and lean ground turkey for a balanced, healthy meal that is fast, affordable, and delicious.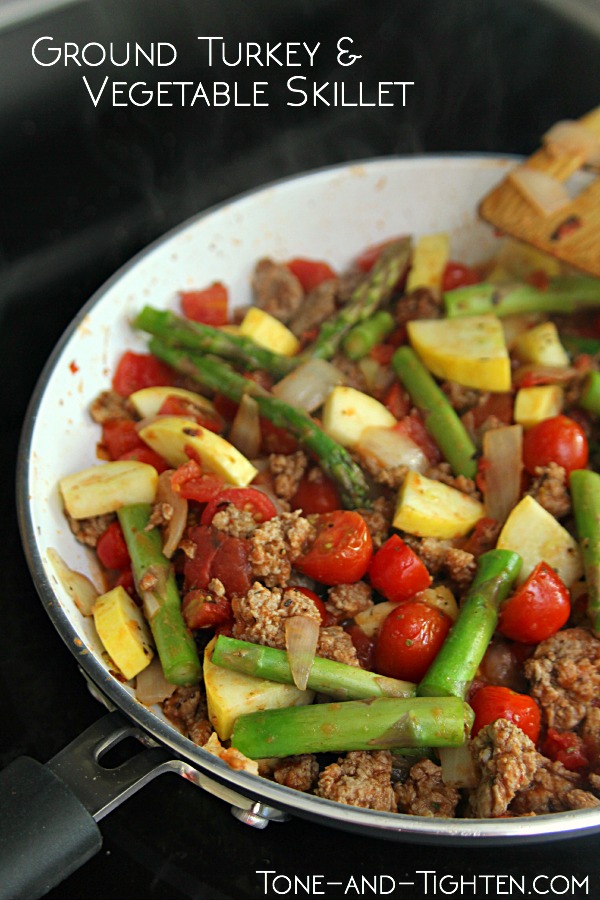 Protein-Packed Ground Turkey and Vegetable Skillet
Keep reading to get the recipe for this healthy one-pan turkey and veggie skillet. 
===========================
Eliminate guesswork and confusion and start seeing results.
Subscribe to Tone-and-Tighten.com and get our FREE "7-Day Workout and Healthy Menu Plan" delivered daily right to your inbox. CLICK HERE to get it.
===========================
Protein and vegetables all in one pan – does it get any healthier than this?
I love one-pot skillet dishes – everything cooks in one big pan so you get an amazing combination of flavors AND you don't have to worry about cleaning up a ton of dishes.
Today on Tone and Tighten I'm sharing one of my favorite quick-and-easy meals that's high protein, low-fat, and all flavor.
Make healthy eating delicious and easy. Read more below for the recipe.
HOW CAN I MAKE GROUND TURKEY TASTE LIKE GROUND BEEF? 
Do you prefer the taste of ground beef but like ground turkey for the health benefits? There are ways you can cook with ground turkey that make it taste amazing and you won't even miss the ground beef. 
To make ground turkey with better flavor, make sure you cook your ground turkey with diced onion. Next add 1-2 teaspoons of ground coriander, worchestershire sauce, and cumin. You can also try using of 1-2 teaspoons of paprika, cumin, chili powder, and garlic powder if you are making tacos. 
This ground turkey and vegetable skillet recipe is already seasoned to perfection. With so much flavor you won't be able to tell that it isn't ground beef. 
TIPS FOR GETTING EXCITED ABOUT HEALTHY COOKING 
Know that you would eat better if you cooked more from home but can't bring yourself to get excited about spending all that time in your kitchen? 
Eating out all the time is not very beneficial for your wallet or your waistline. Learning a few simple tricks along with some easy recipes can help you feel more prepared to throw together easy and healthy dinners more often and get excited about cooking. 
Reboot your kitchen a little bit- whether that's organizing, redecorating, or stocking only the food/equipment you need and will use. I also love to have speakers in my kitchen for my music or podcasts while I cook. Make your kitchen a fun place you enjoy. 
Spend some time meal planning even if it's only a few minutes before or after you go grocery shopping. Look on Pinterest and other websites for healthy recipe inspiration. 
Plan for weakness. It's not realistic to think we'll be able to make an amazing dinner every single night of the week. Make leftovers and always have a few quick ideas on hand for something simple when you're in a rush (or feeling lazy). 
Start by planning at least 3 meals you will make in a week, and enjoy eating healthier. Try this recipe as one of them- it is so fast, easy, and healthy- just what you're looking for. 
TIPS TO START EATING HEALTHIER
A lot of us are motivated to eat better, but it can be hard when we don't have a good plan. If you want to get your diet off to a good start, just set simple attainable goals and work up from there. Focus on taking baby steps in the right direction, that way you know your changes will be more realistic and sustainable for long-term healthy habits. 
Try to swap out your processed foods for whole foods more often- choose fruits and vegetables as snacks instead of crackers and chips, and keep healthier options available. Stock up your pantry and fridge (and desk) with healthy choices.
If you don't buy the unhealthy foods– you won't eat them, but you need to replace them with readily available healthy options. If you need ideas for snacks, try this list of my top 70 favorite portable snacks.
Making a few healthier swaps this week will help you set a habit for a healthier you. 
NONSTICK FRYING PANS
If you're anything like me, you are probably way overdo for a new frying pan. We got a set when we got married 14 years ago and have been using them ever since. We recently got a couple of new ones and I was BLOWN AWAY with the difference it made!
Technology has really changed in the last decade (or more!) and these new frying pans are incredible! The different coatings available minimize the oil you have to use and clean up literally takes seconds!
No more leaving your pan to soak in hot soapy water overnight – they rinse almost completely clean with just water and are ready to pop in the dishwasher immediately.
Check out a few of my favorite pans right here on Amazon:
On to the food! The best part of this simple recipe is that it is totally customizable – throw in whatever fresh vegetables you have on hand or whatever is in season and you are good to go.
Toss together your favorite fresh vegetables and ground turkey to make a quick and healthy meal.
1/2 pound lean ground turkey
1 cup yellow zucchini squash, cut into bite-sized pieces
1 cup fresh asparagus spears, cut into bite-sized pieces
1 cup cherry tomatoes, cut in halves
1/2 cup fire roasted tomatoes (I just used canned)
1 teaspoon Italian seasoning
1/4 teaspoon black pepper
1/2 cup low-fat mozzarella cheese, shredded
1/4 cup Parmesan cheese, shredded
Heat a large non-stick skillet over medium-high heat. Add ground turkey and brown until it is almost completely cooked all the way through. Add in onion and garlic and saute for 1-2 minutes more or until they start to turn tender.
Add in the rest of the vegetables and seasonings to the skillet and saute until the vegetables are tender (about 5-6 minutes).
Top the turkey and vegetables with cheese. If desired and IF YOUR PAN CAN GO IN THE OVEN, place pan under the broiler until the cheese melts.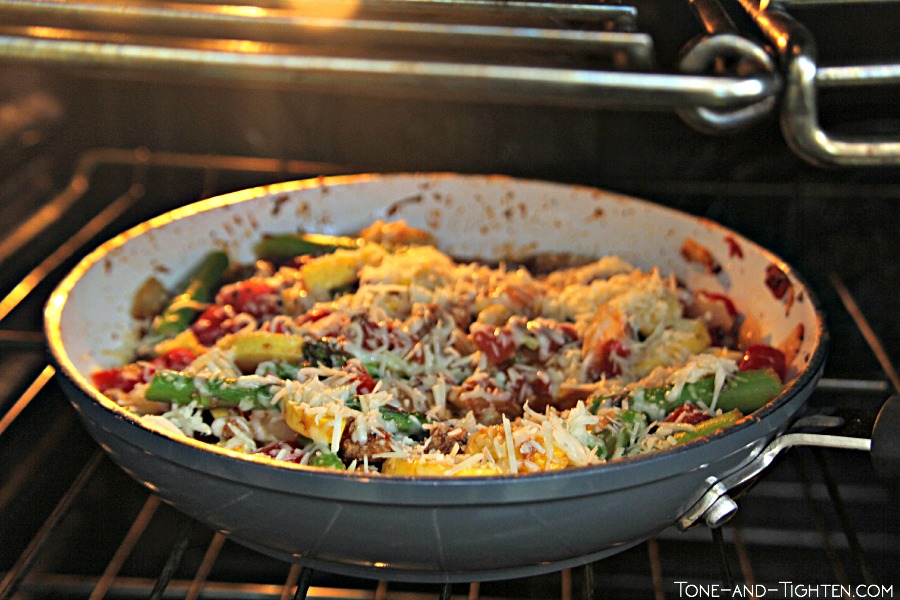 What's your favorite healthy recipe? Leave us a comment below.
Looking for more great posts from my #MakeYourMove campaign? Here are a few of my favorites.
(Click the picture to be taken to the post)
Looking for more delicious turkey skillet recipes? 
Ground Turkey and Sweet Potato Skillet
Ground Turkey Taco Skillet (One Pan Dinner)
Ground Turkey Taco Lettuce Wraps
Be sure to follow Tone and Tighten on Pinterest, Twitter, Facebook, Instagram, and YouTube for healthy recipes, workouts, and fitness ideas.
Make it happen,
Jared