Get more from Tone and Tighten by following on Pinterest, Google+, Facebook, and Twitter!

Ever just have one of those mornings? Like the snooze button is 1 million times more appealing than getting out of bed? Where no matter what you do you're still having a hard time getting going? It's a fact of life that you've experienced one of "those days" (or maybe even a whole string of them)… but is there a way around it?
Studies have shown that doing some sort of physical activity first thing in the morning actually helps to boost mental clarity, increase cognitive function, and improve overall productivity throughout your day. It's for this reason that I came up with this quick, five-minute "Rise And Shine Morning Workout Routine"! 5 great exercises grouped together in a fast workout that only takes 5 minutes to do. Perform them when you roll out of bed right before you have to jump in the shower on those days when you need a little boost! Sure it may not be a total-body burner or even get your cardio up that much, but I promise you it will get the blood pumping to all your major muscles and help prepare you better to tackle the morning/day! Now let's do this! 
The Workout
20 Air Squats

10 Push Ups

To get through this once should take about 5 minutes; if you've got a little more time try to get through it twice to really get those muscles going and blood pumping!
Check out more great workouts that take 10 minutes or less!
10 Minute 6-Pack Abs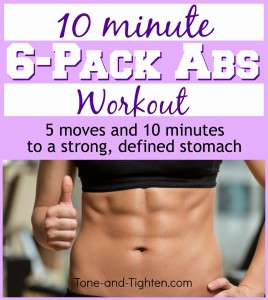 5 Great Workouts – 10 Minutes each!!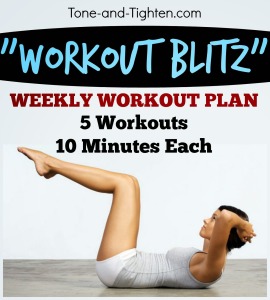 Question or comment for T&T? I would love to her from you!
Leave me a comment below or email me at ToneandTightenFitness{at}gmail.com
Make it happen,
Jared