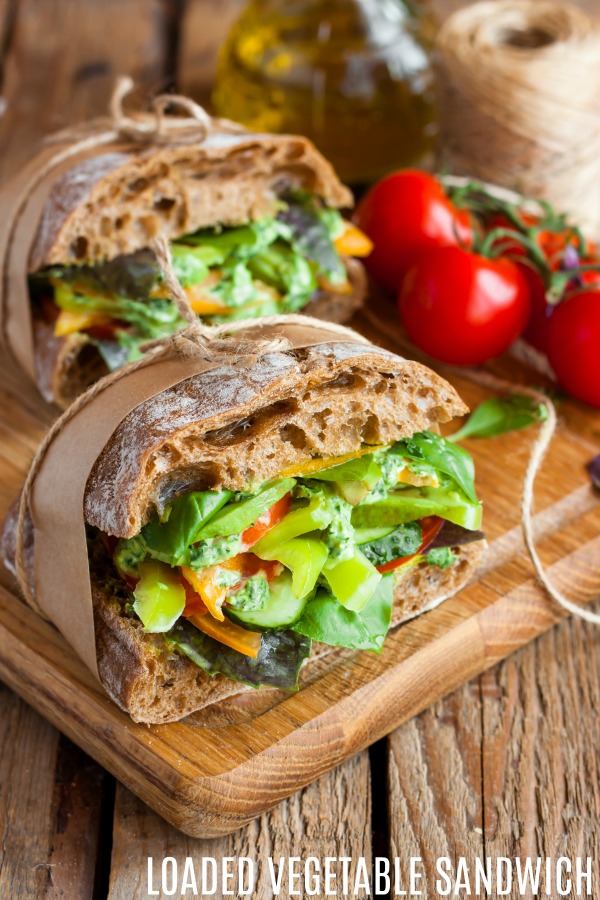 Looking for a way to get more vegetables in your diet? You are going to love this loaded sandwich!
If you want more protein, feel free to add some turkey or chicken to this sandwich, but it's delicious even without it.
If you are looking for more healthy recipes to keep your eating on track, be sure to check out my 1500 Calorie 14-Day Healthy Eating Plan!
Loaded Vegetable Sandwich
Ingredients
12 slices whole wheat bread
6 Tablespoons light cream cheese
1 avocado, mashed
2 cucumbers, thinly sliced
½ cup alfalfa sprouts
3 teaspoons olive oil
3 teaspoons balsamic vinegar
4 tomatoes, sliced
2 cups lettuce, shredded
4 ounces pepperoncini (banana peppers), sliced
Salt and pepper, to taste
Instructions
In a small bowl, mix together cream cheese and avocado. Add salt and pepper if desired.
Divide the cream cheese mixture between 6 sandwiches and spread on top of bread.
Top each sandwich with cucumber slices, sprouts, oil and vinegar, tomato slices, lettuce, and pepperoncini. Add more salt and pepper if needed. Top each sandwich with remaining bread slices and serve immediately.
Looking for more healthy recipes?