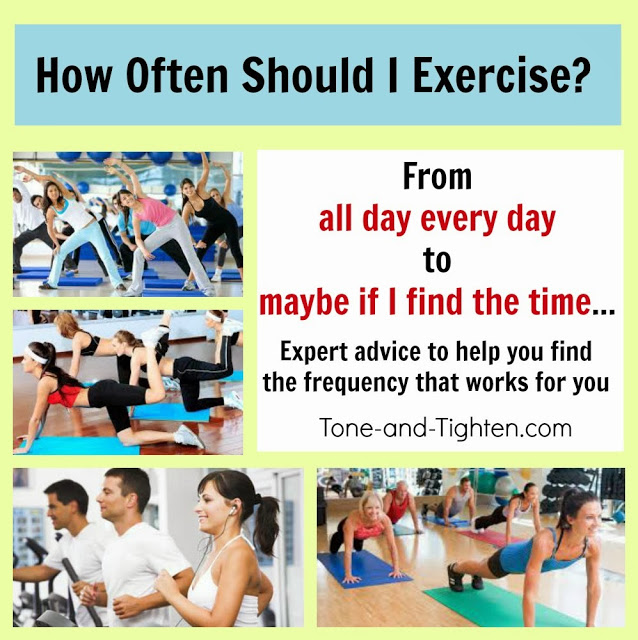 One of the questions I have been getting a lot of since starting this blog is from people wondering "how often should I work out?" I have received this question from the entire spectrum of readers – those who are in the gym 7 days/week all the way to those who can barely find 20 minutes on one day for exercise. So what's the answer to the question? How often should you be exercising?
I would answer your question with a question: what are your fitness goals? Are you looking to get cut and lean or are you simply wishing to be slightly less out of breath when you reach the top of the stairs. Are you looking for the shredded beach body you always longed for or just need a little more energy when you're playing with your kids? Below I offer some frequency advice to help give you some perspective…
Anyone and Everyone: The safest, most general rule that I would give you as far as exercise guidelines is 3 times a week for 30 minutes a day. This is generally a good starting place – three times gives you a good sense of accomplishment and some really remarkable results can be seen. You will start to notice changes in your physique, your cardio, and your overall affect (some in as little as 2 weeks!) It also gives your body an important day of recovery between exercise sessions for muscles to heal and repair. 3 times a week is a great place to be.
My gym set up a cot for me: For those of you looking for a little more: 5–6 days a week is completely fine, but only if done correctly. You can work out pretty safely six days a week if you follow a few guidelines –

never the same muscle group more than twice and never the same muscle group on back to back days.

For example if I did legs on Monday I wouldn't do them again until Thursday – Friday. One of the main overuse problems that I see in the physical therapy clinic is people lifting the same major muscle groups day in and day out (Monday is chest day, Tuesday is shoulder day, Wednesday is chest day, Thursday is arm day, etc.). You have to give your muscles at least a day to recovery between aggressive exercise sessions. I even recommend mixing things up with your cardio and weight training – Monday weights, Tuesday cardio, Wednesday weights, etc. This is a great way to change up your workouts and give muscles much-needed rest between strength and endurance training. To those wondering about more? Personally – I would never recommend 7 days a week simply for the toll that takes on your body over time. Take it easy – if it's that important you can think about exercising on your day off 🙂
As for duration: I never recommend more than ~90 minutes at a time. Granted there are some circumstances that require more (I'm looking at you, marathon runners!), but as a general rule 90 minutes should be plenty of time to get in all the reps you need.
I can get in one day this week! To the other end of the spectrum – if at all possible I never recommend less than 1–2 days a week of exercise. The bottom line is

your muscles need to move!

Muscles thrive on being worked! Joints are actually nourished by movement! Exercising even 1–2 days a week has been shown to improve cardiovascular health, sleep habits, muscle strength, and overall mood. At bare minimum, you should try to set aside at least 1-2 days a week to exercise for a minimum of 15-20 minutes. If that's difficult for you and you can't find that time to work out (trust me – some weeks it's tough!), click here for a list of activities you can do that count towards being physically active. The important thing is you are moving!
Whether your goal is to trim down or tone up; climb on the floor with your kids or climb the mountain on your backpacking trip; regular exercise can help you realize your dreams and achieve your goals!
Do you have a question you could use some advice on? I promise to give it my best shot… toneandtightenfitness{at}gmail.com
Quick and easy at-home workouts from Tone and Tighten

By Jared Beckstrand