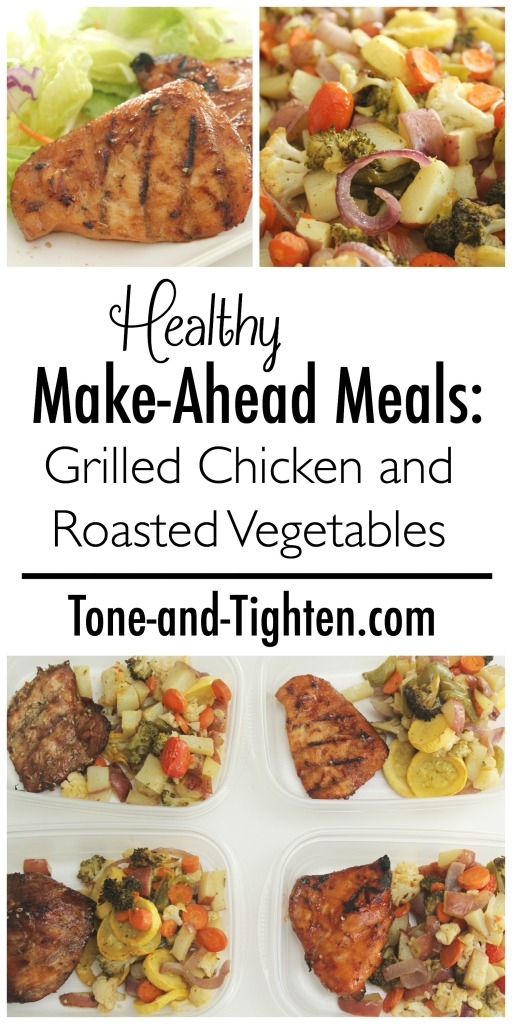 If you fail to plan, you plan to fail.
On my Facebook page, I have had a couple people ask for more healthy recipes that will help them reach their weight loss goals.
I am excited to share with you not only one of my favorite recipes, but also a tip to keep you eating healthy meals all week long!
A little bit of planning can go a long way . . . especially when it comes to healthy eating! Every Sunday, I take an hour to prep all my lunches for the upcoming week. This Grilled Chicken and Roasted Vegetables is one of my favorites. You could also use these meals for dinner – after a long day of work, the last thing that you want to do is come home and make food. By taking an hour at the beginning of the week, you make the rest of your week easy – and keep yourself from loading up on calories at a fast food drive-thru window!
If you are looking for the ultimate menu planning help, be sure to check out my new eBook: 30 Days of Healthy Eating.
In this book I outline a plan of breakfast, lunch, dinner, and two snacks for each day. The meals are simple recipes that even picky eaters will approve of and they will make healthy eating a breeze!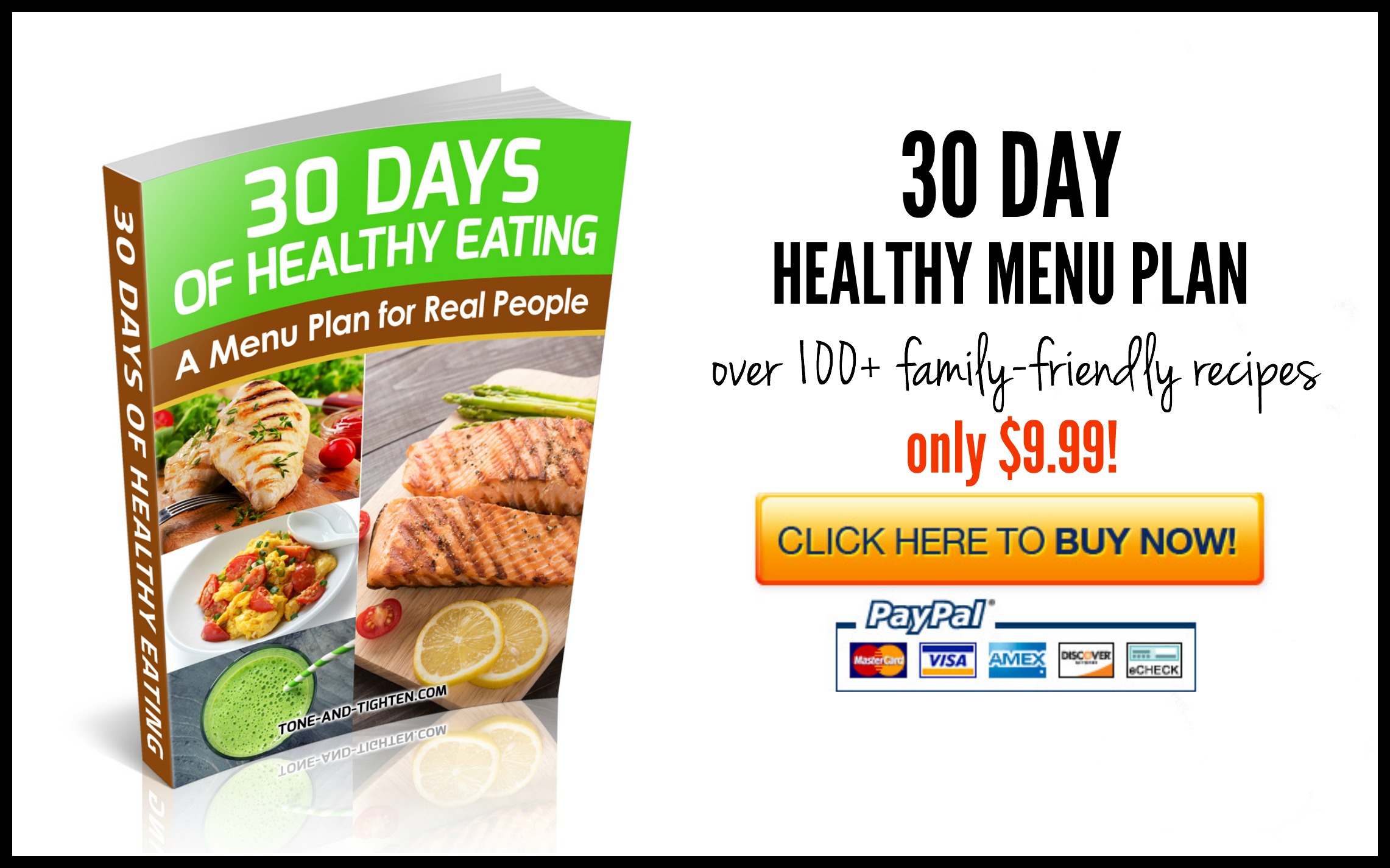 Healthy Make-Ahead Meals: Grilled Chicken and Roasted Vegetables
Author:
Jared from Tone-and-Tighten.com
Prep time:
Cook time:
Total time:
By taking one hour and prepping your meals for the upcoming week, you can save yourself a lot of time and temptation of getting fast food! This is one of my favorite combinations- grilled chicken and roasted vegetables.
Ingredients
Grilled Chicken:
5 boneless, skinless chicken breasts, about 4-6 oz each, thawed
1¼ cup Italian dressing (my favorite is Wishbone Italian)
Roasted Vegetables:
4 red potatoes, cut into bite-size pieces
1 head of broccoli, cut into bite-size pieces
1 head of cauliflower, cut into bite-size pieces
6 carrots, thinly sliced
2 yellow zucchini squash, cut into large pieces
1 green pepper, cut into large pieces or sliced
1 onion, sliced
1 cup grape tomatoes
olive oil
salt and pepper to taste
garlic powder to taste
Instructions
The night before, place thawed chicken breasts into a resealable plastic bag. Add dressing and zip bag closed. Place bag in the fridge and let marinade overnight. (If you aren't able to marinate chicken overnight, at least let it marinate for 2 hours so that it can soak up some of the flavor).
After chicken is finished marinating, remove chicken from bag and grill over medium heat until cooked all the way through or has an internal temperature of 165 degrees.
For the vegetables, preheat the oven to 425 degrees.
In a large bowl (the biggest one you can find- this is a LOT of vegetables!), mix together all the vegetables (I just use my hands - it's easier that way). Drizzle with olive oil and sprinkle with salt, pepper, and garlic powder until it's completely mixed together.
Line two large jelly roll pans (or 15x10x1" cookie sheets) with aluminum foil and spray lightly with non-stick cooking spray. Spread all the vegetables on the two baking sheets in one single layer. Cook for 35-45 minutes, stirring every 15 minutes to prevent burning and even cooking.
Once the vegetables are finished cooking, evenly divide the chicken and vegetables between your containers. Keep in the fridge for up to 4 days (if you don't think that you will eat them within 4 days, throw them in the freezer, but be aware that sometimes the vegetables turn soggy after thawing from the freezer).
Equipment needed:
Ziploc bags
Grill Pan
Large Bowl
Cookie Sheet/Jelly Roll Pan
Food Storage Containers
Looking for other healthy recipes?
Oven Roasted Garlic Potatoes
Whole Wheat Honey Banana Muffins
Skinny Slow Cooker Pulled Pork