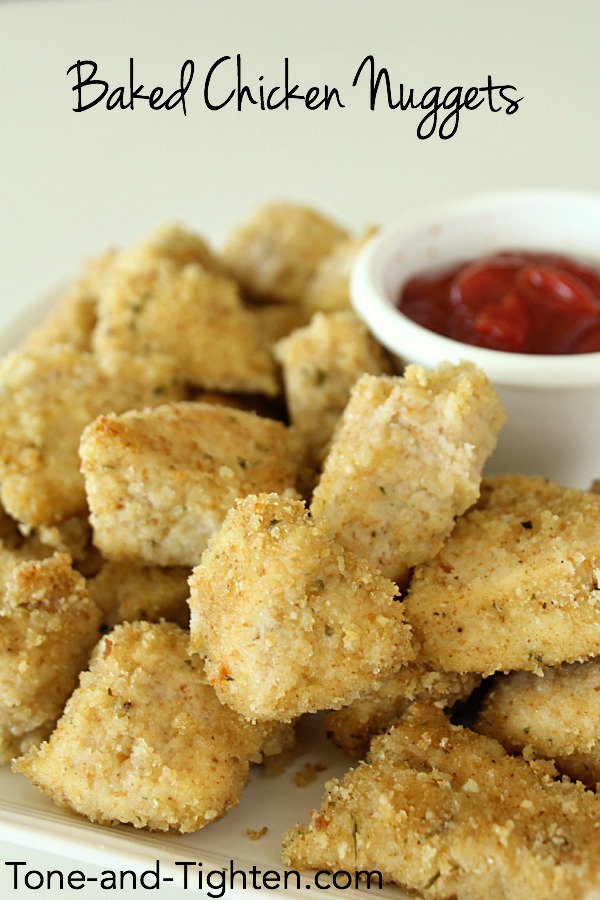 One of my kids' favorite meals is chicken nuggets, but let's be honest . . . the ingredients that are in those frozen chicken nuggets are anything but chicken. These nuggets are so easy to throw together and both kids and adults will love them!
Homemade Baked Chicken Nuggets
Prep time:
Cook time:
Total time:
The best (and easiest) homemade chicken nuggets! Both kids and adults love them.
Ingredients
1½ pounds boneless, skinless chicken breasts (about 3 chicken breasts), cut into bite-sized pieces
salt and pepper to taste
2 tablespoons olive oil
½ cup Italian seasoned bread crumbs
¼ cup panko bread crumbs
¼ cup grated Parmesan cheese
olive oil spray (like Pam or other non-stick cooking spray)
Instructions
Preheat oven to 425 degrees.
Spray a large baking sheet (I used a 15x10x1" cookie sheet) with non-stick cooking spray.
Pour olive oil into a bowl. In a separate bowl, mix together bread crumbs, panko, and Parmesan cheese.
Sprinkle salt and pepper on chicken, then place all the chicken pieces in the olive oil. Mix around until they are all coated with olive oil.
Place the chicken into the bread crumb mixture (I did about 10 pieces at a time) and mix around until they are completely coated with bread crumbs. Place chicken on baking sheet and repeat until you are coated all the chicken.
Lightly spray the chicken pieces with non stick cooking spray and place baking sheet in the oven.
Cook for 8 minutes, then turn all the pieces over and cook for 8 more minutes, or until the internal temperature of the chicken reaches 165 degrees.
Recipe adapted from
Skinny Taste
Looking for more delicious and healthy recipes?
Oven Baked Honey Soy Chicken
Southwest Quinoa Salad
Garlic and Parmesan Zucchini
Some of my favorite workouts are now on sale!