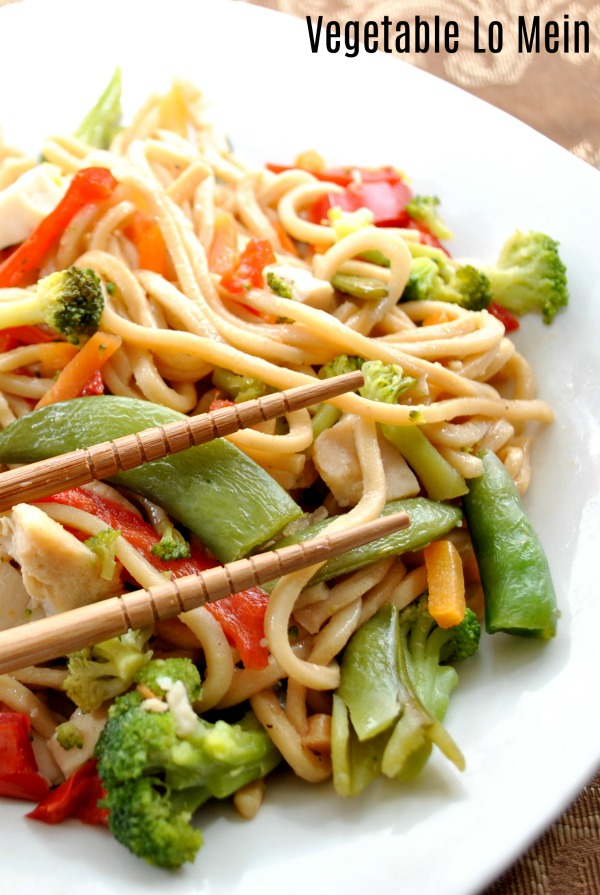 Need dinner in a hurry? This recipe comes together in less than 20 minutes!
If you are looking for more healthy recipes to keep your eating on track (even during the holidays), be sure to check out my 1500 Calorie 14-Day Healthy Eating Plan!
Easy Vegetable Lo Mein
Prep time:
Cook time:
Total time:
Ingredients
12 ounces whole wheat spaghetti noodles
1½ Tablespoons olive oil
3 cloves garlic, minced
1 onion, thinly sliced
3 cups chopped broccoli
2 bell peppers, julienned
2 carrots, julienned
1 cup sugar snap peas
2 cups cremini or button mushrooms, sliced
For the sauce:
3 Tablespoons low-sodium soy sauce
2 teaspoons sugar
1½ teaspoons sesame oil
¾ teaspoon ground ginger
¾ teaspoon Sriracha, or more, to taste
Instructions
Prepare noodles according to package directions, then drain and set aside.
While noodles are cooking, heat olive oil in large skillet or wok over medium high heat. Saute garlic and onion together for 2 minutes, then add broccoli, bell peppers, carrots, and peas. Saute for 4 minutes, then add in sliced mushrooms. Saute another 2 minutes.
In a small bowl, whisk together all ingredients for sauce, then pour over top of vegetables. Stir, then add in cooked noodles and toss to combine.
Serve immediately.
Recipe slightly adapted from
Kitschen Cat
Looking for more healthy recipes?